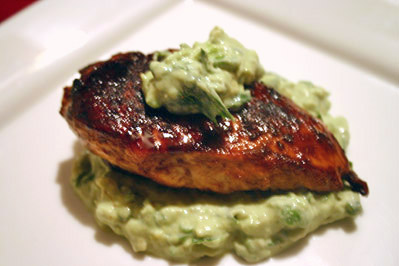 Cumin-dusted Chicken Breasts with Guacamole Sauce
This post may contain affiliate links. Thank you for supporting the brands that keep me creative in my tiny kitchen!
Tonight I made a recipe from the current issue of CL and it was fantastic! The sauce is really flavorful, and it was really interesting having parsley in guacamole instead of cilantro. I cooked the whole thing on the stove top, and the brown sugar started to burn a little bit, but it was still delicious. This one is another repeater from this issue!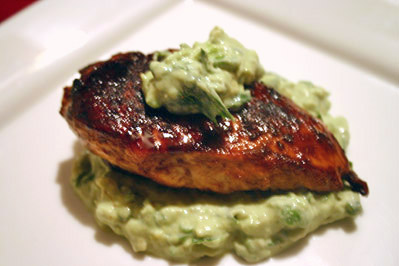 Cumin-dusted Chicken Breasts with Guacamole Sauce
Cooking Light January 2007
Sauce:
¼ cup finely chopped green onions
¼ cup finely chopped parsley
¼ cup fat-free sour cream
2 tablespoons fresh lime juice
¼ teaspoon salt
⅛ teaspoon ground cumin
⅛ teaspoon ground red pepper
1 ripe peeled avocado, seeded and coarsely mashed
Chicken:
2 tablespoons brown sugar
1 teaspoon ground cumin
½ teaspoon salt
½ teaspoon freshly ground black pepper
4 (6-ounce) skinless, boneless chicken breast halves
Cooking spray
Base your meal on a speedy, well-seasoned main dish, and dinner is a breeze. This flavorful entrée calls for a simple side dish; try a green salad and yellow rice or canned black beans.
To prepare sauce, combine first 8 ingredients; set aside.
Preheat oven to 400°.
To prepare chicken, combine sugar, 1 teaspoon cumin, 1/2 teaspoon salt, and 1/2 teaspoon black pepper; sprinkle evenly over chicken. Heat a large ovenproof skillet over medium-high heat. Coat pan with cooking spray. Add chicken; cook 3 minutes or until browned. Turn chicken over. Place pan in oven; bake at 400° for 10 minutes or until done. Serve chicken with sauce.
Yield: 4 servings (serving size: 1 breast half and about 3 tablespoons sauce)
Nutritional information per serving:
CALORIES 301 (27% from fat); FAT 9g (sat 1.5g,mono 4.8g,poly 1.3g); PROTEIN 41.6g; CHOLESTEROL 101mg; CALCIUM 76mg; SODIUM 575mg; FIBER 3.6g; IRON 2.1mg; CARBOHYDRATE 12.5g
MacGourmet: 5 Stars