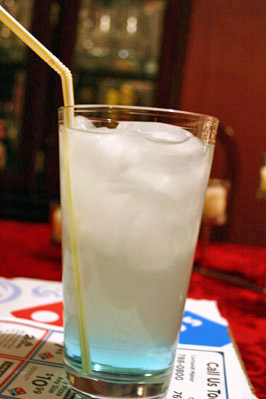 I had a friend over on Wednesday night and she brought over a bottle of Pucker. I wanted to find a recipe to use it in since I'd never had it, so I went to the manufacturer's website. I didn't serve it in the proper glass beccause I don't have martini glasses (yet) and it's pictured below very elegantly atop a Dominoe's Pizza box. Ha!! Anyhow, the drink was REALLY sour. I couldn't drink much of it. We tried another recipe too, but it wasn't any good so I didn't even bother taking a picture of it or drinking it.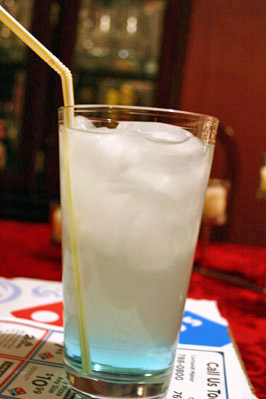 Blue Velvet
DeKuyper USA
1 part ABSOLUT® Vodka
Splash of Cranberry Juice
2 parts DeKuyper® Pucker® Island Blue Schnapps
1 part DeKuyper® Triple Sec
Splash of Lime Juice
Serve in a martini glass, garnish with a lime wedge.
MacGourmet Rating: 2 Stars