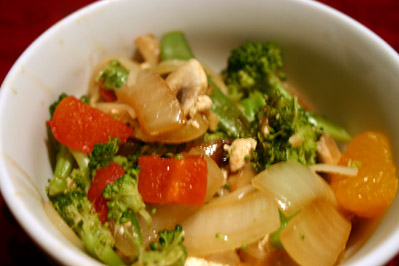 This post may contain affiliate links. Thank you for supporting the brands that keep me creative in my tiny kitchen!
Sorry that it's been so long since I posted – I went away to visit some family in Las Vegas for Christmas and ended up getting a bad case of the stomach flu, and am just now getting back to my normal life. Things have been really busy with the holidays and trying to make plans for my wedding in May. So thank you to all of the people who sent such wonderful comments in my absence. I didn't realize I'd worry so many people if I stopped posting my cooking/eating obsession for a few weeks! So I'm going to try to catch everyone up on all of the things I've been cooking up, starting with this one from before Christmas break.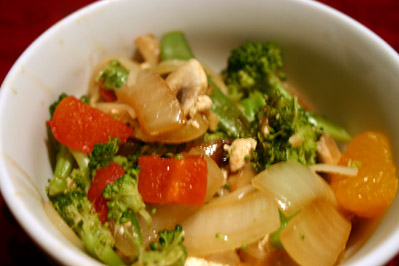 I stopped by Whole Foods on the way home from work to get some veggies to make a stir-fry. It turned out pretty good, but not fantastic. I served it with some rice noodles that I stirred in at the end. This is what I put into it:
1 block extra firm tofu
steamed broccoli
1 package button mushrooms
red bell pepper
large onion
2 cloves of garlic
red pepper flakes
sugar snap peas
mandarin oranges
and for the sauce:
juice of 1 orange
soy sauce
honey
fresh grated ginger
Sriracha sauce
hoisin
I stir-fried the ingredients in canola oil, and added the tofu in at the end, just to warm through.
A handy trick that I use for fresh ginger is to store it in the freezer in a plastic bag. When you need to use some, pull it out, peel a little off the end of a nub (the skin comes off easily – even frozen) and then I grate it over the dish with a microplane. It's much easier than mincing it, and it prevents me from wasting fresh ginger since I usually only ust a little bit at a time. The one that I'm currently using has been in my freezer since August and it's still going strong.