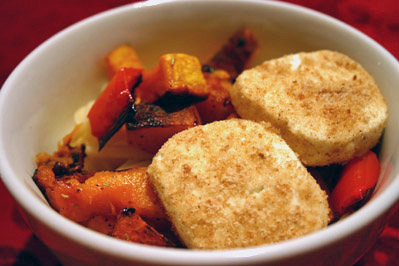 Baked Goat Cheese and Roasted Winter Squash over Garlicky Fettuccine
This post may contain affiliate links. Thank you for supporting the brands that keep me creative in my tiny kitchen!
It's not too often that we have a vegetarian dinner, but I like to make them sometimes. This one was delicious! The only change I'd make next time is to use panko bread crumbs so that the goat cheese would actually get crispy. This meal also reheats well – I brought it to work 2 times and microwaved it for 2 minutes, only putting the goat cheese in for the last 30 seconds – and it was great!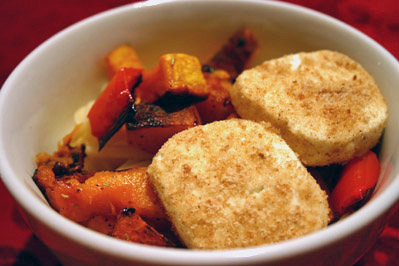 Baked Goat Cheese and Roasted Winter Squash over Garlicky Fettuccine
Cooking Light December 2006
The goat cheese rounds are baked at a high temperature to crisp the breadcrumb coating and heat the cheese just enough to melt when you cut into one.
6 cups (1-inch) cubed peeled kabocha or butternut squash (about 2 1/4 pounds)
1 large red bell pepper, cut into 1-inch pieces
1 1/2 tablespoons olive oil, divided
Cooking spray
1 teaspoon salt, divided
1 teaspoon chopped fresh or 1/4 teaspoon dried rosemary
1/4 teaspoon freshly ground black pepper
2 (4-ounce) packages goat cheese
1/2 cup dry breadcrumbs
1 pound uncooked fettuccine
1/4 teaspoon crushed red pepper
2 garlic cloves, minced
Rosemary sprigs (optional)
Preheat oven to 425°.
Place squash and bell pepper in a large bowl. Add 1 tablespoon oil; toss well. Arrange vegetables in a single layer on a jelly-roll pan coated with cooking spray. Sprinkle with 1/2 teaspoon salt, rosemary, and black pepper. Bake at 425° for 40 minutes, stirring once.
Place goat cheese in freezer 10 minutes. Cut cheese crosswise into 8 equal rounds. Place breadcrumbs in a shallow bowl. Dredge each round in breadcrumbs; place on a baking sheet. Bake at 425° for 6 minutes.
Cook pasta according to package directions, omitting salt and fat. Drain, reserving 1/2 cup pasta cooking water. Return pasta to pan; add reserved pasta cooking water, remaining 1 1/2 teaspoons oil, remaining 1/2 teaspoon salt, red pepper, and garlic, tossing to coat. Place 1 1/4 cups pasta in each of 8 shallow bowls; top each serving with about 1/2 cup squash mixture and 1 goat cheese round. Garnish with rosemary sprigs, if desired.
Yield: 8 servings
NUTRITION PER SERVING
CALORIES 423(30% from fat); FAT 14.1g (sat 7.4g,mono 4.2g,poly 0.7g); PROTEIN 17.8g; CHOLESTEROL 30mg; CALCIUM 290mg; SODIUM 439mg; FIBER 2.7g; IRON 2.1mg; CARBOHYDRATE 54.7g
MacGourmet Rating: 4 Stars