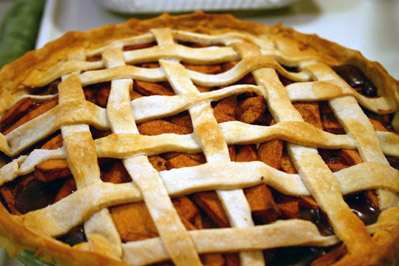 Original Green Bean Casserole | Apple Pie
This post may contain affiliate links. Thank you for supporting the brands that keep me creative in my tiny kitchen!
For Thanksgiving, I brought green bean casserole, yams, and apple pie over to my future in-laws' house. They're Italian, and until last year, had never had green bean casserole of yams the way that I make them (recipe previously posted), and it's nice to bring my tradition over to theirs. I don't generally like cooking out of a can of soup, but it's a classic that I just love.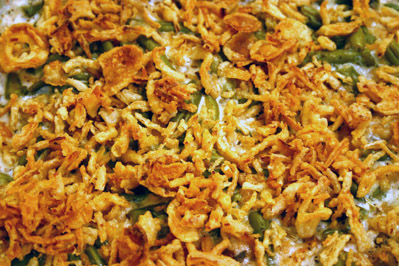 Original Green Bean Casserole
French's
Servings: 6 servings.
Prep Time: 5 minutes
Cook Time: 35 minutes
Ingredients:
1 can (10 3/4 ounces) CAMPBELL'S® Cream of Mushroom Soup
3/4 cup milk
1/8 teaspoon black pepper
2 packages (9 ounces each) frozen cut green beans, thawed*
1 1/3 cups French's® French Fried Onions, divided
Directions:
1. Combine soup, milk and pepper in a 1 1/2 -quart baking dish; stir until blended. Stir in beans and 2/3 cup French Fried Onions.
2. Bake at 350°F for 30 minutes or until hot. Stir. Sprinkle with remaining 2/3 cup onions. Bake 5 minutes or until onions are golden.
*Or 2 cans (14 1/2 ounces each) cut green beans, drained.
MacGourmet Rating: 5 Stars
The apple pie is a recipe that I looked up on Food Network's website. It was on a special about Blue Ribbon winners. It took forever to cook the apples on the stovetop, but it was well worth it. You can't rush it, or the apples will burn. I decided to try a lattice top, and it looked really pretty. I realized that it's the first pie I've ever made on my own. I used to make them with my grandma all the time when I was little, but haven't tried it since. It turned out really great.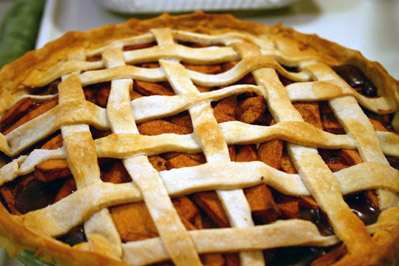 Apple Pie
Tama Hiles
Difficulty: Medium
Yield: 6 to 8 servings
Pastry:
1 cup shortening
1/4 teaspoon salt
2 cups flour
1/2 cup cold water
Filling:
6 to 8 large peeled and sliced apples
1/2 cup brown sugar, may need more depending on the sweetness of the apples
2 tablespoons cinnamon
1/2 cup water
1 tablespoon cornstarch, may need more depending on juiciness of apples
Milk, to help browning
For the Pastry: Mix shortening, salt and flour, add water mix well.
In a saucepan, mix apples, brown sugar, and cinnamon; cook at low heat until tender. Mix cornstarch and water and add to apples to thicken.
Put into pastry lined pie plate. Add pastry to top. Bake in a 350 degree F oven until brown. Before completely baked, brush with milk.
A viewer, who may not be a professional cook, provided this recipe. The FN chefs have not tested this recipe and therefore, we cannot guarantee the results.
MacGourmet Rating: 5 Stars