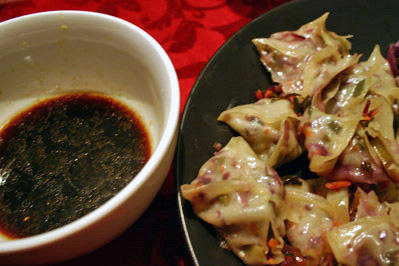 This post may contain affiliate links. Thank you for supporting the brands that keep me creative in my tiny kitchen!
Well, I now know why they're called "potstickers"! If you're going to make these, be sure to spray your pan with nonstick spray if you aren't using a nonstick pan. Aside from that, this recipe turned out great! The sauce was perfect for them. This was my first time using wonton wrappers, and it was a lot of fun. I still have about 2/3 of a package of them to finish up.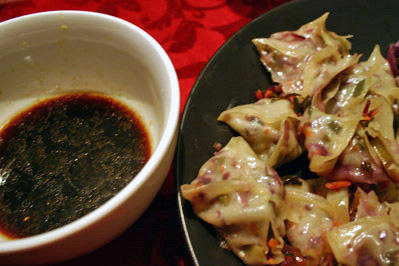 Veggie Potstickers
Dave Lieberman
Difficulty: Medium
Prep Time: 35 minutes
Inactive Prep Time: 30 minutes
Cook Time: 10 minutes
Yield: 24 potstickers
3 tablespoons vegetable oil
1 leek, cleaned and thinly sliced
1 clove garlic, pressed
1 head Napa cabbage, finely shredded
2 tablespoons rice wine vinegar
2 teaspoons soy sauce
1-inch piece fresh ginger, peeled and grated
1 medium carrot, grated on finest holes of a box grater
24 wonton wrappers
Asian Dipping Sauce, recipe follows
Heat 2 tablespoons of the oil in a large nonstick skillet over medium-high heat. Add the leeks and garlic and cook until leeks begin to soften, about 3 to 4 minutes. Add the cabbage, vinegar, soy sauce, and ginger and cook, stirring, until cabbage is soft, about 3 to 4 minutes more. Remove from the heat and stir in the carrot. Allow the filling to cool.
Transfer cabbage mixture to a mixing bowl and work together until fully incorporated. Keep refrigerated until ready to use.
To make the potstickers, lay a wonton wrapper on the work surface and put about 1 tablespoon of the filling in the center. Dip your finger in a little water and wet the edges of the wonton wrapper; this will help the potsticker seal when cooking. Bring the outside edges of the wonton wrapper together over the filling and press it together to form a pouch. Continue with the remaining wrappers and filling.
To cook the potstickers, heat the remaining oil in a very large skillet over high heat. Place all of the potstickers upright in the pan and cook, without disturbing them, until browned on the bottom, about 1 to 2 minutes. Add 1/2 cup water to the pan and immediately cover. Allow the potstickers to steam for about 3 minutes, then remove the skillet lid. Continue cooking until the water is completely evaporated.
Transfer to a platter and serve with the dipping sauce.
Asian Dipping Sauce:
1/4 cup light soy sauce
2 tablespoons rice wine vinegar
1/2-inch piece fresh ginger, peeled and finely grated
1 teaspoon sugar
1/2 teaspoon toasted sesame oil
1/2 lemon, zested
Stir all ingredients together in a small bowl until sugar is dissolved. Refrigerate until ready to serve.
Yield: about 1/3 cup
MacGourmet Rating: 5 Stars