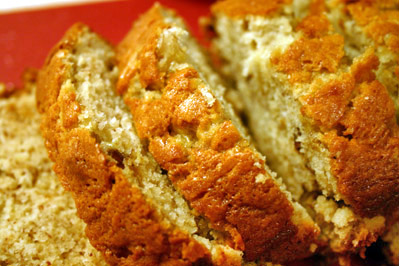 This post may contain affiliate links. Thank you for supporting the brands that keep me creative in my tiny kitchen!
This banana bread got great ratings on Betty Crocker's website. We thought it was really good, but not the best we've ever had. I need to get a recipe from my aunt for the best one ever!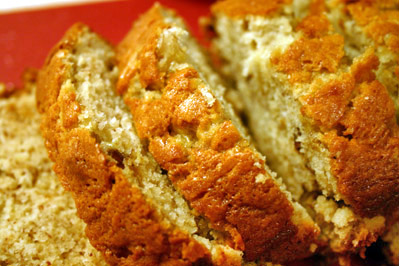 Banana Bread
Betty Crocker
Rich buttermilk, crunchy nuts and flavorful, ripe bananas make this banana bread tops.
Prep Time:15 min
Start to Finish:3 hr 25 min
Makes:2 loaves (24 slices each)
1 1/4 cups sugar
1/2 cup butter or margarine, softened
2 eggs
1 1/2 cups mashed very ripe bananas (3 to 4 medium)
1/2 cup buttermilk
1 teaspoon vanilla
2 1/2 cups Gold Medal® all-purpose flour
1 teaspoon baking soda
1 teaspoon salt
1 cup chopped nuts, if desired
1. Move oven rack to low position so that tops of pans will be in center of oven. Heat oven to 350°F. Grease bottoms only of 2 loaf pans, 8 1/2×4 1/2×2 1/2 inches, or 1 loaf pan, 9x5x3 inches.
2. Mix sugar and butter in large bowl. Stir in eggs until well blended. Add bananas, buttermilk and vanilla. Beat until smooth. Stir in flour, baking soda and salt just until moistened. Stir in nuts. Pour into pans.
3. Bake 8-inch loaves about 1 hour, 9-inch loaf about 1 1/4 hours, or until toothpick inserted in center comes out clean. Cool 10 minutes. Loosen sides of loaves from pans; remove from pans and place top side up on wire rack. Cool completely, about 2 hours, before slicing. Wrap tightly and store at room temperature up to 4 days, or refrigerate up to 10 days.
Nutrition Information:
1 Serving: Calories 70 (Calories from Fat 20 ); Total Fat 2 g (Saturated Fat 1 g); Cholesterol 15 mg; Sodium 95 mg; Total Carbohydrate 12 g (Dietary Fiber 0g); Protein 1 g Percent Daily Value*: Vitamin A 2 %; Vitamin C 0%; Calcium 0%; Iron 2 % Exchanges: 1 Starch
*Percent Daily Values are based on a 2,000 calorie diet.