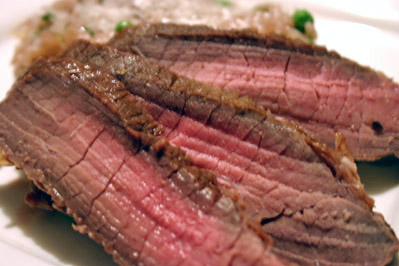 Red Wine Risotto with Peas | Grilled Marinated London Broil
This post may contain affiliate links. Thank you for supporting the brands that keep me creative in my tiny kitchen!
On Monday night, I made a steak and risotto meal that was great. It was pretty simple to put together. The only thing that I did different from the recipe was to add a little more chicken broth than the risotto called for, because mine wasn't fully cooked with the amount that it called for. I'd make this again, but I'd probably wait until grilling season to make the steak again, because I think the grill would have made it taste a lot better than broiling it.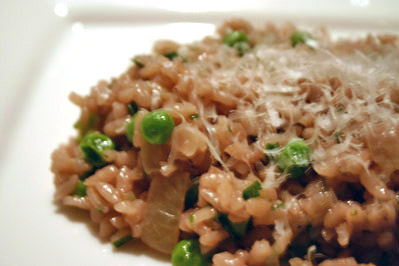 Red Wine Risotto with Peas
Giada De Laurentiis – Everyday Italian
Difficulty: Easy
Prep Time: 10 minutes
Cook Time: 40 minutes
Yield: 4 servings
3 1/2 cups canned low-salt chicken broth
3 tablespoons unsalted butter
1 cup finely chopped onion
2 garlic cloves, minced
1 cup arborio rice, or medium-grain white rice
1/2 cup dry red wine
1/3 cup frozen peas, defrosted, optional
1/4 cup chopped fresh Italian parsley leaves
1/2 cup grated Parmesan, plus additional for garnish
Salt and freshly ground black pepper
Bring the broth to a simmer over medium-high heat. Cover the broth and keep it warm over very low heat.
Melt the butter in a heavy large saucepan over medium heat. Add the onion and sauté until translucent, about 8 minutes. Stir in the garlic and saute for 30 seconds. Stir in the rice and cook for about 2 minutes until the rice is toasted. Add the wine and stir until it is absorbed, about 1 minute. Add 3/4 cup of hot broth; simmer over medium-low heat until the liquid is absorbed, stirring often, about 6 minutes. Repeat, adding 3/4 cup of hot broth 2 more times, stirring often, about 12 minutes longer. At this point, the risotto can be made 4 hours ahead. Refrigerate the risotto (the rice will still be firm) and remaining broth, uncovered, until cool, then cover and keep them refrigerated until ready to proceed.
Bring the remaining broth to a simmer, then cover and keep it warm over very low heat. Stir 3/4 cup of hot broth into the partially cooked risotto over medium heat until the broth is absorbed and the risotto is hot, about 3 minutes. Add the remaining broth and simmer until the rice is just tender and the mixture is creamy, about 5 minutes longer. Stir in the peas and parsley. Add the 1/2 cup of Parmesan. Season, to taste, with salt and pepper. Spoon the risotto into bowls. Sprinkle additional cheese over and serve.
MacGourmet Rating: 4 Stars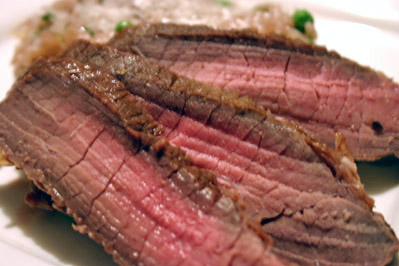 Grilled Marinated London Broil
Sara's Secrets
4 large garlic cloves, minced
4 tablespoons balsamic vinegar
4 tablespoons fresh lemon juice
3 tablespoons Dijon mustard
1 ½ tablespoons Worcerstershire sauce
1 tablespoon soy sauce
1 teaspoon dried oregano, crumbled
1 teaspoon dried basil, crumbled
1 teaspoon dried thyme, crumbled
½ teaspoon dried hot red pepper flakes
⅔ cup olive oil
1 (2 to 2 1/2 pound) London broil
To make marinade: In a bowl, whisk together marinade ingredients until combined well. Put London broil in a large resealable plastic bag and pour marinade over it. Seal bag, pressing out excess air, and set in a shallow dish. Marinate meat, chilled, turning bag once or twice, for 8 hours. Remove meat from the marinade, discarded the marinade, and pat the meat dry.
Preheat a grill and on an oiled rack set about 4-inches over glowing coals, grill the meat, turning each once, 9 to 10 minutes on each side, or until it registers 125 to 130 degrees, on a meat thermometer for medium-rare meat. (Alternatively, meat may be broiled.)
MacGourmet Rating: 4 Stars