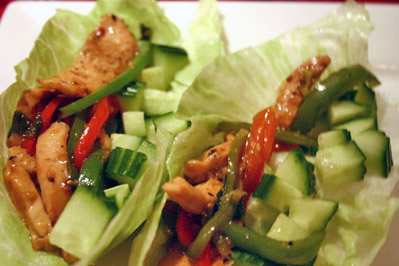 Thai Glazed Chicken Lettuce Wraps
This post may contain affiliate links. Thank you for supporting the brands that keep me creative in my tiny kitchen!
Friday night, I tried out a recipe that I've been thinking about making for quite a while now. I had been avoiding it because it calls for fish sauce, and as someone who doesn't really care for much seafood, I thought it might be overpowering. I was thinking about it though, and I eat a lot of food at restaurants that probably has fish sauce in it, so I decided to suck it up and make it. Thank God I did! It was wonderful!! It was really easy to make – the part that takes the longest is chopping up all of the ingredients. Dino loved it! It was also pretty light as a meal, which is great. I'll definitely make this one again!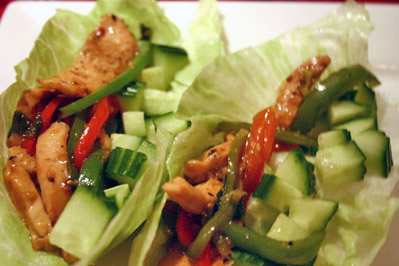 Thai Glazed Chicken Lettuce Wraps
Rachael Ray – 30-Minute Meals
Serves 4
Prep Time: 10 Minutes
Cook Time: 5 Minutes
1 pound chicken breast, cut thin
grill seasoning (recommended: Montreal Seasoning by McCormick)
2 tablespoons vegetable oil
2 tablespoons ginger, minced
4 cloves garlic, minced
1 large bell pepper, seeded and very thinly sliced
1 cup packaged shredded cabbage and carrot mix
3 scallions, chopped on an angle
½ cup plum sauce
2 cups basil, loosely packed
1 tablespoon fish sauce
½ head iceburg lettuce, halved again
½ seedless cucumber, chopped
Thinly slice the chicken into strips and sprinkle with grill seasoning.
Heat a large skillet to screaming hot. Add vegetable oil, then chicken. Cook chicken 2 minutes, stirring constantly. Add the ginger, garlic, peppers, cabbage and carrot mix and scallions and stir-fry another 2 minutes. Add plum sauce to glaze the mixture, toss 1 minute, then add basil and wilt leaves. Add fish sauce and turn to coat. Transfer cooked chicken and vegetables to a bowl. Place spoonfuls of chicken into a piece of lettuce with cucumber and fold lettuce over to eat, like small tacos.
MacGourmet Rating: 5 Stars