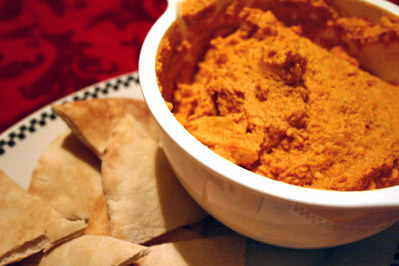 This post may contain affiliate links. Thank you for supporting the brands that keep me creative in my tiny kitchen!
First off, I made Alton Brown's Fillet O'Fu again tonight the right way (with sherry vinegar) and it turned out GREAT! I'm giving it a MacGourmet Rating of 4 Stars.
As an appetizer tonight, I made a fantastic pumpkin hummus. It was great! The pumpkin is subtle since you use one can of pumpkin and one can of chickpeas. It's just different enough. I served it with hot pita bread, and we had to make ourselves stop eating it so that we'd actually eat dinner. I highly recommend it!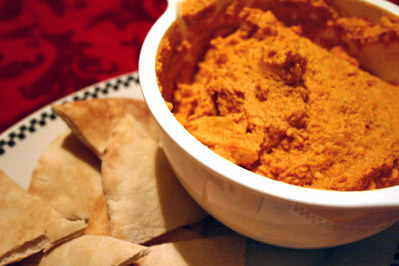 Pumpkin Hummus
Slashfood – Nicole Weston
1 tablespoon tahini
2 tablespoons vegetable oil
3-4 tablespoons water
1 teaspoon ground cumin
¾ teaspoon salt, or to taste
¼ teaspoon ground cayenne pepper, or to taste
1 15 ounce can garbanzo beans
1 15 ounce can pumpkin puree, scant 2 cups
1 clove garlic, mashed
In a food processor, combine all ingredients and puree until very smooth. Add a bit of extra water if the mixture is too thick to blend. Makes about 2 cups.
The amount of water you'll have to add will vary depending on the type of beans and pumpkin that you use. Some brands are moister and some are drier. If you opt for fresh pumpkin or squash, it will definitely fall into the moister category. A good strategy is to add it in a tablespoon or two at a time until the hummus reaches a smooth consistency.
MacGourmet Rating: 5 Stars