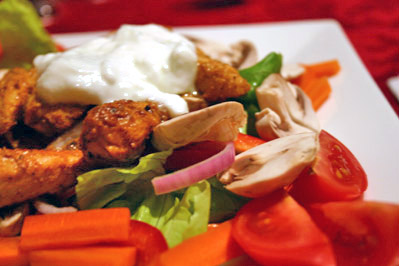 This post may contain affiliate links. Thank you for supporting the brands that keep me creative in my tiny kitchen!
We decided to make salads on Thursday night, so I asked Dino to figure out some sort of marinade for chicken to put on top of the salads. I had found some Boston lettuce (which I never tried before), and put mushrooms, tomatoes, carrots, red bell peppers and red onions in it. He put together a marinade for the chicken and then fried it in some butter in the cast iron skillet. He said it tasted like this street vendor's chicken in NYC, so we put some plain yogurt on top of it to mimic the chicken dish that the vendor makes. The street vendor is Rafiqi and he's on the northeast corner of Madison and 52nd (but I'm pretty sure he moves). Next time, I'd probably put some of the spice mix into the yogurt so that the yogurt is spiced. This would be great in a pita or with rice.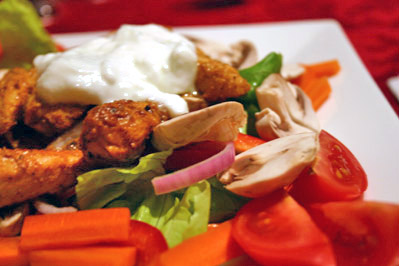 "Rafakey" Marinade
Dino Covelli
For 2 boneless skinless chicken breasts.
1/2 cup milk
1 tablespoon curry powder
1 tablespoon cumin
2 teaspoons ground chipotle chile pepper
pinch salt
pinch cinnamon
pinch onion powder
MacGourmet Rating: 5 Stars