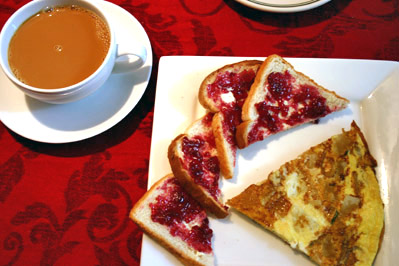 This post may contain affiliate links. Thank you for supporting the brands that keep me creative in my tiny kitchen!
Usually, Dino makes breakfast on weekends. He's really good at it. But this morning (OK, early afternoon) I decided to give it a try. It was my first attempt at making a frittata, and it turned out GREAT! It had a lot of flavor, and the eggs were cooked perfectly. I was worried that I'd have trouble since we don't own any non-stick pans, but I just sprayed on a little extra non-stick spray, and it was fine. I use the one that's just olive oil, because all the chemicals in most non-stick sprays scare me. You only have to wrap the handle of the pan in foil if it's not ovenproof. We have steel pots & pans, so I got to skip this step. Also, it made 6 servings for us, so either I used a bigger pan, and we had a thinner frittata, or the magazine had 4 really large servings. The balsamic on top was a really great touch!
I served this with toast & jelly and some Green Mountain coffee. Things just haven't been the same since we found a ShopRite that sells their coffee beans. Yum!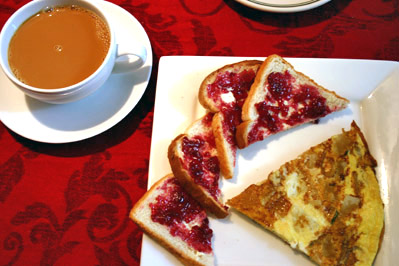 Basil-Potato Frittata
Cooking Light May 1995
Serves 4
2 cups baking potato, (about 1 large)
vegetable cooking spray
½ cup onion, thinly sliced, separated into rings
¼ cup Parmesan cheese, finely grated, divided
1 tablespoon fresh basil, chopped
2 tablespoons water
½ teaspoon salt
½ teaspoon hot sauce
4 egg whites, lightly beaten
3 eggs, lightly beaten
1 tablespoon balsamic vinegar
Place the diced potato in a medium saucepan; cover with water, and bring to a boil. Cook 7 minutes or until tender. Drain and let cool.
Coat a large nonstick skillet with cooking spray; place over medium heat until hot. Add onion; sauté 6 minutes or until tender. Remove from heat, and set aside.
Combine 3 tablespoons of cheese, basil, and the next 5 ingredients (basil through eggs) in a medium bowl; stir in potato and onion. Wipe skillet with paper towels, and recoat with cooking spray. Place skillet over medium heat until hot. Add egg mixture, and cook 6 minutes or until almost set.
Wrap handle of skillet with foil, and broil 1 1/2 minutes. Top with remaining cheese, and broil for 30 seconds or until cheese melts. Drizzle vinegar over the frittata, and cut into 4 wedges. Serve warm.
Nutritional information per serving:
CALORIES 163(28% from fat); FAT 5g (sat 1.8g,mono 1.7g,poly 0.6g); PROTEIN 11.7g; CHOLESTEROL 162mg; CALCIUM 80mg; SODIUM 463mg; FIBER 1.8g; IRON 1.8mg; CARBOHYDRATE 17.8g
MacGourmet Rating: 4 Stars