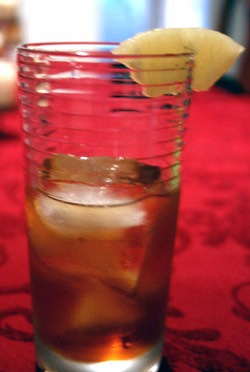 I wanted to try out a new cocktail on Thursday night, so I picked one out of a book that looked simple, and that we had all of the ingredients for. They turned out okay, but VERY strong. I served them over ice to try to dilute the alcohol a little bit. I probably wouldn't make this again.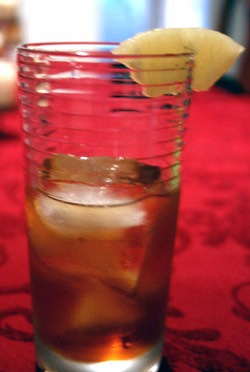 Finnish Cockbull
The Bartender's Guide – Peter Bohrmann
1 ounce vodka
¾ ounce amaretto
2 teaspoons coffee-flavored liqueur
¼ slice pineapple, for garnish
Spicy, sweet drink for the evening
-Cocktail glass
-Mixing glass
Mix all the ingredients together, with ice, in the mixing glass and strain into the cocktail glass. Perch the slice of pineapple on the rim of the glass.
MacGourmet Rating: 3 Stars