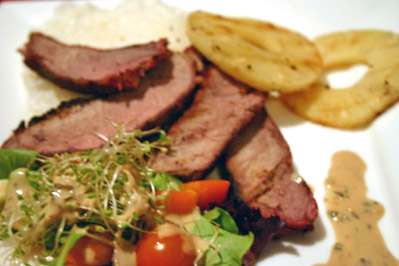 Dino's "Oh Ma Gahd Marinahd"
This post may contain affiliate links. Thank you for supporting the brands that keep me creative in my tiny kitchen!
Dino made up this marinade a few months back, and yesterday we actually measured out all of the ingredients so that we could get an "official" recipe. The name comes from him doing this ridiculous John Travolta impersonation, so if you ever end up saying the name of it, you must say it in a Travolta-esque voice. This time around, we used it for a nice piece of organic steak that we got from the Ossining Farmers' Market. We've used it on shish kabobs before as well, and it's great. The longer you marinate, the better! It makes quite a bit of marinade – we had plenty for a steak that was over 3 lbs.
The grill temperature was uneven yesterday, so it got a little overdone, but the marinade is amazing anyway, so I had to share the recipe. Last night's steak was served with sticky coconut sweet rice, grilled pineapple, and a baby green salad with some fresh veggies from the Farmers' Market – topped with Annie's Goddess dressing. Sorry for the blurry picture.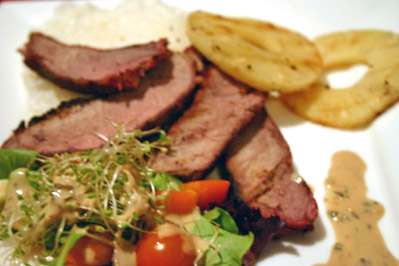 Dino's "Oh Ma Gahd Marinahd"
Dino Covelli
1 ½ teaspoon garlic, minced
⅛ cup lemon juice
¼ cup olive oil
⅛ cup balsamic vinegar
⅛ cup Worcerstershire sauce
⅛ cup molasses
½ teaspoon dried mint
½ teaspoon dried parsley
½ teaspoon salt
½ teaspoon pepper
½ teaspoon cardamom
½ teaspoon chili powder
½ teaspoon dried thyme
pinch turmeric
⅛ cup hoisin sauce
⅛ cup low sodium soy sauce
⅛ cup lite teriyaki sauce
Whisk all ingredients together. Pour over meat/veggies and seal in a Ziploc bag. Refrigerate at least 1 hour (up to overnight), turning frequently.
MacGourmet Rating: 5 Stars