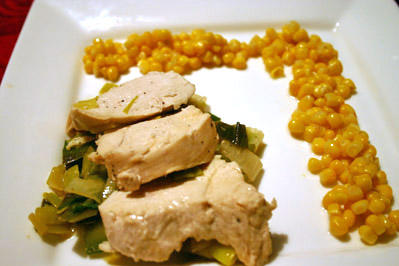 Too-Easy Chicken with Leeks
This post may contain affiliate links. Thank you for supporting the brands that keep me creative in my tiny kitchen!
I wanted something quick and simple last night, so I decided to make one of Rachael Ray's recipes. I had made it before, and found it to be refreshingly easy – something that actually lived up to its name. Also, it deviates from Rachael's normal recipes, as it doesn't involve a lot of ingredients. I always have frozen boneless skinless chicken breast on hand, and I usually have all sorts of wine…so whenever I'm not sure what to make, or need to do something quick, I just pick up a few leeks from the store. I just pop them into the pan frozen, and sprinkle them with seasoned salt rather than regular salt & pepper. Last night, I served this dish with corn that I spiced up a bit with some crushed red pepper flakes.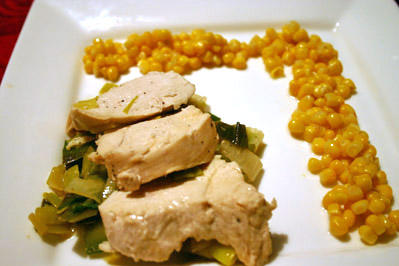 Too-Easy Chicken with Leeks
Source: 30-Minute Meals 2 – Rachael Ray
2 leeks
4 pieces boneless, skinless chicken breasts, (6 to 8 ounces each)
to taste salt and freshly ground black pepper
2 tablespoons extra virgin olive oil, (twice around the pan)
1 cup dry white wine
Trim leeks of tough green ends and roots. Split them lengthwise, then cut across into 1/2-inch slices. Place sandy slices of leeks into a colander. Run under cold water, separating the layers of each slice to free the grains of sand. Drain leeks very well and place within arm's reach of the stovetop.
Heat a large nonstick skillet over medium-high heat. Season chicken breasts with salt and pepper. Add olive oil to coat skillet, then add chicken breasts and brown, 3 to 4 minutes on each side, then transfer to a plate. Add a little more oil to the pan, then add leeks, and sauté, 5 minutes, until they become soft. Add 1 cup wine to the pan and nest chicken breasts down into leeks. Reduce heat to simmer for another 5 to 7 minutes. To serve, remove chicken from pan and slice on an angle. Fan and arrange sliced chicken breasts over a bed of sautéed leeks on each dinner plate or warm serving platter.
Serves 4
MacGourmet Rating: 5 Stars