Pumpkin-Cranberry Muffins
This post may contain affiliate links. Thank you for supporting the brands that keep me creative in my tiny kitchen!
I love having muffins in the house because they're easy to grab in the morning for breakfast on the way to work. These muffins are really moist and full of flavor. They're really pumpkin-y and every few bites you hit a plump cranberry. Yum! We really liked them!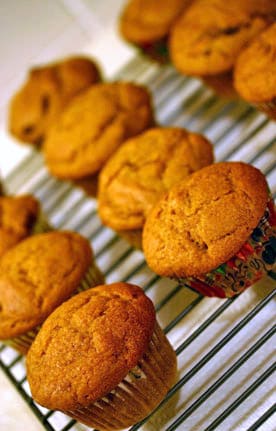 Pumpkin-Cranberry Muffins
Cooking Light November 2007
1 ½ cups all-purpose flour (about 6 3/4 ounces)
1 teaspoon baking soda
¾ teaspoon ground ginger
½ teaspoon baking powder
½ teaspoon ground cinnamon
¼ teaspoon salt
⅛ teaspoon ground cloves
1 cup granulated sugar
1 cup canned pumpkin
½ cup low-fat buttermilk
¼ cup packed light brown sugar
2 tablespoons canola oil
1 large egg
⅔ cup sweetened dried cranberries, chopped (such as Craisins)
Cooking spray
Preheat oven to 375°.
Lightly spoon flour into dry measuring cups; level with a knife. Combine flour, baking soda, and next 5 ingredients (though cloves); stir well with a whisk.
Combine granulated sugar and next 5 ingredients (through egg) in a large bowl; beat with a mixer at medium speed until well blended (about 3 minutes). Add flour mixture to sugar mixture; beat at low speed just until combined. Fold in cranberries.
Place 12 paper muffin cup liners in muffin cups; coat liners with cooking spray. Spoon batter into prepared cups. Bake at 375° for 25 minutes or until muffins spring back when touched lightly in center. Remove muffins from pan immediately; place on a wire rack.
Yield: 1 dozen (serving size: 1 muffin)
Nutritional notes:
CALORIES 199 (14% from fat); FAT 3.2g (sat 0.4g,mono 1.6g,poly 0.9g); PROTEIN 2.8g; CHOLESTEROL 18mg; CALCIUM 38mg; SODIUM 195mg; FIBER 1.5g; IRON 1.3mg; CARBOHYDRATE 41.1g
MacGourmet Rating: 4 Stars