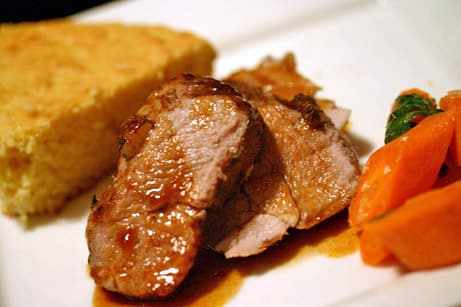 Spiced Pork Tenderloin with Maple-Chipotle Sauce | Maple Corn Bread | Glazed Carrots with Lemon
This post may contain affiliate links. Thank you for supporting the brands that keep me creative in my tiny kitchen!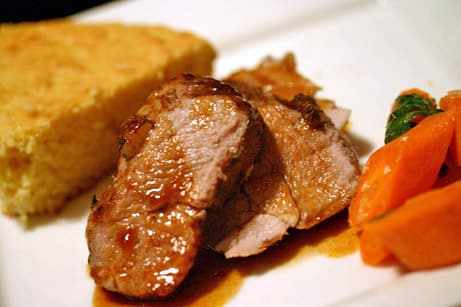 Tonight's dinner rocked! The main dish had a ton of flavor – the sauce was perfectly spicy and sweet. The maple syrup really paired nicely with the chipotles.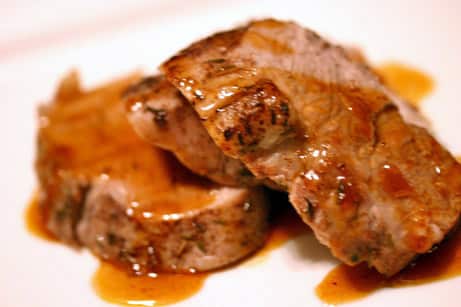 Spiced Pork Tenderloin with Maple-Chipotle Sauce
Cooking Light March 2008
The smokiness of adobo sauce calls for a robust Grade A Dark or Grade B maple syrup.
Pork:
½ teaspoon salt
½ teaspoon dried thyme
¼ teaspoon ground nutmeg
¼ teaspoon ground cinnamon
¼ teaspoon freshly ground black pepper
⅛ teaspoon ground allspice
2 (1-pound) pork tenderloins, trimmed
2 teaspoons olive oil
Sauce:
1 can (7-ounce) chipotle chiles, canned in adobo sauce
½ cup maple syrup
3 tablespoons fat-free, less-sodium chicken broth
1 ½ tablespoons cider vinegar
1. To prepare pork, combine first 6 ingredients; sprinkle evenly over pork. Place in a large zip-top plastic bag; seal and refrigerate 3 hours.
2. Preheat oven to 375°.
3. Remove pork from bag. Place pork in a roasting pan; drizzle with oil. Bake at 375° for 30 minutes or until a thermometer inserted in center of pork registers 155°. Remove pork from pan; cover and let stand 10 minutes.
4. To prepare sauce, remove 2 teaspoons adobo sauce from can of chiles; reserve remaining chiles and sauce for another use. Add 2 teaspoons adobo sauce, syrup, broth, and vinegar to roasting pan, scraping pan to loosen browned bits. Cook over medium heat 5 minutes, stirring constantly. Remove from heat. Place pork in pan, turning to coat. Remove pork from pan, reserving sauce in pan. Cut pork into 1/2-inch-thick slices. Strain sauce through a fine sieve into a bowl; serve with pork.
Yield: 8 servings (serving size: 3 ounces pork and about 1 tablespoon sauce)
Nutritional notes:
CALORIES 201 (23% from fat); FAT 5.1g (sat 1.5g,mono 2.6g,poly 0.6g); PROTEIN 23.9g; CHOLESTEROL 74mg; CALCIUM 23mg; SODIUM 229mg; FIBER 0.3g; IRON 1.8mg; CARBOHYDRATE 13.8g
MacGourmet Rating: 5 Stars
---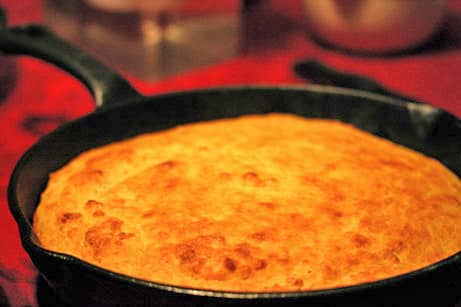 Maple Corn Bread
Cooking Light March 2008
A preheated cast-iron skillet is essential to create a crisp crust and moist interior.
1 ⅓ cups all-purpose flour (about 6 ounces)
⅔ cup stone-ground cornmeal
2 teaspoons baking powder
¾ teaspoon salt
1 cup plain low-fat yogurt
⅓ cup maple syrup
¼ cup butter, melted
2 large eggs, lightly beaten
Cooking spray
1. Preheat oven to 425°.
2. Place an 8-inch cast-iron skillet in preheated oven for 10 minutes.
3. Lightly spoon flour into dry measuring cups; level with a knife. Combine flour, cornmeal, baking powder, and salt in a large bowl, stirring with a whisk. Combine yogurt, syrup, butter, and eggs, stirring with a whisk. Add yogurt mixture to flour mixture; stir just until moist (batter will be thick).
4. Remove pan from oven; coat pan with cooking spray. Spoon batter into preheated pan, smoothing top with a spatula. Bake at 425° for 20 minutes or until a wooden pick inserted in center comes out clean. Remove from oven; cool in pan on a wire rack 10 minutes.
Yield: 10 servings (serving size: 1 wedge)
Nutritional notes:
CALORIES 187 (30% from fat); FAT 6.3g (sat 3.4g,mono 1.7g,poly 0.4g); PROTEIN 4.8g; CHOLESTEROL 56mg; CALCIUM 115mg; SODIUM 341mg; FIBER 1.8g; IRON 1.5mg; CARBOHYDRATE 27.9g
MacGourmet Rating: 4 Stars
---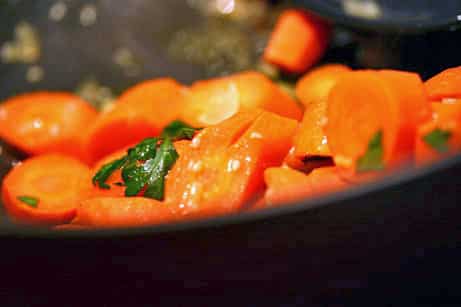 Glazed Carrots with Lemon
The Silver Spoon
4 Servings
1 ¾ pounds carrots, fairly thickly sliced
3 tablespoons butter
2 pearl onions, chopped
½ lemon, grated rind and strained juice
1 teaspoon sesame seeds
1 sprig fresh flat-leaf parsley, chopped
olive oil, for drizzling
salt and pepper
Put the carrots in a bowl, add water to cover and a pinch of salt and let soak for 15 minutes, then drain. Melt the butter in a pan, add the onions and cook over low heat, stirring occasionally, for 5 minutes. Add the lemon juice and rind and cook for a few minutes more, then add the carrots, season with salt and pepper and cook for a further 10 minutes. Meanwhile, dry-fry the sesame seeds in a heavy skillet for a few seconds until they give off their aroma. Remove the pan of carrots from the heat, transfer to a warm serving dish and sprinkle with the parsley and sesame seeds. Drizzle with olive oil and serve.
MacGourmet Rating: 5 Stars