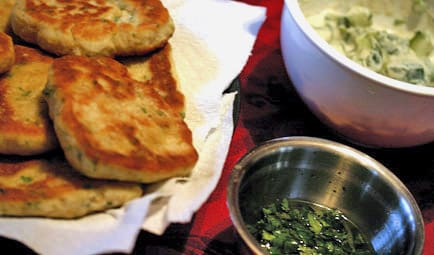 Ground Coriander and Cilantro Flatbreads
This post may contain affiliate links. Thank you for supporting the brands that keep me creative in my tiny kitchen!
I had really high hopes for this recipe, but it kind of fell flat. I'm not sure exactly why, but Dino seemed to think it was good. I like the idea of it, and think that it could be tweaked a little to make it better.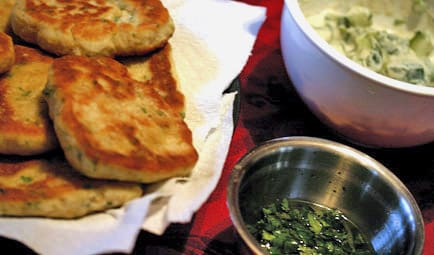 Ground Coriander and Cilantro Flatbreads
Bon Appétit May 2008
Make a simple herb oil to brush over the flatbreads as soon as they come out of the skillet. Just mix 1/4 cup olive oil, 2 tablespoons chopped fresh cilantro, and 1/2 teaspoon ground coriander. Or serve with the raita that follows.
Makes 8
1 ½ cups (or more) unbleached all purpose flour
2 ½ teaspoons ground coriander
1 ½ teaspoons baking powder
¾ teaspoon salt
½ teaspoon baking soda
⅓ cup chopped fresh cilantro
¾ cup (or more) plain whole-milk yogurt
Olive oil (for frying)
Sift first 5 ingredients into medium bowl. Stir in cilantro. Add yogurt and stir with fork until small clumps form. Knead mixture in bowl just until dough holds together, adding more flour or yogurt by tablespoonfuls for soft and slightly sticky dough. Turn dough out onto floured surface. Knead just until smooth, about 1 minute. Divide dough into 8 equal pieces.
Roll each piece into ball, then roll each dough piece out on floured surface to 4 1/2-inch round. Brush large nonstick skillet generously with olive oil; heat over medium heat. Working in batches, add 3 dough rounds to skillet; cook until golden brown and puffed, adjusting heat to medium-high as needed to brown evenly, about 3 minutes per side. Transfer flatbreads to platter; serve warm.
MacGourmet Rating: 3 Stars