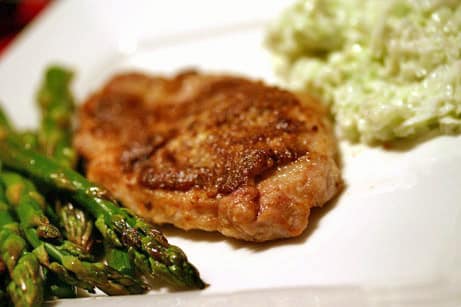 Spicy Brown Mustard Pork Chops
This post may contain affiliate links. Thank you for supporting the brands that keep me creative in my tiny kitchen!
These pork chops were really good, but next time, I'm going to use thicker chops and only add the mustard to one side. It was a bit overpowering, but it could be because I used the coarse-grained mustard. It was really easy, and the way that the crust forms on the chops is really different and tasty.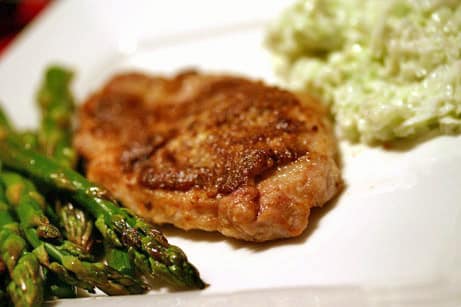 Spicy Brown Mustard Pork Chops
Southern Living September 2003
This recipe will serve three hearty eaters. Dijon mustard or coarse-grained mustard may be substituted to vary the flavor.
½ teaspoon salt
½ teaspoon garlic powder
¼ teaspoon pepper
½ cup spicy brown mustard
6 (1/2-inch-thick) boneless pork chops
1 cup all-purpose flour
¼ cup vegetable or canola oil
Combine first 3 ingredients. Spread mustard evenly on both sides of pork chops, and sprinkle with salt mixture.
Place flour in a shallow dish; dredge chops in flour.
Cook pork chops in hot oil in a large skillet over medium-high heat 2 to 3 minutes on each side or until golden brown. Drain on paper towels, and serve immediately.
Yield: Makes 6 servings
MacGourmet Rating: 4 Stars
---
On the side, I made some asparagus (I dry fried them in a pan because I saw Jamie Oliver do it on TV – he said it brings out a nuttiness that you don't really get from cooking it in other ways – and added some extra-virgin olive oil, salt, pepper and lemon juice) and my mom's cole slaw recipe again.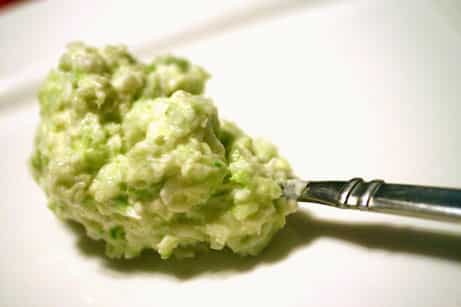 Cole Slaw
Mom
cabbage
apple cider vinegar
sugar
Miracle Whip light
milk
1. Shred cabbage in food processor.
2. Put in large bowl and add a few tablespoons of Miracle Whip. Splash with vinegar, sprinkle with sugar, and thin with milk. Adjust seasonings to taste.
MacGourmet Rating: 5 Stars