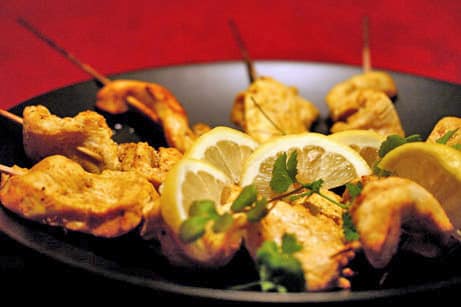 This post may contain affiliate links. Thank you for supporting the brands that keep me creative in my tiny kitchen!
These skewers are really tasty! I served them as a main course with basmati rice on the side.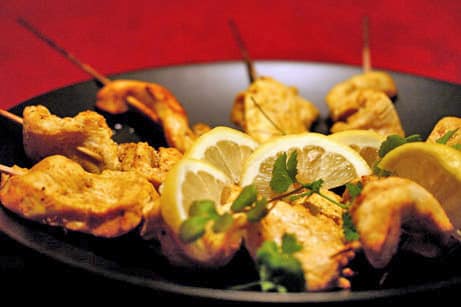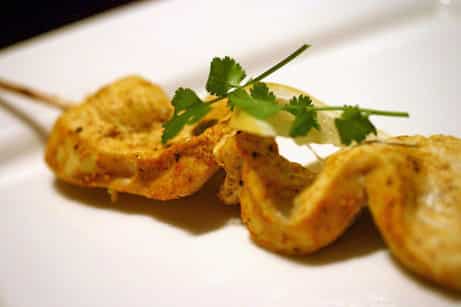 Tandoori Chicken Sate
Cooking Light November 1995
1/4 cup coarsely chopped onion
1/4 cup plain low-fat yogurt
1 tablespoon extra-virgin olive oil
1/2 teaspoon ground coriander
1/2 teaspoon chopped peeled gingerroot
1/4 teaspoon salt
1/4 teaspoon ground cumin
1/4 teaspoon ground turmeric
1/4 teaspoon ground red pepper
1/4 teaspoon black pepper
1 garlic clove
6 (4-ounce) skinned, boned chicken breast halves, cut into 1/2-inch-wide strips
Vegetable cooking spray
Lemon wedges (optional)
Cilantro sprigs (optional)
Place the first 11 ingredients in a food processor; process until smooth, scraping sides of processor bowl once. Combine yogurt mixture and chicken in a large zip-top heavy-duty plastic bag. Seal bag, and marinate in refrigerator 2 hours, turning bag occasionally.
Remove chicken from bag, and discard marinade. Thread chicken strips onto 24 (6-inch) skewers. Place skewers on broiler pan coated with cooking spray, and broil 6 minutes on each side or until chicken is done. Arrange skewers on a serving platter, and garnish with lemon wedges and cilantro sprigs, if desired.
Yield
24 servings (serving size: 1 skewer)
Nutritional Information:
CALORIES 27(20% from fat); FAT 0.6g (sat 0.1g,mono 0.3g,poly 0.1g); PROTEIN 5g; CHOLESTEROL 12mg; CALCIUM 5mg; SODIUM 27mg; FIBER 0.0g; IRON 0.2mg; CARBOHYDRATE 0.2g
MacGourmet Rating: 4 Stars