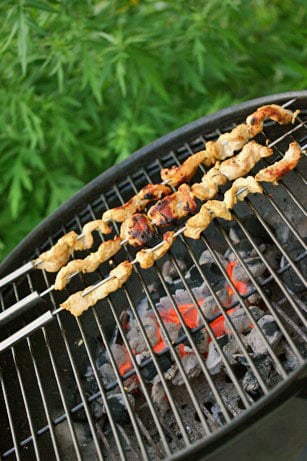 This post may contain affiliate links. Thank you for supporting the brands that keep me creative in my tiny kitchen!
This was a pretty good meal. The grill gives the chicken a really nice smoky flavor, and the sauce is great! We added some Sriracha to give it some spice, and wrapped the sandwiches in foil to make them easier to eat (they're a little messy, but worth it).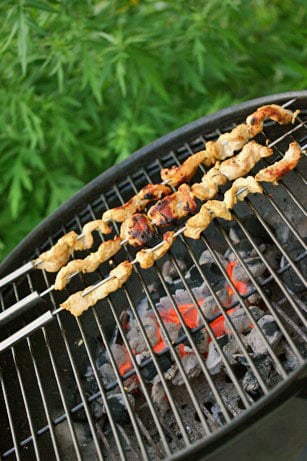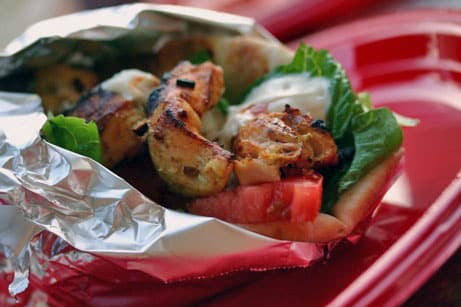 Chicken Shawarma
Cooking Light July 2008
Shawarma is a Middle Eastern dish of garlicky meat or poultry served on pitas.
Total time: 45 minutes.
Chicken:
2 tablespoons fresh lemon juice
1 teaspoon curry powder
2 teaspoons extravirgin olive oil
¾ teaspoon salt
½ teaspoon ground cumin
3 garlic cloves, minced
1 lb. skinless, boneless chicken breast, cut into 16 (3-inch) strips
Sauce:
½ cup plain 2% reduced-fat Greek yogurt (such as Fage)
2 tablespoons tahini
2 teaspoons fresh lemon juice
¼ teaspoon salt
1 garlic clove, minced
Remaining ingredients:
Cooking spray
4 (6-inch) pitas
1 cup chopped romaine lettuce
8 (1/4-inch-thick) tomato slices
1. Preheat grill to medium-high heat.
2. To prepare chicken, combine first 6 ingredients in a medium bowl. Add chicken to bowl; toss well to coat. Let stand at room temperature 20 minutes.
3. To prepare sauce, combine yogurt and next 4 ingredients (through 1 garlic clove), stirring with a whisk.
4. Thread 2 chicken strips onto each of 8 (12-inch) skewers. Place kebabs on a grill rack coated with cooking spray; grill 4 minutes on each side or until done.
5. Place pitas on grill rack; grill 1 minute on each side or until lightly toasted. Place 1 pita on each of 4 plates; top each serving with 1/4 cup lettuce and 2 tomato slices. Top each serving with 4 chicken pieces; drizzle each serving with 2 tablespoons sauce.
Yield 4 servings
Nutritional notes:
CALORIES 384(23% from fat); FAT 9.8g (sat 2.1g,mono 4.1g,poly 2.7g); IRON 4.3mg; CHOLESTEROL 64mg; CALCIUM 106mg; CARBOHYDRATE 40g; SODIUM 821mg; PROTEIN 34.4g; FIBER 2.5g
MacGourmet Rating: 4 Stars