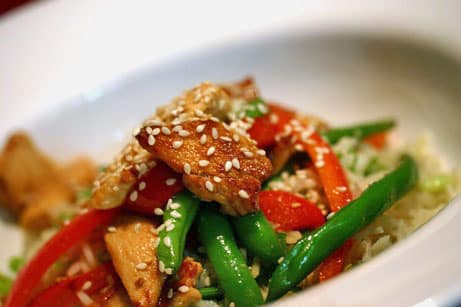 Devilish Sesame Chicken with Green Beans and Scallion Rice
This post may contain affiliate links. Thank you for supporting the brands that keep me creative in my tiny kitchen!
This dish was really good! The only change I'd make next time is to cut down the amount of sauce. It was too much, because it had strong flavors and it covered up the rice too much. Otherwise, it was a great meal!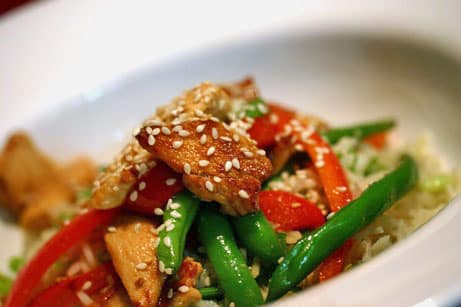 Devilish Sesame Chicken with Green Beans and Scallion Rice
Every Day with Rachael Ray August 2008
3 tablespoons vegetable oil
1 cup white rice
2 cups chicken broth
salt
½ pound green beans
1 pound chicken breast, chicken cutlets or chicken tenders, thinly sliced
1 red bell pepper, seeded and thinly sliced
3 tablespoons tamari (dark soy sauce)
3 tablespoons honey
1 tablespoon hot pepper sauce
1 tablespoon Dijon mustard
2 teaspoons sesame oil
1 bunch scallions, finely chopped
2 tablespoons sesame seeds, toasted
1. In a large saucepan, heat 1 tablespoon oil over medium-high heat. Add the rice; toast, stirring, for a minute or two. Add 1 1/2 cups chicken broth, lower the heat, cover and simmer until tender, about 17 minutes.
2. In a medium skillet, bring enough water to reach a depth of 1 inch to a boil, salt it, add the green beans and cook for 2 minutes; drain and rinse with cold water.
3. In a large skillet, heat the remaining 2 tablespoons oil over high heat until rippling. Add the chicken and cook until golden, 3 to 4 minutes. Add the bell pepper and cook until just softened, 3 minutes. Add the green beans and cook, tossing, for 1 minute.
4. In a bowl, mix together the tamari, honey, hot sauce, mustard and remaining 1/2 cup chicken broth. Pour the sauce over the chicken and vegetables; toss. Drizzle the sesame oil over the chicken.
5. Stir the scallions into the rice and fluff with a fork. Serve the chicken over the rice and top with sesame seeds.
MacGourmet Rating: 5 Stars