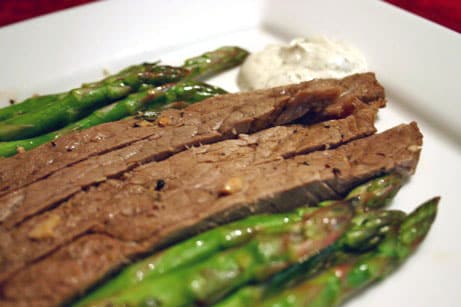 This post may contain affiliate links. Thank you for supporting the brands that keep me creative in my tiny kitchen!
This photo looks unappetizing, and for good reason. This recipe didn't do much for us. It didn't help that cut of meat, and it ended up being tough. The taste was OK, but the part that made it better was a horseradish dill mayo that Dino whipped together for it. I definitely won't be making this again.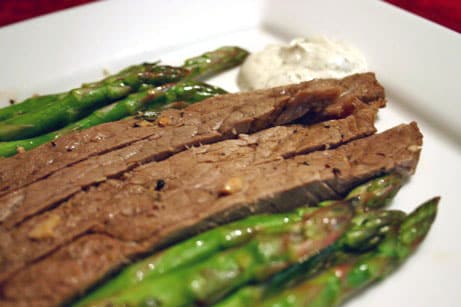 Marinated London Broil
Cooking Light May 2008
"I think every mom in the 1950s, 60s, and 70s had some version of this dish, but it taught me how to take a less-expensive, tougher cut of meat and make it delicious" says David Bonom.
½ cup chopped shallots
¼ cup low-sodium soy sauce
3 tablespoons fresh lemon juice
3 tablespoons balsamic vinegar
1 tablespoon olive oil
2 teaspoons fresh thyme
1 teaspoon dried oregano
4 garlic cloves, minced
1 (2-pound) boneless top round steak, trimmed
Cooking spray
½ teaspoon salt
¼ teaspoon freshly ground black pepper
1. Combine first 8 ingredients in a large zip-top plastic bag. Pierce steak with a fork. Add steak to bag; seal. Marinate in refrigerator 2 hours, turning every 30 minutes.
2. Preheat broiler.
3. Remove steak from bag; discard marinade. Scrape shallots and garlic from steak; discard shallots and garlic. Place steak on broiler pan coated with cooking spray. Sprinkle steak evenly with salt and pepper. Broil 4 inches from heat for 6 minutes on each side or until desired degree of doneness. Let stand 10 minutes before slicing against the grain.
Yield: 8 servings (serving size: 3 ounces)
Nutritional notes:
CALORIES 228 (30% from fat); FAT 7.5g (sat 2.5g,mono 3.3g,poly 0.4g); IRON 3.4mg; CHOLESTEROL 93mg; CALCIUM 12mg; CARBOHYDRATE 1.2g; SODIUM 263mg; PROTEIN 36.6g; FIBER 0.1g
MacGourmet Rating: 2 Stars