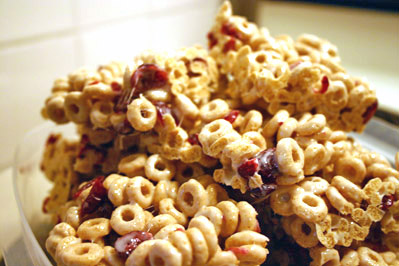 Cranberry-Oat Cereal Bars
This post may contain affiliate links. Thank you for supporting the brands that keep me creative in my tiny kitchen!
This recipe is one I've made several times. It's super easy, and a nice change from Rice Krispie Treats. I use a 9″x13″ pan instead of a baking sheet so they're a little thicker. Make sure you remember to spray the top of the wax paper too, otherwise you'll have a very sticky mess…that's right, I goofed and it was a big pain to try to get them out of the pan. Oops! On a similar note – if you're going to store them and plan to stack them on top of each other, put some wax paper in between the layers.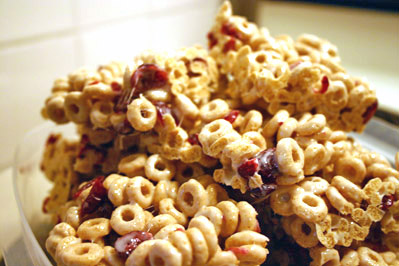 Cranberry-Oat Cereal Bars
Everyday Food September 2006
Makes 24
Prep Time: 15 minutes
Total Time: 1 hour 15 minutes
nonstick cooking spray
4 tablespoons unsalted butter
1 bag (10 ounces) marshmallows
1/2 teaspoon salt
6 cups toasted oat cereal
1 cup dried cranberries or raisins
1. Spray a 10-by-15-inch rimmed baking sheet with cooking spray. Line with waxed paper; spray paper with cooking spray, and set aside.
2. In a large saucepan, melt butter over medium heat. Add marshmallows and salt; cook, stirring occasionally, until marshmallows have melted, about 5 minutes. Remove from heat, and stir in cereal and dried cranberries.
3. Immediately transfer mixture to prepared baking sheet. Using a spatula (or your fingers) coated with cooking spray, press in quickly and firmly. Let cool, about 1 hour; cut into 24 bars (3 rows lengthwise by 8 rows crosswise). Store in an airtight container up to 2 days.
Nutritional notes:
Per bar: 97 calories; 2.4 grams fat; 1.1 rams protein; 19.3 grams carbohydrates; 1.2 grams fiber
MacGourmet Rating: 5 Stars