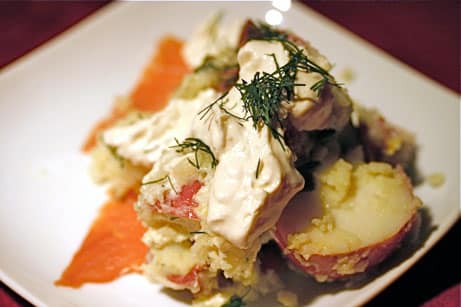 This post may contain affiliate links. Thank you for supporting the brands that keep me creative in my tiny kitchen!
This month's Supper Club theme was Jamie Oliver recipes. I saw him make this on Jamie at Home, but the recipe wasn't on Food Network's website. Someone over at the CLBB happened to take notes of how he made it on the show, so I followed her instructions, and voila! It turned out really tasty, but I didn't get to take a photo until the next day, and it doesn't look too pretty when it's cold.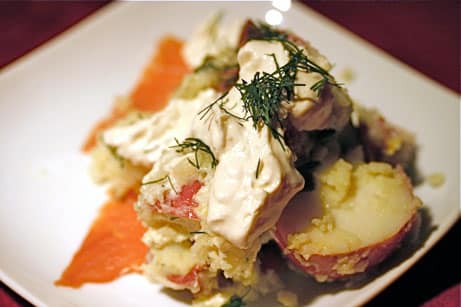 Perfect Potato Salad
Jamie Oliver, Jamie at Home (Hyperion 2008)[from notes of the show by CLBB PamN]
small new potatoes
boiling salted water
1 lemon, zest and juice
salt and pepper
3 pinches capers, (nice-sized pinches)
extra-virgin olive oil
(use 3 times as much oil as you have lemon juice)
splash of vinegar
smoked salmon (the dry type)
horseradish, grated fresh or bottled
fresh dill
creme fraiche
or yogurt or fromage frais
½ lemon, juiced
Bring the salted water to a boil and add the potatoes. (JO puts small new potatoes in already boiling water rather than putting them in cold water and then heating the water.)
Meanwhile, make the potato dressing. In a bowl, grate in the lemon zest with a microplane and squeeze in the juice. Add salt and pepper, 3 nice pinches of brined capers, and whisk in 3 times as much oil as you have lemon juice. When the potatoes are done, drain them and add, hot, to the dressing bowl. Fold them into the dressing so they are well coated. JO tasted and added a splash of vinegar to bring up the sharpness.
On a platter, arrange the slices of smoked salmon in casual waves to cover the plate.
The potatoes will have cooled down by this point, so chop some fresh dill and toss it throughout the dressed potatoes. (If you added the dill earlier, while the potatoes are hot, it would wilt and taste cooked.) Spoon the potatoes in the center of the platter of salmon.
In a small bowl, place some creme fraiche. Squeeze in the juice of half a lemon (or so), grate in some horseradish, and add a bit of salt. Mix well (it should be fairly loose). Drop it in splodges around the platter. Drizzle a little extra-virgin olive oil over all and sprinkle on some freshly chopped dill.
Serve with bread for lunch.
MacGourmet Rating: 5 Stars