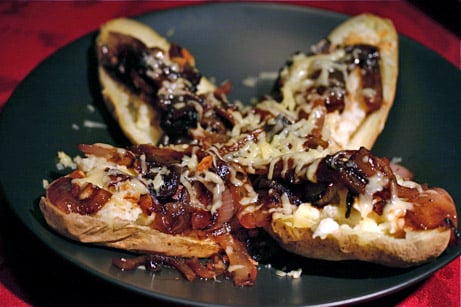 Caramelized Onion-Stuffed Baked Potato | Tequila Pork Chops
This post may contain affiliate links. Thank you for supporting the brands that keep me creative in my tiny kitchen!
I've been wanting to try this recipe out for a while, and I'm glad I finally did! The onions have tons of flavor, and the microwave makes "baking" the potatoes really quick. The potatoes I used were pretty big, so I zapped them for an extra few minutes to be sure they were cooked all the way through. This was great heated up for lunch, too!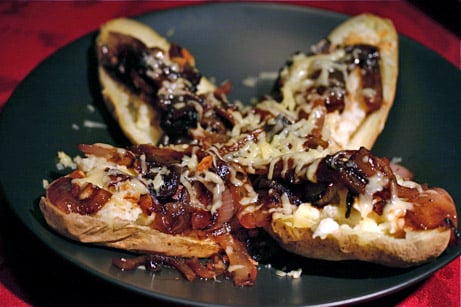 Caramelized Onion-Stuffed Baked Potato
Cooking Light March 2005
Baking the potato in the microwave makes this dish a snap to prepare. Fontina, mozzarella, or even Parmesan would work in this dish. Serve with filet mignon or flank steak.
2 medium baking potatoes
½ cup Gruyere cheese, shredded, divided
2 tablespoon reduced fat sour cream
½ teaspoon salt
¼ teaspoon pepper
1 ½ teaspoon butter
2 cup red onion, vertically sliced
2 teaspoon dry sherry
1 teaspoon Worcestershire sauce
½ teaspoon dried thyme
1 clove garlic
2 teaspoons sugar
Pierce potatoes with a fork; arrange on paper towels in microwave oven. Microwave at high 10 minutes or until done, rearranging potatoes after 5 minutes. Let stand 5 minutes.
Cut each potato in half lengthwise; scoop out pulp, leaving a 1/4-inch-thick shell. Combine potato pulp, 1/4 cup cheese, sour cream, salt, and pepper. Spoon potato mixture evenly into shells.
Melt butter in a medium nonstick skillet over medium-high heat. Add onion and sugar; sauté 8 minutes or until browned. Stir in sherry, Worcestershire, thyme, and garlic; cook 1 minute or until liquid evaporates, scraping pan to loosen browned bits. Top each potato half with about 2 tablespoons onion mixture and 1 tablespoon of cheese. Arrange stuffed potato halves on paper towels in microwave oven. Microwave at high 1 minute or until thoroughly heated.
Yield: 4 servings (serving size: 1 stuffed potato half)
MacGourmet Rating: 4 Stars
---
These pork chops were good, but they didn't really stand out.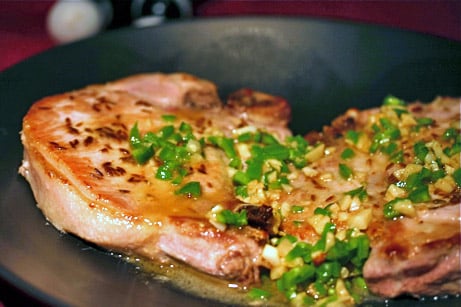 Tequila Pork Chops
Sunset February 1999
When Al Zangri visited Tucson, he fell in love with the food. Back home, he was inspired to create this dish with Southwestern flavors.
4 center-cut loin pork chops (each about 3/4 in. thick)
½ teaspoon cumin seed
¼ cup (1/8 lb.) butter or margarine
3 cloves garlic, pressed or minced
¼ cup fat-skimmed chicken broth
½ cup tequila
2 tablespoons lime juice
2 to 4 teaspoons minced fresh jalapeño chilies
Salt and ground white pepper
1. Trim and discard fat from chops. Wipe chops with a damp towel, then press cumin seed equally onto wide sides of each piece.
2. Place a 10- to 12-inch nonstick frying pan over high heat. When hot, add 1 teaspoon butter, tilting to coat pan. Add chops; brown well on each side, about 6 minutes total. Stir in garlic.
3. Remove pan from heat (away from a vent, fan, or inflammables). Stir broth, tequila, and lime juice into pan. Set over high heat. When liquids boil, reduce heat and simmer until meat is no longer pink in center (cut to test), about 4 minutes. Transfer chops to a platter; keep warm.
4. On high heat, boil pan juices until reduced to 3 to 4 tablespoons, about 2 minutes. Add remaining butter, in a lump, and stir until blended with sauce. Season to taste with chilies. Pour sauce over pork. Season to taste with salt and pepper.
Yield: Makes 4 servings
Nutritional notes:
CALORIES 450 (66% from fat); FAT 33g (sat 15g); CHOLESTEROL 145mg; CARBOHYDRATE 1.5g; SODIUM 230mg; PROTEIN 35g; FIBER 0.1g
MacGourmet Rating: 3 Stars