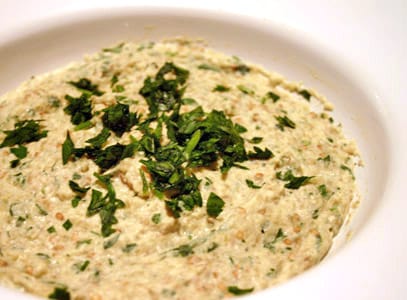 This post may contain affiliate links. Thank you for supporting the brands that keep me creative in my tiny kitchen!
Warning: when making this awesome recipe with huge cloves of garlic fresh from the farmers' market…CUT BACK THE AMOUNT! It ended up overpowering the eggplant. I love garlic, but WOAH. It's still one of our favorite recipes, but just for future reference…ya know.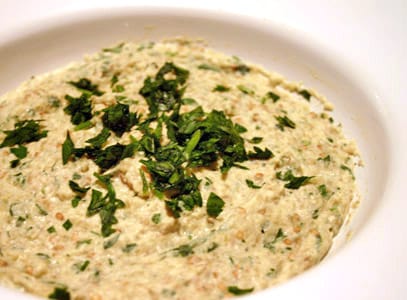 Babaganoush
Healthy Appetite with Ellie Krieger
1 large eggplant (about 1 pound)
1 glove garlic, minced
¼ teaspoon salt
¼ cup finely chopped fresh flat-leaf parsley, plus more for garnish
2 tablespoons tahini
2 tablespoons lemon juice
Prep Time: 15 minutes
Inactive Prep Time: 10 minutes
Cook Time: 20 minutes
Yield: 4 (1/3 cup) servings
Preheat oven to 450 degrees F.
Prick eggplant with a fork and place on a cookie sheet lined with foil. Bake the eggplant until it is soft inside, about 20 minutes. Alternatively, grill the eggplant over a gas grill, rotating it around until the skin is completely charred, about 10 minutes. Let the eggplant cool. Cut the eggplant in half lengthwise, drain off the liquid, and scoop the pulp into a food processor. Process the eggplant until smooth and transfer to a medium bowl.
On a cutting board, work garlic and 1/4 teaspoon salt together with the flat side of a knife, until it forms a paste. Add the garlic-salt mixture to the eggplant. Stir in the parsley, tahini, and lemon juice. Season with more salt, to taste. Garnish with additional parsley.
Nutritional notes:
Nutritional Analysis Per Serving
Calories 75
Carbohydrates 9g
Total fat 4g
Saturated fat 0.5g
Monounsaturated fat 1.5g
Polyunsaturated fat 2g
Protein 2.5g
Fiber 4g
Sodium 153mg
Cholesterol 0mg
MacGourmet Rating: 5 Stars