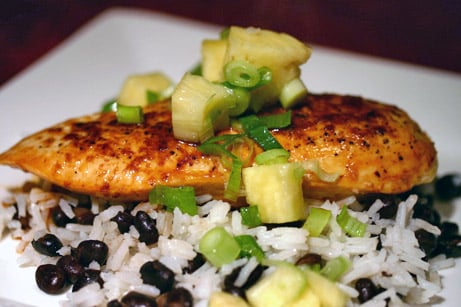 Jerk Chicken with Rice, Black Beans, and Pineapple
This post may contain affiliate links. Thank you for supporting the brands that keep me creative in my tiny kitchen!
I live several states away from my mom, and I'm trying to get her into cooking more meals at home. As part of this "deal", we decided to pick at least one recipe per week that we'll both cook, that way we can talk about it and hopefully find new and great recipes. I think it might be easier on me since I like more types of food, but I'm hoping it'll open her up to some different ingredients and cooking styles that she may or may not have tried otherwise. This week, she picked out this recipe. It turned out really good! The flavors work really nicely together. The only thing that was a little odd to us was that you just kind of toss green onions with pineapple to go on the side. I ended up mixing mine all together to get all of the yummy flavors at once. Yum!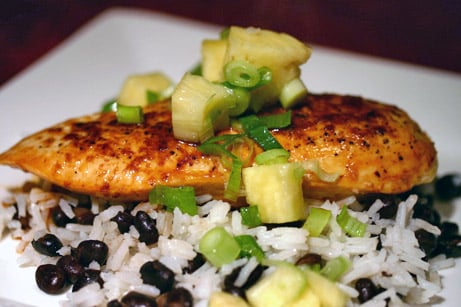 Jerk Chicken with Rice, Black Beans, and Pineapple
Real Simple February 2008
4 Servings
1 cup long-grain white rice
¼ cup cider vinegar
¼ cup spiced rum or orange juice
2 tablespoons jerk sauce (such as Pickapeppa Sauce)
1 tablespoon grated fresh ginger
4 6-ounce boneless, skinless chicken breasts
Kosher salt and pepper
1 tablespoon olive oil
1 15-ounce can black beans, drained and rinsed
8 ounces fresh pineapple, cut into 1-inch pieces
1 bunch scallions, sliced
Cook the rice according to the package directions.
Combine the vinegar, rum, jerk sauce, and ginger in a measuring cup or small bowl; set aside.
Pound the chicken to an even thickness. Season it with 1/2 teaspoon salt and 1/4 teaspoon pepper.
Heat the oil in a skillet over medium heat. Add the chicken and cook until browned, about 4 minutes per side. Remove from heat and add the vinegar mixture. Return the skillet to low heat and simmer until the chicken is cooked through, about 2 minutes.Divide the chicken and sauce among plates.
Stir the beans into the rice. In a medium bowl, combine the pineapple and scallions. Serve both with the chicken.
Tip: The chili peppers in jerk sauce shouldn't overwhelm the other ingredients. Taste yours before adding it to a dish. If the sauce is too spicy, cut the amount you use in the recipe by half.
Yield
Nutritional notes:
CALORIES 542(10% from fat); FAT 6g (sat 1g); CHOLESTEROL 66mg; CARBOHYDRATE 73g; SODIUM 357mg; PROTEIN 40g; FIBER 11g; SUGAR 7g
MacGourmet Rating: 4 Stars