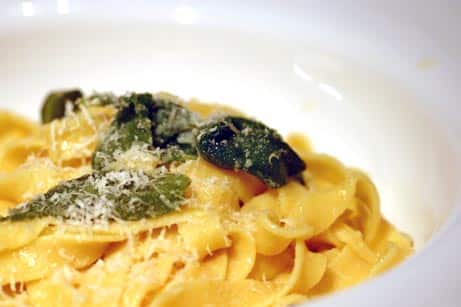 I got some fresh carrot pasta from the Farmers' Market, so I decided to make an easy brown butter sauce that I've made before. It's really tasty, and it even works with soy butter. The pasta was really good – the carrot flavor didn't really jump out, and it was weird that the pasta was orange, but turned yellow after cooking.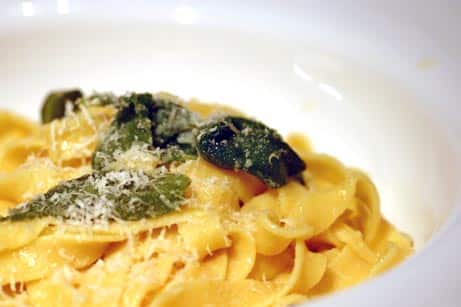 Butter and Sage Sauce
Mario Batali
Difficulty: Easy
Prep Time: 2 minutes
Cook Time: 10 minutes
Yield: 4 servings
Pasta, of choice
4 tablespoons butter
8 sage leaves
1/2 lemon, juiced
1/4 cup grated Parmigiano-Reggiano
While your pasta cooks, melt butter in a 12 to 14-inch saute pan and continue cooking until golden brown color ("noisette") appears in the thinnest liquid of the butter. Add sage leaves and remove from heat. Add lemon juice and set aside. Drain the pasta, but leaving some cooking water, and gently pour into saute pan and return to heat. Add the cheese, toss to coat and serve immediately.
MacGourmet Rating: 5 Stars