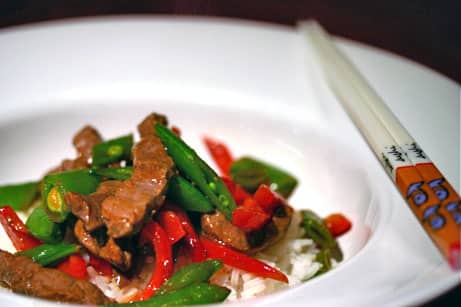 Beef and Snow Pea Stir-Fry
This post may contain affiliate links. Thank you for supporting the brands that keep me creative in my tiny kitchen!
This stir-fry is quick and easy and pretty tasty. I used sliced sugar snap peas instead of snow peas, and it added a nice crunch to the dish.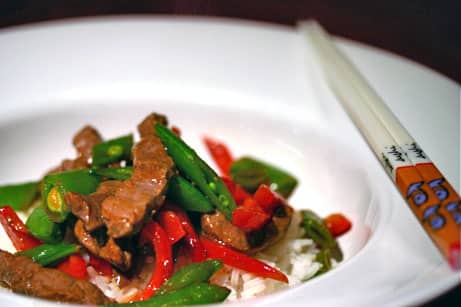 Beef and Snow Pea Stir-Fry
McCormick
Hungry for an authentic Chinese meal in minutes? Garlic and ginger add the punch to this flavorful dish.
Makes 4 (1-cup) servings.
Prep Time: 15 minutes
Cook Time: 12 minutes
1 ½ teaspoons cornstarch
½ teaspoon McCormick® Garlic Powder
¼ teaspoon McCormick® Ground Ginger
⅓ cup water
2 tablespoons soy sauce
2 teaspoons vegetable oil
1 lb. boneless sirloin steak, trimmed and cut into thin strips
1 red bell pepper, cut into strips
¼ lb. snow peas
Hot cooked rice (optional)
1. Mix cornstarch, garlic powder and ginger in medium bowl. Add water and soy sauce; stir well. Set aside.
2. Heat oil in wok or large skillet on medium-high heat. Add meat; cook and stir 4 to 5 minutes or until lightly browned. Remove meat; set aside.
3. Add red bell pepper and snow peas; cook and stir 5 minutes or until vegetables are crisp-tender.
4. Restir soy sauce mixture. Add vegetables along with meat. Bring to boil. Reduce heat to low; simmer just until sauce thickens. Serve over hot cooked rice, if desired.
Nutritional notes:
Calories: 204
Sodium: 519 mg
Fat: 8 g
Carbohydrates: 5 g
Cholesterol: 76 mg
Fiber: 2 g
Protein: 28 g
MacGourmet Rating: 4 Stars
---
As a side note – I was so excited to see the Sam Adams Winter Classics Mix Pack at the grocery store. There are some beers that we've never tried in there, and also one that we tried 2 years ago when we went on the brewery tour in Boston – Old Fezziwig Ale. It's really good – I highly recommend picking up a pack and trying it out. I don't think you can get some of the varieties other than in the variety pack.