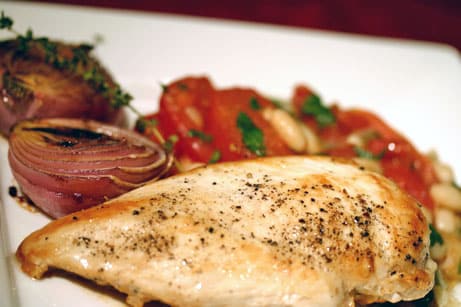 Red Onions Roasted with Balsamic & Honey | Pan-Fried Chicken Breasts with Warm Bean Salad
This post may contain affiliate links. Thank you for supporting the brands that keep me creative in my tiny kitchen!
We had a wonderful and simple meal. This is definitely comfort food at its best.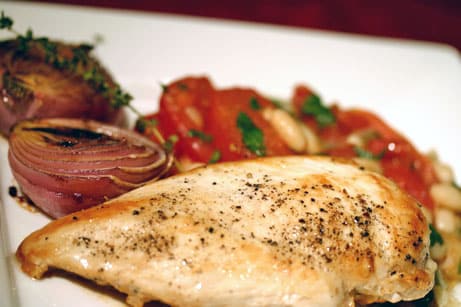 I saw this on Tyler's Ultimate and thought it looked amazing. It didn't disappoint! One thing to note is that on the show, he said that if the pan starts to dry out and the onions aren't done yet, add some water. Also, on the show he mentioned that you should cut the onions through the root so that they stay together. This is a really easy and different side dish.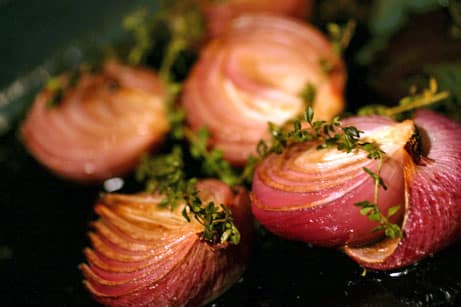 Red Onions Roasted with Balsamic and Honey
Tyler Florence
Cook Time 45 min
Level Easy
Yield 6 servings
Times:
Prep 5 min
Inactive Prep
Cook 45 min
Total: 50 min
3 red onions, peeled, halved lengthwise
1 cup balsamic vinegar
¼ cup extra-virgin olive oil
⅓ cup honey
Sea salt and freshly ground black pepper
½ stick unsalted butter
¼ bunch fresh thyme
Preheat the oven to 325 degrees F.
Put the onions on a sheet pan, cut side up, and drizzle with balsamic vinegar, olive oil, and honey. Season with salt and pepper then top each with a pat of butter and fresh thyme. Bake for 40 minutes, until the onions are soft and caramelised around the edges.
MacGourmet Rating: 5 Stars
This recipe was on Jamie Oliver's website – it was a fan submitted recipe. It's super easy and delicious! Great combination of flavors.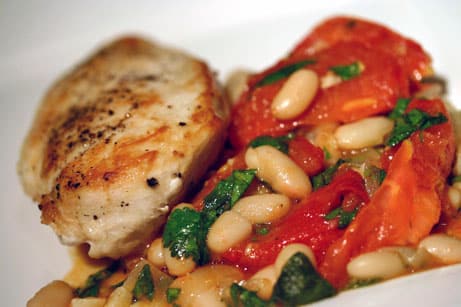 Pan-Fried Chicken Breasts with Warm Bean Salad
jamieoliver.com – hoppershaun
SERVES 2
2 chicken breasts
3 tablespoons olive oil
half an onion, chopped
2 cloves of garlic, chopped
2 tomatoes, cut into wedges
1 can of cannellini beans, drained
1 tablespoon chopped coriander
1 tablespoon chopped basil
good squeeze of lemon juice
salt and black pepper
1. Heat 1 tbsp of olive oil in a frying or griddle pan over a medium heat. Add the chicken breasts and cook for about 8 minutes each side, or until cooked through.
2. Meanwhile make the warm bean salad. Gently cook the onion and garlic in 2 tbsp of olive oil until the onion has softened. Add the tomatoes and cannellini beans and season with salt and pepper. Cook until warmed through and then add the chopped herbs and lemon juice. Mix well and serve alongside the chicken breasts.
MacGourmet Rating: 5 Stars