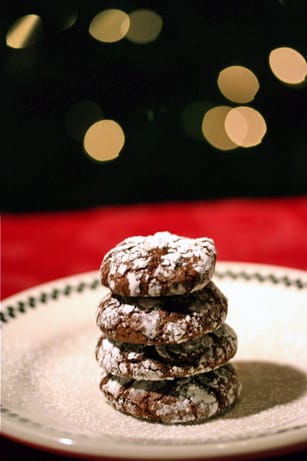 Espresso Crinkles | Exotic Spice Cookies with Ginger, Cardamom and Rose Water
This post may contain affiliate links. Thank you for supporting the brands that keep me creative in my tiny kitchen!
These cookies are tasty – they're almost truffle-like. The only issue I had with them was that I didn't really taste the espresso. I'd probably double it next time.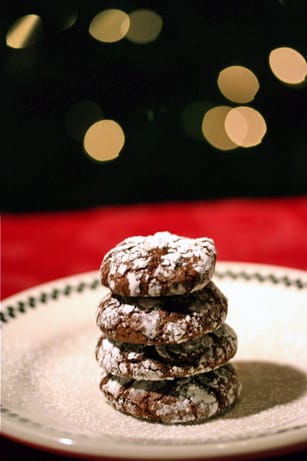 Espresso Crinkles
Cooking Light December 2008
Lightly coat your hands with flour to make rolling the dough into balls easier. The dough freezes well. Freeze the dough after step 1, thaw in the refrigerator, then proceed with step 2. The powdered sugar coating gives these cookies an appealing cracked finish. Serve with coffee to echo the espresso.
4.5 ounces all-purpose flour (about 1 cup)
1 ¼ cups powdered sugar, divided
¼ cup unsweetened cocoa
1 ¼ teaspoons baking powder
⅛ teaspoon salt
5 ¼ teaspoons canola oil
1 ½ ounces unsweetened chocolate, chopped
1 teaspoon instant espresso granules
¾ cup packed brown sugar
3 tablespoons light-colored corn syrup
1 ½ teaspoons vanilla extract
2 large egg whites
1. Weigh or lightly spoon flour into dry measuring cups; level with a knife. Combine flour, 3/4 cup powdered sugar, cocoa, baking powder, and salt in a medium bowl; stir with a whisk. Combine oil and chocolate in a small saucepan over low heat; cook until chocolate melts, stirring constantly. Add espresso granules to pan; stir until blended. Remove from heat. Pour chocolate mixture into a large bowl; cool 5 minutes. Stir in brown sugar, syrup, and vanilla. Add egg whites, stirring with a whisk. Add flour mixture to egg mixture, stirring gently just until combined. Cover; chill at least 2 hours or overnight.
2. Preheat oven to 350°.
3. Roll dough into 1-inch balls. Dredge balls in remaining 1/2 cup powdered sugar; place balls 2 inches apart on 2 baking sheets lined with parchment paper. Bake at 350° for 10 minutes or until tops are cracked and almost set. Cool cookies on pan 2 minutes or until set; remove from pan. Cool cookies on a wire rack.
Yield: 2 dozen (serving size: 1 cookie)
Nutritional notes:
CALORIES 98 (18% from fat); FAT 2g (sat 0.6g,mono 0.6g,poly 0.3g); IRON 0.7mg; CHOLESTEROL 0.0mg; CALCIUM 21mg; CARBOHYDRATE 19.5g; SODIUM 47mg; PROTEIN 1.2g; FIBER 0.6g
MacGourmet Rating: 4 Stars
---
These are really different – they're spicy from the ginger, and probably the first cookie I've ever made with black pepper.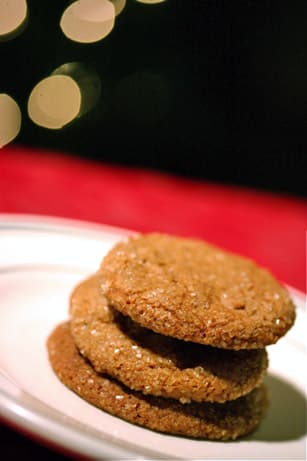 Exotic Spice Cookies with Ginger, Cardamom and Rose Water
Food Network Ultimate Recipe Showdown – Camilla Saulsbury
2 cups all-purpose flour
2 ¼ teaspoons ground ginger
2 teaspoons baking soda
¾ teaspoon ground cardamom
¾ teaspoon ground cinnamon
½ teaspoon ground coriander
¼ teaspoon freshly ground black pepper
¾ teaspoon salt
¾ cup chopped crystallized ginger
1 cup packed dark brown sugar
½ cup (1 stick) unsalted butter, room temperature
¼ cup vegetable shortening, room temperature
1 large egg
¼ cup honey
1 teaspoon rosewater
¾ cup turbinado (raw) sugar, for rolling
Whisk the flour, ground ginger, baking soda, cardamom, cinnamon, coriander, pepper and salt in a medium bowl until blended. Mix in the crystallized ginger. Set aside momentarily.
In a large bowl beat the brown sugar, butter and shortening with an electric mixer until fluffy (do not overbeat-it will add too much air). Add the egg, honey and rosewater and beat until blended. Stir in the flour mixture with a wooden spoon, mixing until just until blended. Cover and refrigerate 1 hour.
Preheat oven to 350 degrees F. Lightly spray 2 cookie sheets with nonstick cooking spray. Spoon the turbinado sugar in thick layer onto small plate. Using wet hands, form dough into 1 1/4-inch balls; roll in sugar to coat completely. Place balls on prepared sheets, spacing 2 to 3 inches apart.
Bake cookies until cracked on top but still soft to touch, about 11 to 13 minutes. Cool on sheets 1 minute. Carefully transfer cookies to wire racks; cool completely.
MacGourmet Rating: 4 Stars