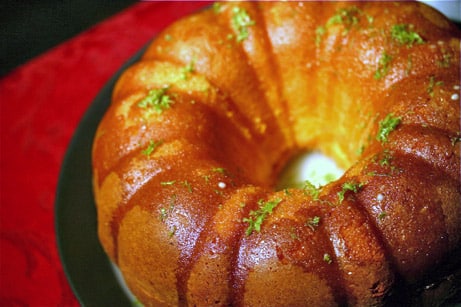 This post may contain affiliate links. Thank you for supporting the brands that keep me creative in my tiny kitchen!
We got invited to a Mexican themed Christmas dinner party. It was kind of last minute, and I wanted to bring something, and I was asked to bring a dessert. The only thing that came to mind at first was flan. I've never made it before, and I really didn't want to mess it up. Plus, we weren't going to be home too much prior to the party, so I went to allrecipes to find something easy. This recipe ROCKS! It kinda made me feel like Sandra Lee – using mixes – but hey…it was amazing! I noticed in the reviews that not many people could find an orange cake mix, and neither could I, so I substituted a lemon one. I added some lime zest on top and it was good to go. It was a huge hit! I'll definitely make this again.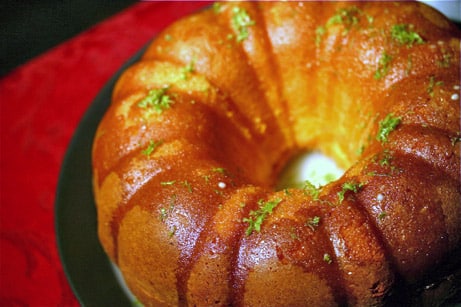 Margarita Cake
allrecipes.com – Carol
"A margarita – tequila, lime juice, triple sec – is baked into a cake mix."
PREP TIME 10 Min
COOK TIME 1 Hr
READY IN 1 Hr 20 Min
Original recipe yield 1 – 10 inch Bundt cake
1 (18.25 ounce) package orange cake mix
1 (3.4 ounce) package instant vanilla pudding mix
4 eggs
½ cup vegetable oil
⅔ cup water
¼ cup lemon juice
¼ cup tequila
2 tablespoons triple sec liqueur
—
1 cup confectioners' sugar
1 tablespoon tequila
2 tablespoons triple sec liqueur
2 tablespoons lime juice
1. Preheat oven to 350 degrees F (175 degrees C). Grease and flour a 10 inch Bundt pan.
2. In a large bowl combine cake mix, pudding mix, eggs, oil, water, lemon juice 1/4 cup tequila and 2 tablespoons triple sec. Beat for 2 minutes.
3. Pour batter into prepared pan. Bake in the preheated oven for 45 to 50 minutes, or until a toothpick inserted into the center of the cake comes out clean. Cool in pan for 10 minutes; remove to rack and pour glaze over cake while still warm.
4. To make the glaze: In a small bowl, combine confectioners' sugar with 1 tablespoon tequila, 2 tablespoons triple sec and 2 tablespoons lime juice. Mix until smooth.
MacGourmet Rating: 5 Stars