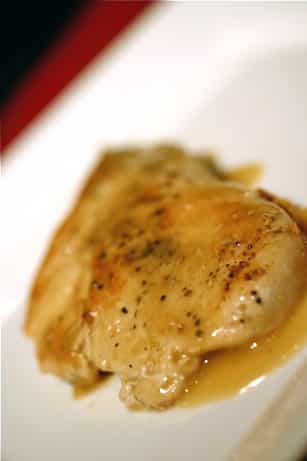 This post may contain affiliate links. Thank you for supporting the brands that keep me creative in my tiny kitchen!
This is the second time I've made this recipe. It's quick and easy and tasty. This time, I forgot the brown sugar – make sure you don't do that or it'll be a really tart sauce.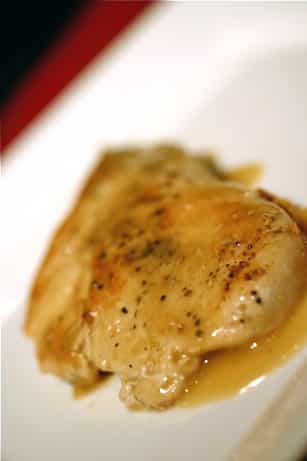 Chicken with Lime Sauce
Cooking Light April 2006
4 Servings
4 6 ounce boneless skinless chicken breast halves
¼ teaspoon salt
¼ teaspoon freshly ground black pepper
2 teaspoons olive oil
cooking spray
¾ cup fat free, less sodium chicken broth
1 tablespoon brown sugar
3 tablespoons lime juice, divided
2 teaspoons Dijon mustard
2 tablespoons water
1 teaspoon cornstarch
1 tablespoon butter
Place each chicken breast half between 2 sheets of heavy-duty plastic wrap; pound to 1/4-inch thickness using a meat mallet or small heavy skillet. Sprinkle chicken with salt and pepper.
Heat oil in a large nonstick skillet coated with cooking spray over medium-high heat. Add chicken; cook 4 minutes on each side or until browned. Remove from pan; keep warm.
Add chicken broth, sugar, 2 tablespoons juice, and mustard to pan; cook over medium heat, scraping pan to loosen browned bits.
Combine water and cornstarch in a small bowl. Add cornstarch mixture to pan; stir well with a whisk. Bring to a boil over medium-high heat; cook 1 minute or until sauce thickens slightly. Whisk in remaining 1 tablespoon lime juice and butter, stirring until butter melts. Return chicken to pan; simmer 2 minutes or until chicken is thoroughly heated.
Yield: 4 servings (serving size: 1 chicken breast half and 2 tablespoons sauce)
Nutritional notes:
NUTRITION PER SERVING
CALORIES 260(26% from fat); FAT 7.5g (sat 2.7g,mono 3.1g,poly 0.8g); PROTEIN 40.7g; CHOLESTEROL 106mg; CALCIUM 32mg; SODIUM 382mg; FIBER 0.1g; IRON 1.8mg; CARBOHYDRATE 5.4g
MacGourmet Rating: 5 Stars