This post may contain affiliate links, which won't change your price but will share some commission.
Lots of readers are interested in my Supper Club, so I figured it was time for another Q&A! You can find our first installment here.
Once a month since 2007, my husband and I get together with 2 other couples for an insanely delicious, themed, home-cooked dinner. We rotate hosting duties, and the hosts typically cook the main courses and provide libations of some sort. Everyone else chimes in ahead of time with what course they're bringing (salad, dessert, vegetable, etc.) and preps it at home before meeting up at the hosts' home for dinner.
Sometimes finishing touches are added to dishes right before we sit down to eat, but we try to get most of the work done before dinner time.
Every December, we have dinner out at a local restaurant. We each bring a batch of homemade cookies or candies all packaged up to go, and we enjoy a nice meal that none of us had to cook. It's a nice reprieve from all of the holiday prep that everyone tends to do at that time of year.
Some of the themes we've cooked up are cuisine-based, such as Asian, Indian, Korean, Mexican, Persian or Greek. Others focus on a specific chef, like Ina Garten, Bobby Flay, Jamie Oliver or Tyler Florence. We've had some fun themes like Food on a Stick, Cheese Grab Bag, Ingredient Grab Bag, Citrus, Round and Dim Sum.  We also do brunch once a year, and are now making our pizza night an annual event.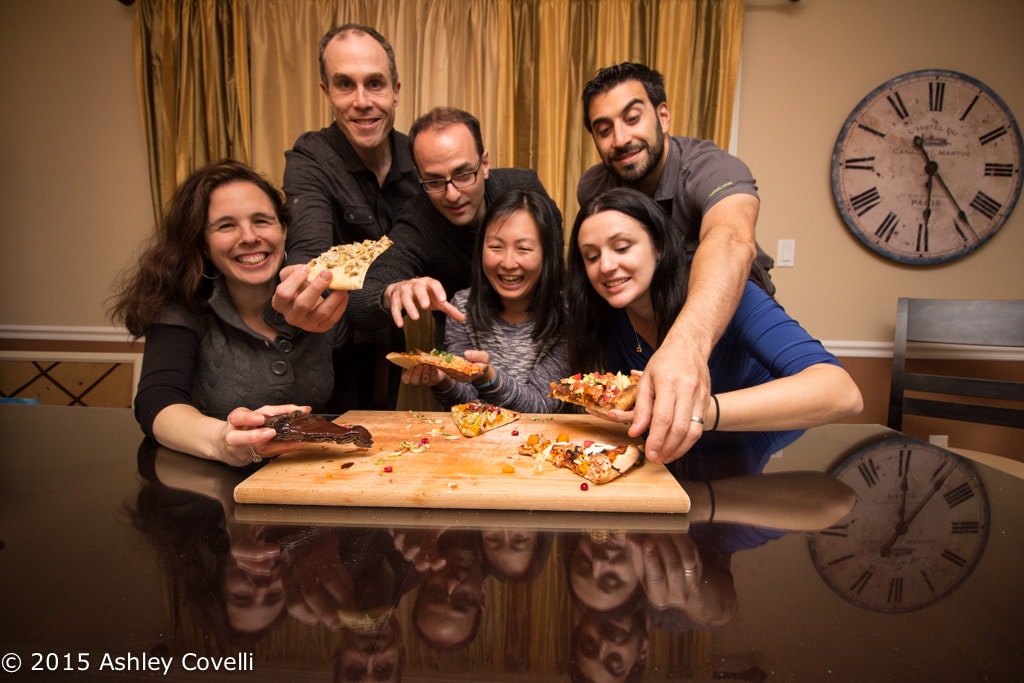 1. How many times per week do you cook?
Dana: Twice, usually on the weekends
Nancy: At least 5
Michael: Not even once a week if you mean real cooking. Most of the significant recipes I cook are either for the cooking group or when we are having a large gathering of friends or family. If you mean any cooking I would say twice a week I make something pretty straightforward such as a chicken quesadilla. I would love to cook more often.
Loren: Since I returned to work 10 weeks ago, only 2-3 times a week. Before that, when I was supposed to be taking this survey, the answer was closer to 5+. Most of the time, I still wasn't making anything too complex.
Dino: 1-3 times
Ashley: Pretty much every day.
2. What's the last recipe you cooked at home?
Dana: "C's" birthday meal with my parents: Thinly-pounded breaded chicken breasts, homemade mac and cheese, roasted broccoli
Nancy: Tonight's dinner - Slow cooker Potato Cheddar Ale Soup
Michael: I made Chicken Saagwala yesterday. It came out really good.
Loren: Rachael Ray's Andalusian-Style Chicken with saffron and olives. Really, really good.
Dino: Sausage and Provolone Stuffed Chicken
Ashley: Tempura green beans - my first time making tempura at home and it was a big success! (recipe coming soon!)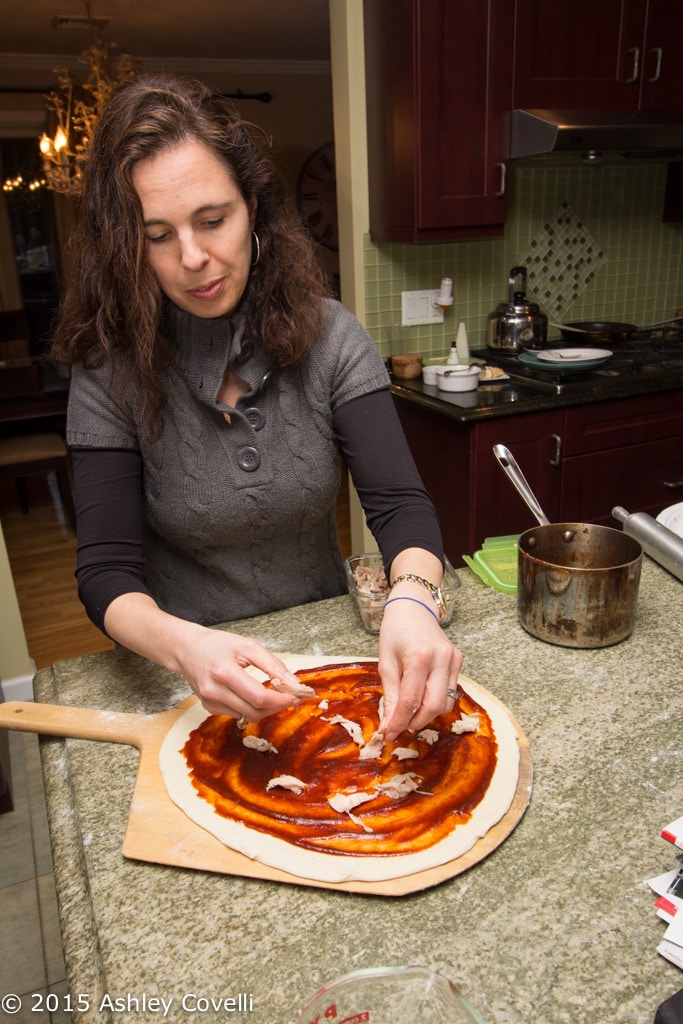 3. What's the last restaurant meal you enjoyed?
Dana: Our anniversary dinner at the incomparable Blue Hill at Stone Barns
Nancy: David Burke Townhouse
Michael: I'm embarrassed to say that we rarely go out for dinner. It's often throwing something together or repurposing leftovers. My answer is probably the same as whatever I said last year (Shake Shack).
Loren: Our last meal out was at 105-Ten in Briarcliff Manor. I enjoyed the company, but it was a rare off night for the staff. The last meal out that we really enjoyed was.... I had brunch at Mint in Tarrytown. The deli section looks great - I'd like to go back for a late lunch or afternoon snacks.
Dino: Duck Leg Confit at Ichabod's in Gramercy, NYC.
Ashley: I was invited to a Friendsgiving event at New York Vintners with Allrecipes and Swanson last week and it was beyond fabulous!
4. What do your kids most enjoy helping out with in the kitchen?
Dana: Anything breakfast or treat related
Nancy: "A" can make scrambled eggs (and a pot of coffee for me!) on her own but she really enjoys helping with any type of cooking in the kitchen. "C" enjoys helping more with pancakes or baked goods.
Michael: One of my kids loves everything. She's even asked to help clean up. I think her favorite is helping make pizza because she has seen me taste the dough and now she loves eating bread dough. She is really good at rolling the dough. My other daughter mostly likes a little mixing and tasting stuff.
Loren: Mixing, pouring, decorating, and eating.
Dino: Cracking & scrambling eggs, and/or baking in general.
Ashley: My son loves helping daddy make breakfast on weekends and helping me bake dessert any day of the week.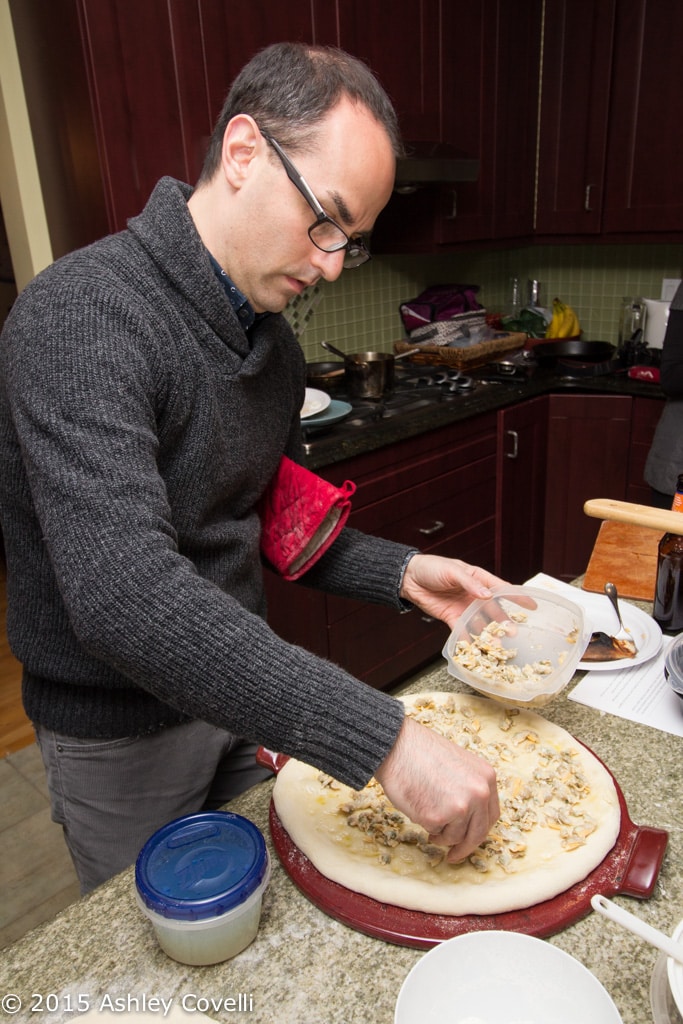 5. Are there any recipes/techniques on your "to try" list for this year?
Dana: Grilled pizza
Nancy: Pickling and/or canning
Michael: Sous Vide. I'm very interested is having things cooked perfectly without much effort.
Loren: Michael certainly wants to practice with the sous vide. I'll benefit from that, but I'd rather focus on slow cooker recipes for the winter and fresher, less cooked things when we get back to warmer months.
Dino: I'm going to attempt to smoke a turkey on the grill before year's end.
Ashley: I'm scared/excited to try out making homemade croissants.
6. What's a cuisine you want to explore more (either at home or dining out) in 2016?
Dana: Middle Eastern or North African
Nancy: I think I'd like to expand my Korean cooking repertoire beyond bulgogi. Possibly try making kimchi. And since our son loves sushi so much, I think it would be fun to try making some (preferably the cooked kind) at home with him.
Michael: I just bought a bunch of Indian ingredients for the Chicken Saagwala. I could see myself making more curries and Indian food.
Loren: Right now, my focus is on quick and interesting, whether it's a quick stir fry, pasta, or a sauté. Maybe I'd like to cook more with legumes.
Dino: BBQ Smoking
Ashley: I'd like to try out more Turkish recipes. It's one of my favorite cuisines, and I want to make it home more often. Same with Vietnamese.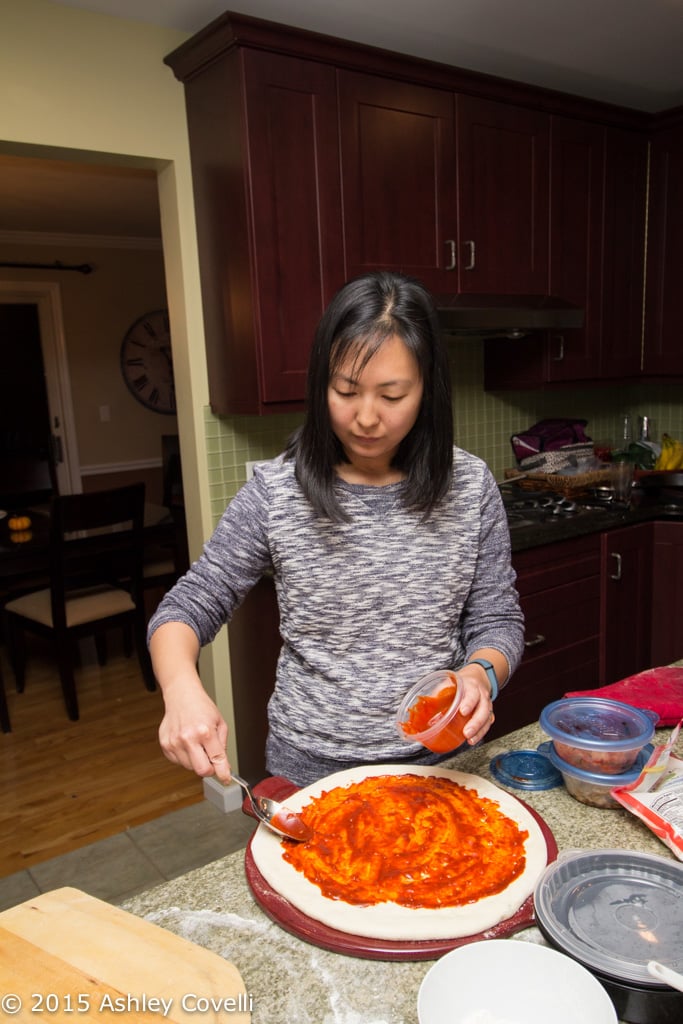 7. What chef or cooking website are you inspired by lately?
Dana: Any creative food blog that specializes in unique recipes.
Nancy: Not really any one chef or website. I save recipes that look good and when I'm meal planning, it's whatever strikes my mood.
Michael: I love Cooks Illustrated. That's usually the first place I look when I'm looking for a particular recipe. Other than that I currently get around five cooking magazines and there are a ton more recipes that I'm interested in than I have the time to make.
Loren: I'm still trying to look for a good site for weeknight meal planning, including simple recipes. It's more about trying to do something a little different than our staples. I haven't found a good site yet.
Dino: Reddit has some great communities where people ask great questions of all levels and get fantastic answers. I've recently been hooked on the (BBQ) Smoking, and Cast Iron subreddits.
Ashley: I follow a ton of food bloggers over on Instagram, and just looking at my home feed can be really inspirational. I've had to stop looking at it right before bed though, because it makes me soooo hungry!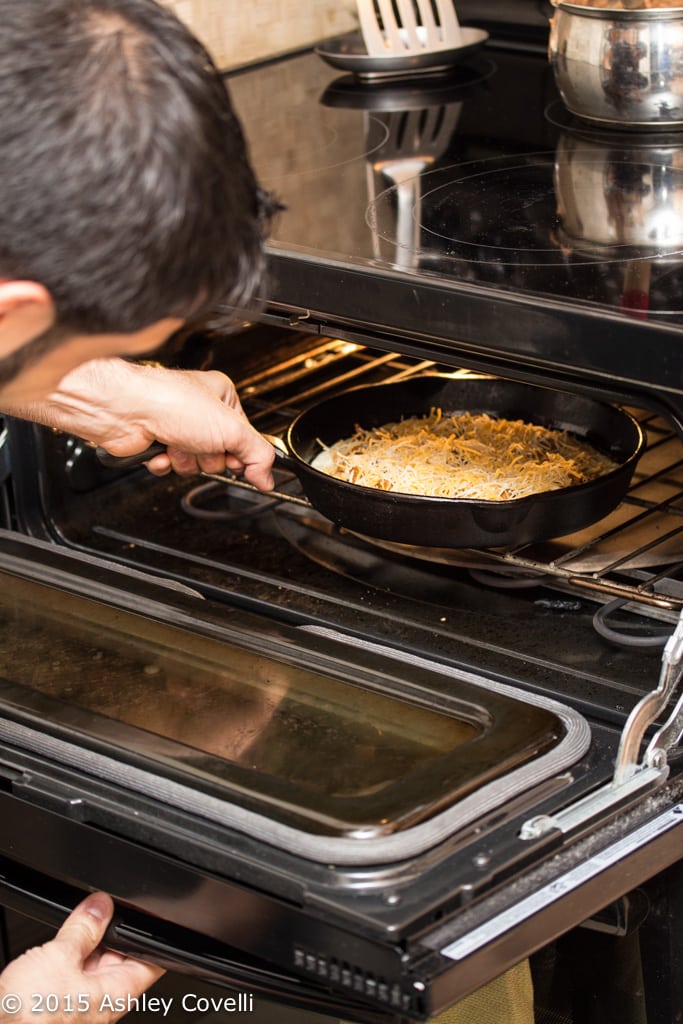 8. What's a recent food gift that you received, and what do you think about it?
Dana: Nancy gave me a self-created beer-of-the-month club "subscription" for Christmas. We buy whatever looks good at the local supermarket and there is surprising availability of things I've never tried before. I think I may have to get another subscription for next year.
Nancy: Not a gift, but you gave us a free trial of Blue Apron and we weren't a fan.
Michael: I got a cooking stone for my grill. I'm interested to try it but I haven't gotten around to it. I usually bake with the stone in my regular oven but in the summer the kitchen gets really hot. The problem is that I would rather just grill stuff with my grill rather than make bread on it. I'm still going to try it at some point.
Loren: Baked goods are always a great gift to come home to, whether the pumpkin bread my kids just made or the latest multigrain bread my husband Michael makes. And anything from the Pleasantville Farmer's market.
Dino: Every time my wife cooks for me it's a gift and I think it's awesome. Sorry if that's cheesy! (pun obviously intended) [Editor's note: brownie points have been awarded for this answer]
Ashley: I got a stellar gift bag from that Friendsgiving event last week - soooo many goodies in there. I'm looking forward to trying out the bundt pan for my family's Thanksgiving dinner. The Pollard Coffee beans that were in there was faaaaabulous! Super smooth. Mmmm...
9. What's currently your most used kitchen tool or gadget?
Dana: As always, my scalloped tongs. The ultimate in utility.
Nancy: The Slow Cooker - we'll see now that the weather's warming up, but it was being used almost weekly.
Michael: Immersion Blender. I make a banana shake almost every day. I really think that's what it's best at. When I have a real blending job I love the Vitamix but I rarely find it's necessary.
Loren: Garlic press, microplane or Vitamix (for fruit shakes or banana ice cream).
Dino: The Griddler (Cuisinart). For making pancakes, grilled cheeses, and pressing panini or Cuban sandwiches.
Ashley: My oval non-stick skillet (Rachael Ray). I use it almost every single day. I had one for so many years that I wore it out and had to replace it earlier this year. I really love the oval shape - awesome for a tiny kitchen!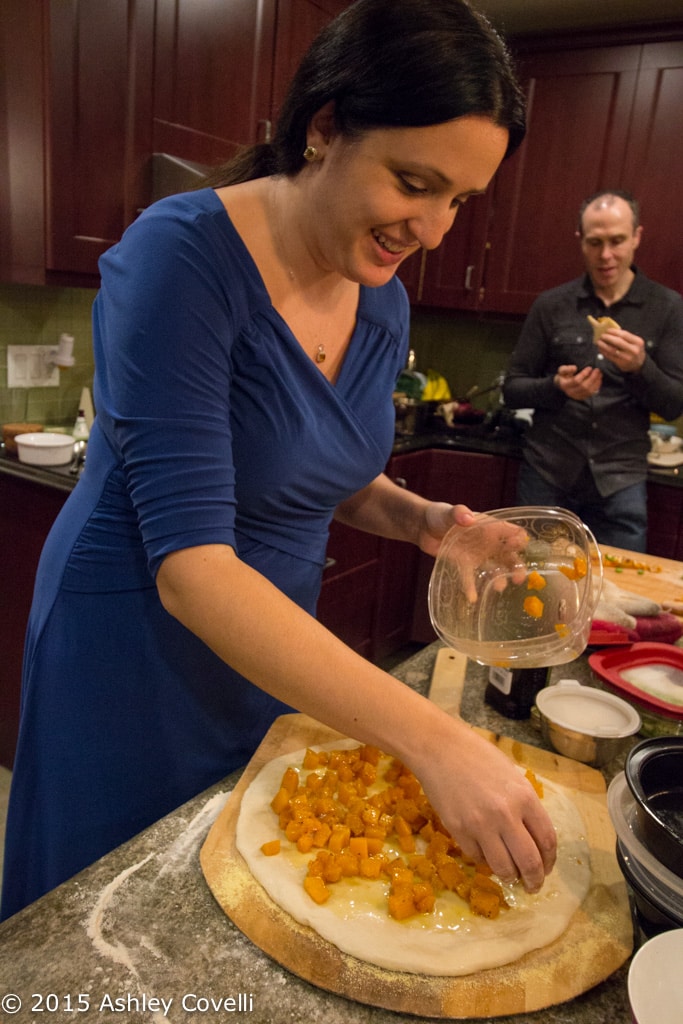 10. Do you have any favorite tips, tricks or kitchen hacks that you'd like to share?
Dana: Don't forget to rest the meat.
Nancy: Meal planning is key!  For both budgetary reasons and to reduce weeknight stress.  I can plan slow cooker or quick/easy meals for the afternoons when we're busy and plan for left-overs if necessary. 
Michael: I don't claim that these are my own ideas. I think everyone that likes bananas should have a bunch of overripe bananas in their freezer. I love them in my shakes but I also put them in pancakes and think that banana cakes that are made with them are really good. For a super-concentrated banana flavor I heat the frozen bananas on the stovetop (uncovered) and cook them down for a while since a lot of banana liquid comes out as it's thawing. Then the banana flavor is much more intense.
Loren: It's a silly one, but when I spray cooking spray on a baking pan, I always set the pan on the open dish washer door, so that excess spray gets washed away the next time the dish washer runs - less cleaning for me. We also always try to make some grains over the weekend for use during the week- especially the ones that take 45 or more minutes to cook, like barley, brown rice, or wheat berries.
Dino: If you don't have one, get yourself a cast iron skillet and learn how to season it and maintain it. They're so cheap and versatile.
Ashley: Don't be afraid of the freezer! I used to always worry about things going bad or getting freezer burn, but I've found that using it wisely is a total game changer. I like to buy meat when it's on sale and stash some in the freezer. Things like shrimp or scallops are usually previously frozen when you buy them from a seafood counter, so if you buy them already frozen, they'll actually be fresher than the thawed stuff that's being sold. So keep a bag in the freezer and thaw it overnight (or in a bowl of cold water) when you want to use it. And don't forget to save your veggie scraps to make homemade stock in the slow cooker!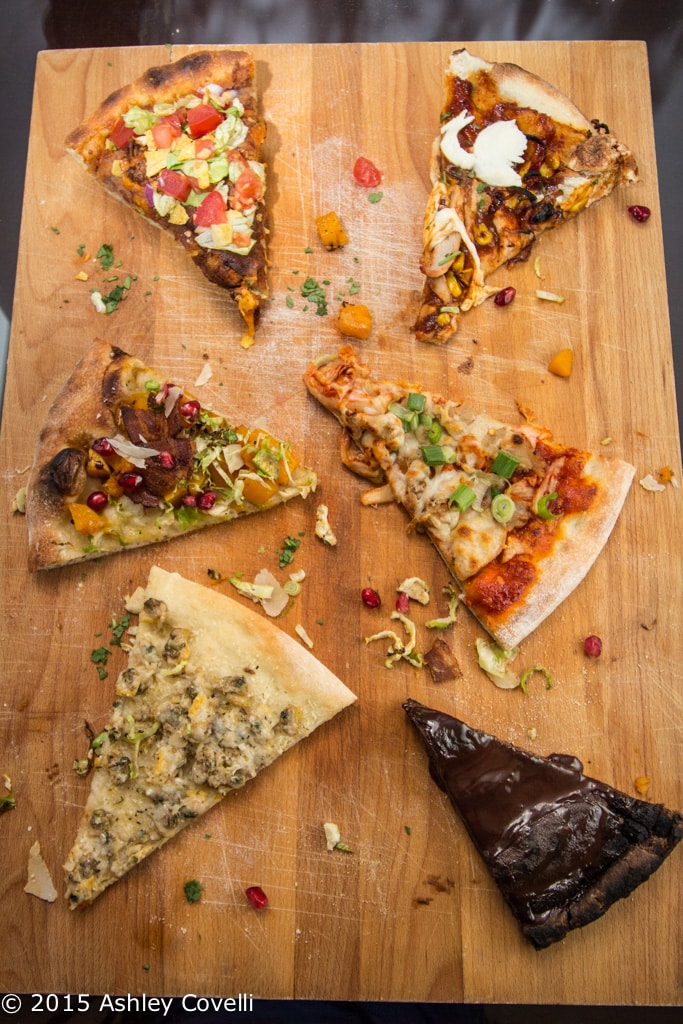 11. What's a past Supper Club dish that someone else prepared that you want to try making for yourself?
Dana: Dino's street chicken over rice.
Nancy: The lasagna stuffed spaghetti squash that you made.
Michael: Chicken Enchiladas. Yum.
Loren: Lobster mac and cheese!
Dino: Spam Musubi (Hawaiian Spam Sushi Rolls)
Ashley: Dana made a Semifreddo from Tyler Florence yeeeeears ago and I've been wanting to make it ever since. I own the cookbook that it came from (Tyler's Ultimate), but I'm afraid it won't live up to the bar that Dana has set!
12. What upcoming Supper Club theme are you most looking forward to this year?
Dana: "Wow! That's fancy!" theme where it just gets as fancy as it can get at home.
Nancy: I honestly don't remember what all the themes are, and I'm too lazy to look at the blog. I am looking forward to pizza again since it was so good last time.
Michael: I'm really looking forward to the German theme, oh wait, that idea was rejected. I'm still pushing the idea for the future but it's not on the current schedule. For the most part I really look forward to all of them. The kinds of themes I have the most trouble would be something like a dish based on the name of a band. I'm looking forward to the cheese grab-bag, I'm just worried that too much of a good thing will get us all sick.
Loren: lol... There's only pizza and the cookie exchange left since I'm so late. Both will be great.
Dino: Dino's Dairy-Free Dream!
Ashley: Cheese Grab Bag, and I don't just say this because I lived in Wisconsin for so many years. I just looooove cheese!
13. What's a recent favorite breakfast recipe that you've prepared?
Dana: Anything with a runny egg on top.
Nancy: Nutella-Stuffed French Toast.
Michael: I don't make do much breakfast but I make pretty good pancakes. I find I can use about ¼ whole wheat (in place of white) and also add a scoop of ground flax to make them more healthy. My kids are so used to them that they prefer mine to pancakes made of just white flour.
Loren: I don't tend to do much that's interesting for breakfast, but on Saturdays, I throw whatever frozen fruit is available in the Vitamix with whatever 100% juice product is nearby and a little water for a shake.
Dino: Challah French Toast
Ashley: I made a Zoodle Frittata that was pretty stellar! And my son made some adorable Ham-and-Cheese Muffins from High Five Magazine that turned out SO delicious - he didn't even need much help!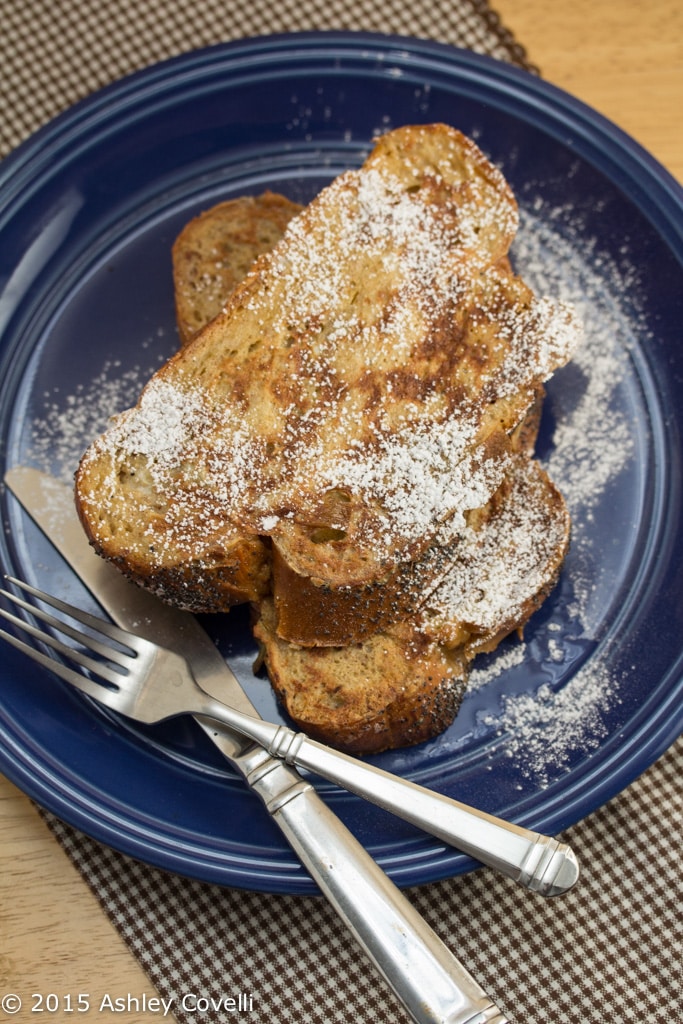 14. What's a recent favorite dessert recipe that you've prepared?
Dana: "C's" pull apart birthday cake: devil's food cupcakes, homemade buttercream icing tinted green and decorated in MineCraft theme.
Nancy: The Coconut Key Lime Pie that I made for the citrus themed supper club. I don't even like key lime pie (or didn't think I did!), but I really liked the one I made!
Michael: I just made butterscotch pecan cookies but I must have not added enough flour and overcooked them since they all looked lace cookies. I ended up scraping them off the cookie sheets and freezing the pieces. They are great crumbled on top of ice-cream.
Loren: S'mores brownie pie... Sadly not much homemade there. Graham cracker crust filled with your favorite brownie recipe. Toward the end, cover with mini marshmallows or halved regular sized ones and broil.
Dino: Bánh Bò Nướng (Vietnamese Honeycomb Cake) which is a very odd-textured and colored cake. It looks and feels like a green sponge- not a sponge cake, the sponge you use to clean dishes.
Ashley: Baked Apple Spice Donuts with Maple Frosting + Pumpkin Granola. DANG.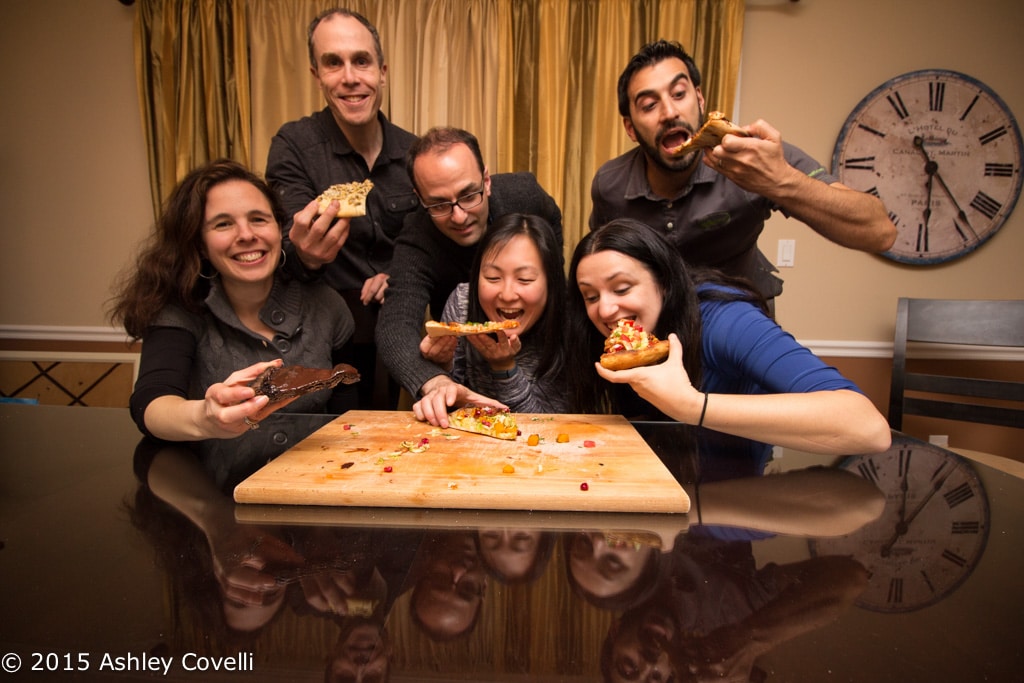 15. What's a recent favorite cocktail recipe that you've prepared?
Dana: My own modified Mudslide: Coffee, Bailey's, Kahlua, ice.
Nancy: Umm, I haven't made a cocktail.....I open a hard cider!
Michael: I don't make too many different drinks. I would say my favorite is a dark and stormy. It's about ⅓ dark rum and ⅔ ginger beer.
Loren: It wasn't too recent, but I liked something we made with homemade cucumber vodka and ginger syrup, compliments of Martha Stewart.
Dino: Smoked Peach Thyme Shrub Bourbon Cocktail
Ashley: This Bloody Mary Bar with my friend Jen's delicious mixers - seriously ah-mazing!
Thanks to Dana, Nancy, Michael, Loren and Dino for being such good sports and and sharing their love of all things cooking with my readers! Looking forward to another Q&A session in 2016!
Any burning questions you'd like to ask the Westchester Supper Club? Leave a comment below, or submit it to me via my contact page!