This post may contain affiliate links, which won't change your price but will share some commission.
October's Supper Club theme was shredded foods. I knew immediately that these chicken enchiladas were dish that I wanted to make.
This was one of the first recipes I cooked on my own that really wowed Dino. I made it a few times back when we lived with his parents. Amazingly, I hadn't made it since we moved into our own place. What a travesty! This recipe does take quite a bit of work to prepare, but the fact that I haven't made it in over 9 years really shocked me!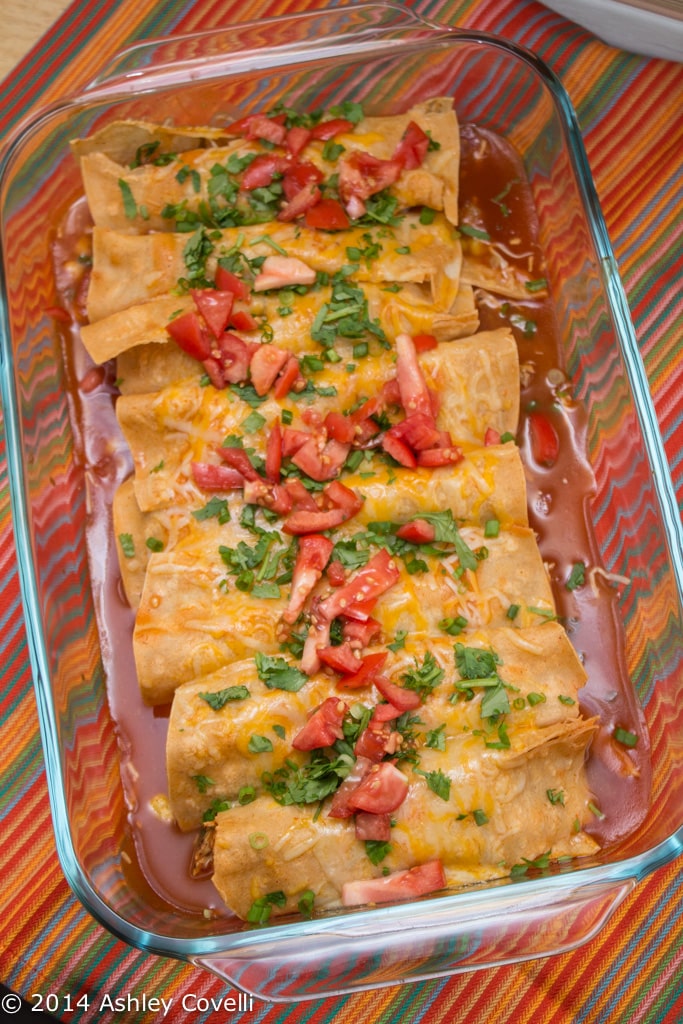 Chicken is dusted with Mexican spices, shredded, then tossed with chiles, corn and tomatoes before it's wrapped up, coated with cheese and baked until nice and melty. I used Penzeys Fajita Seasoning for the Mexican spice blend this time around and it worked out beautifully.
This makes 2 trays of enchiladas. They're nice and spicy, and the fresh garnishes at the end really brighten them up. I use 2 cans of enchilada sauce when I make this (almost double what the recipe calls for) because it just isn't enough to properly coat all of the tortillas, leaving enough for the bottom of the pans and a bit for the tops of the enchiladas. That's my only change. Otherwise, these will definitely rock your world! I've had extra chicken mixture left every time I've made these beauties - easily enjoyable over rice or as a taco filling. YUM!
Chicken Enchiladas
Tyler Florence - Food 911
Total Time: 1 hr 15 min
Prep: 1 hr
Cook: 15 min
Yield: 16 enchiladas, 8 servings
3 tablespoons vegetable oil
1 ½ pounds skinless boneless chicken breast
Salt and pepper
2 teaspoons cumin powder
2 teaspoons garlic powder
1 teaspoon Mexican Spice Blend
1 red onion, chopped
2 cloves garlic, minced
1 cup frozen corn, thawed
5 canned whole green chiles, seeded and coarsely chopped
4 canned chipotle chiles, seeded and minced
1 (28-ounce) can stewed tomatoes
½ teaspoon all-purpose flour
16 corn tortillas
1 ½ cups enchilada sauce, canned (see note above)
1 cup shredded Cheddar and Jack cheeses
Garnish: chopped cilantro leaves, chopped scallions, sour cream, chopped tomatoes
Coat large sauté pan with oil. Season chicken with salt and pepper. Brown chicken over medium heat, allow 7 minutes each side or until no longer pink. Sprinkle chicken with cumin, garlic powder and Mexican spices before turning. Remove chicken to a platter, allow to cool.
Sauté onion and garlic in chicken drippings until tender. Add corn and chiles. Stir well to combine. Add canned tomatoes, sauté 1 minute.
Pull chicken breasts apart by hand into shredded strips. Add shredded chicken to sauté pan, combine with vegetables. Dust the mixture with flour to help set.
Microwave tortillas on high for 30 seconds. This softens them and makes them more pliable. Coat the bottom of 2 (13 by 9-inch) pans with a ladle of enchilada sauce. Using a large shallow bowl, dip each tortilla in enchilada sauce to lightly coat. Spoon ¼ cup chicken mixture in each tortilla. Fold over filling, place 8 enchiladas in each pan with seam side down. Top with remaining enchilada sauce and cheese.
Bake for 15 minutes in a preheated 350 degree F oven until cheese melts. Garnish with cilantro, scallion, sour cream and chopped tomatoes before serving. Serve with Spanish rice and beans.
Big Flavors Rating: 5 Stars