This post may contain affiliate links, which won't change your price but will share some commission.
A lot of people ask me to explain the Supper Club that I've been a part of since 2007, so I figured I'd do a little Q&A with the members! There are currently 6 of of us (3 married couples) who all share a love of food and cooking. We get together on a monthly basis for an awesome meal, based on a theme. We rotate houses, so each couple hosts once every 3 months. Usually, whoever is hosting will provide the main course(s) and drinks, and everyone else chimes in with what they want to bring (usually dessert, salad, veggies, bread, etc.). Typically, everyone cooks at home and it ends up being a potluck, with just finishing touches done when we get together. Sometimes, we switch it up and do something where we all cook together (like pizza night, where Michael made the pizza dough and we each came up with toppings for our own pizzas) and then every December, we go out to dinner and we all bring homemade cookies and/or candies to swap. A lot of times, we also have music to match the theme, and the music nerds among us like to try to guess the common thread between all of the songs.
So yes, once a month, I get to have a ridiculous 6 course meal. Sometimes more courses sneak their way in! It's so much fun, and there's always lots of laughter. Most months, at least one person (usually Michael) proclaims, "this is the best theme yet!". A lot has changed since we started meeting - each couple has welcomed at least one baby into their family, people are eating things that they didn't think they liked, and Nancy started a food blog: The Busy Mom Café. We have had some incredible meals together, and a lot of interesting themes, like tapas, sliders, Tyler Florence, orange (as in the color), Passover, brunch, pizza, Bobby Flay, Persian, tailgating, Asian, Hawaiian, stuffed food, grilling, Korean... it's been an eclectic and delicious club! I'm excited to keep up with this tradition 🙂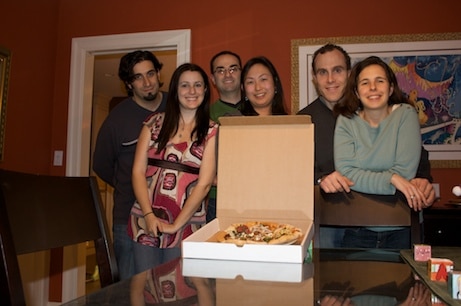 1. How did you end up joining a Supper Club?
Dana: My wife brought me along when her existing club started involving spouses
Nancy:  I saw an article in Cooking Light Magazine which led me to check out the message boards and saw a local cooking club was forming.
Michael: I was watching Food Network and I saw a show about Supper Clubs. I was excited as soon as I saw it. They referenced Cooking Light forums. I went right there and started looking. The rest is history.
Loren: My husband found a group through Cooking light forums and was the only male participant. I thought it would be fun to join them.
Dino: My wife (ahem!) runs a food blog and this is exactly the type of nonsense I have to put up with as a result. 🙂
Ashley: I saw a special on Food Network that talked about Supper Clubs, and mentioned Cooking Light. I went to their site and looked for local groups. We were living with my in-laws at the time, though, and had just started looking for houses, so I put off actually joining one until we got settled in our house and had a kitchen of our own.
2. What has been your favorite theme so far?
Dana: The all breakfast theme complete with pajamas
Nancy:  There have been so many, but pizza night and Bobby Flay were pretty memorable.
Michael: Each time we have an event I think it's the best one we've ever had since I get so excited about food. I like when we've done a specific chef (i.e. Bobby Flay). Pizza was also a lot of fun since we did some cooking together.
Loren: The first breakfast, pizza, sandwiches, and Bobby Flay was fun.
Dino: Make-Your-Own-Pizza. It was a lot of fun, and delicious (obviously).
Ashley: There have been a lot, but pizza night was amazing, so was brunch - it was the first one we hosted at our house, and we got everyone to show up in pajamas. I think I even photoshopped an invite with a pic of Ralphie from A Christmas Story in the bunny PJs. And Bobby Flay night was the first one that we went to post-baby, and I ended up being full for like 3 days afterward. So. Freaking. Good.
3. How often do you cook at home?
Dana: Sadly, work limits my cooking to weekends
Nancy:  I cook dinner almost every weeknight and then will also make either muffins, a quick bread, or a dessert at least once a week.
Michael: Not as often as I would like. Ideally we would make involved meals once during the weekend and keep it simple during the week.
Loren: Usually one each week or two, we make a meal that requires significant effort.  The rest of the time, we cook almost every day, which takes time and effort, but not much planning and thought.
Dino: On the weekends I'm mostly responsible for breakfast and reheating leftovers.
Ashley: I usually try to plan out 3-4 dinners for the week, that way we have leftovers for lunch and dinner a few times, and I sometimes add in a couple breakfast recipes, too.
4. What type of food do you typically cook?
Dana: Anything that will fit on a 22 inch Weber charcoal grill any time of year
Nancy:  I try to cook quick and easy meals that are kid-friendly!
Michael: In the past it's been simple but quick things such as a quesadilla or pulling piece of my bread out of the freezer to make a sandwich. Now that I'm trying to eat a little more healthy, it's going to be more salads (is that cooking?)
Loren: Throw together things - stir fry, quesadillas, hearty grains, and bland kids food.
Dino: Refer to my previous answer.
Ashley: I generally pick fairly healthy recipes, and I love to experiment with different cuisines and ingredients.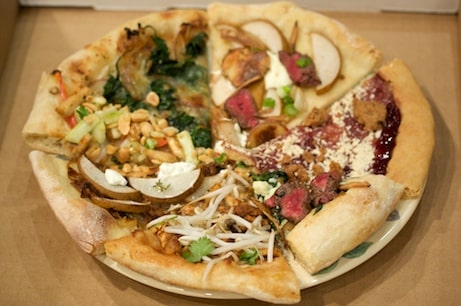 5. What is your favorite thing to make in the kitchen?
Dana: Homemade pizza
Nancy:  I never make the same thing twice and am always and looking for and trying out new recipes. I think muffins are my favorite though because they're the easiest and the family always loves them.
Michael: Pizza.  When I have the time I make the dough, sauce, a cheese blend, and toppings myself. I like making California Pizza Kitchen recipes.
Loren: (almost) anything from the farmers market.
Dino: Fajitas, but only because they are usually a big hit in our house.
Ashley: Anything new and exciting. Recently, I asked Dino to pick a protein from the freezer a few different days, and I winged dinner based on that and whatever else we had on hand. It was kind of like being on Chopped, but waaaaay less intense. And I came up with some really tasty recipes!
6. What intimidates you in the kitchen?
Dana: Anything that requires a candy thermometer
Nancy:  Cooking appliances/tools with lots of parts and recipes with too many ingredients!
Michael: I don't often attempt pastries. I have had mixed results in the past.
Loren: Making favorite things that might not come out well (for company).
Dino: I don't think I'll ever be able to boil a live lobster.
Ashley: I'm finally conquering my fear of splatter-y grease. Frying bacon and anything else that popped and sizzled used to really freak me out - I'd use my giant tongs to minimize any potential burns. But I'm learning to be a little more brave now, and I've even deep-fried a few things things without calling in the reinforcements!
7. What's something you haven't cooked before but are interested in trying out?
Dana: Homemade sausage but I'm held back by the time and lack of equipment
Nancy:  Fondue, crème brulee, soufflé.
Michael: German food, now that we have someone who's German living with us. Maybe Bavarian pretzels.
Loren: (some) German food, now that Susann is living with us.  there's a lot that I don't think I'll like, but I will enjoy finding those things that I WILL like.
Dino: Boiling a live lobster. No, my serious answer is: Turducken. It will happen some day!
Ashley: Popovers, a proper layer cake, standing rib roast
8. What is the most used gadget or tool in your kitchen?
Dana: My $3 scalloped tongs from the asian market
Nancy:  Besides knives, probably the rice cooker, garlic press, and slow cooker.
Michael: Immersion blender
Loren: microplane
Dino: Probably the rice cooker.
Ashley: Spoonulas, rice cooker, and lately, the bottle opener 😉
9. What is the least used gadget or tool in your kitchen?
Dana: Breadmaker
Nancy:  The salad spinner and flour sifter.
Michael: Pressure cooker or electric beater since we have an immersion blender, a Vitamix and wisks, I don't need to pull the electric beater out too often.
Loren: pressure cooker
Dino: The pasta/ravioli attachment for the stand mixer. Also the stand mixer, in general.
Ashley: Turkey lifters, mezzaluna, pressure cooker
10. What's the most recent great restaurant meal you've enjoyed?
Dana: Wd50 from few years ago
Nancy:  Dana and I recently had a tasting menu at Triomphe restaurant in NYC that was pretty good. I also had lunch at Inside Park at St. Bart's in NYC that was memorable...great atmosphere, eating outside under tents next to an old church.
Michael: I'm embarrassed to admit that we don't go out too often. Nothing too memorable recently. I did go to Shake Shack a few weeks ago and really enjoyed it.
Loren: OMG - I can't remember!
Dino: The "24 Hour Pork Confit" sandwich from the Dogfish Head Brewpub. Yum!
Ashley: We were in Ocean City, MD for a week recently, and I spotted a restaurant called Hooked from the car. We ended up ordering takeout 3 times during our visit, because everything was so fresh and amazing. The seafood was some of the best I've ever eaten, and I'm definitely going to try to recreate the Boom Boom Shrimp Tacos at home one day. Stunning!
11. Do you have any tips for other home cooks to make them more comfortable in the kitchen?
Dana: No one is born an expert. Try cooking everything without the fear of messing it up holding you back
Nancy:  In the beginning when I started cooking I used allrecipes.com a lot. I liked that the site uses reader submitted recipes and gives ratings. Find a new to you recipe that has a lot of positive ratings and give it a try! If time is an issue, try to find a recipe where you can prep most of the meal before (meatloaf, casseroles, etc.) so when you get home from work you can just stick it in the oven.
Michael: Don't be intimidated (except for pastries). Plan ahead; read the whole recipe before you start. Some recipes require ingredients to be prepped ahead of time.
Loren: For complex recipes, fully read your recipe ahead of shopping (and again before starting to cook). Follow it exactly the first time make something, and tweak only one or two things the next time, until you know the recipe better.
Dino: Take a knife skills class! Once you can comfortably dice, or mince, an onion and a tomato it really opens you up to being able to prepare all types of dishes with ease. Plus, it's probably the next best thing to being an actual ninja- and that's pretty awesome.
Ashley: Start small. Don't decide to start cooking at home and plan every single meal. Things happen, and you need to be able to be flexible. Work your way up to cooking more and more at home, and marry someone who will do the dishes for you. 🙂