This post may contain affiliate links, which won't change your price but will share some commission.
A whole lot has been going on behind the scenes in my tiny kitchen lately. First of all, I wanted to thank everyone who has helped to make my new series, Big Flavors from a Restaurant Kitchen, such a success! I've been having a blast hanging out in professional kitchens and chatting with chefs. Making their recipes at home is fun, and I like seeing how their recipes translate to a home kitchen.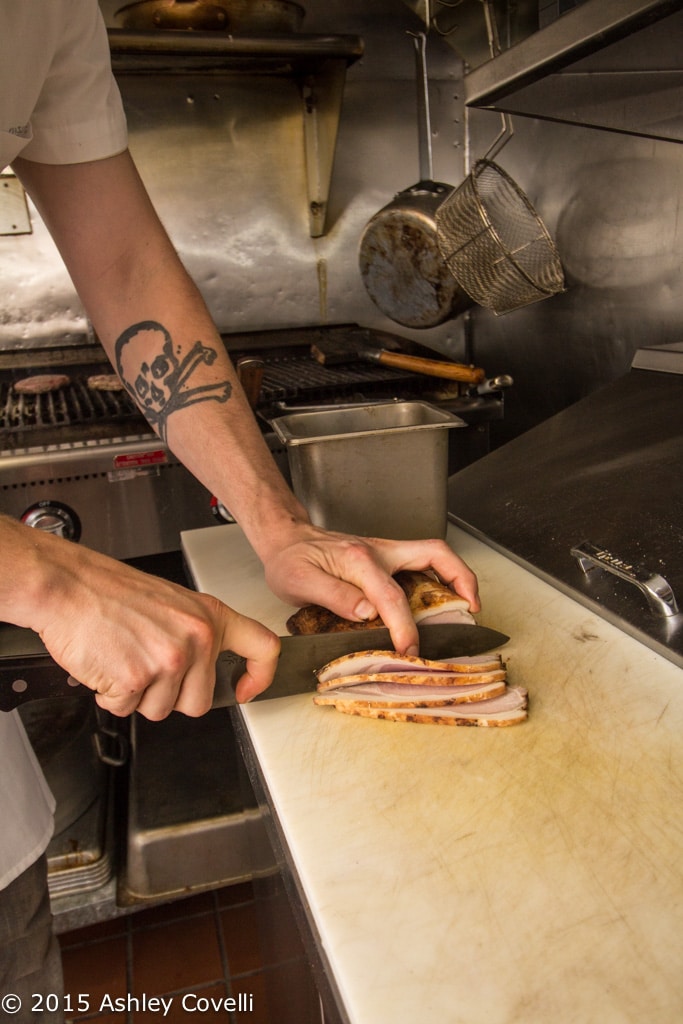 I have a few more installments in the works, and there are some really great kitchen tips headed your way. I'm really excited to share them with you! On a related note, if you are involved in a restaurant in the Westchester/NYC area and you're interested in being featured, drop me a note over on my contact page.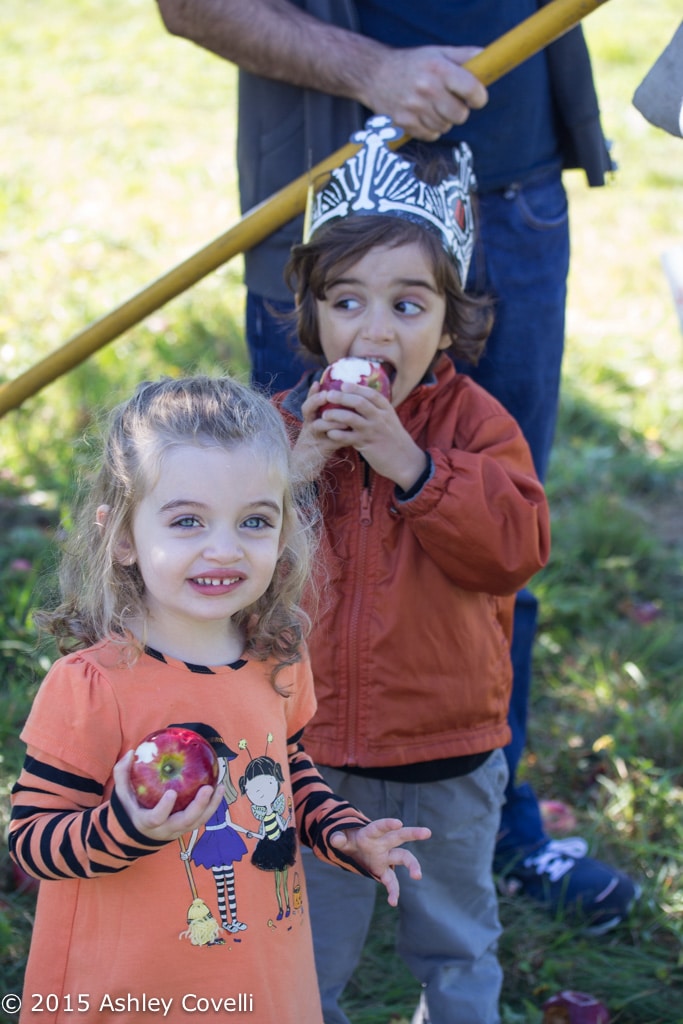 In other news, fall is officially here! I love how festive it gets around this time of year in my little corner of New York. I live a town over from Sleepy Hollow (yes, it's a real place!), and there's always so much seasonal fun to be had.
This weekend, we'll likely be enjoying some Halloween festivities. But a few weeks ago, we went on our annual apple picking trip with friends!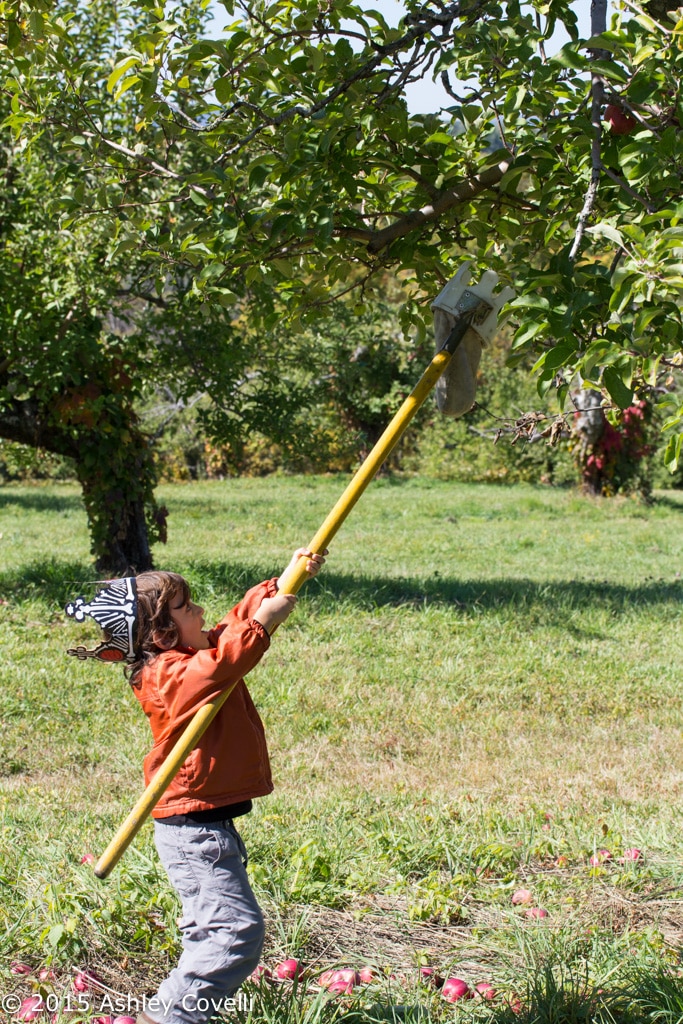 My 3-year-old wanted to use the fruit picker, and I didn't think he'd be able to lift it, but he sure proved me wrong. This kid is a pro!
And how cute was this little apple tree? It was the perfect size for him and his friend to fill up with armfuls of fresh apples.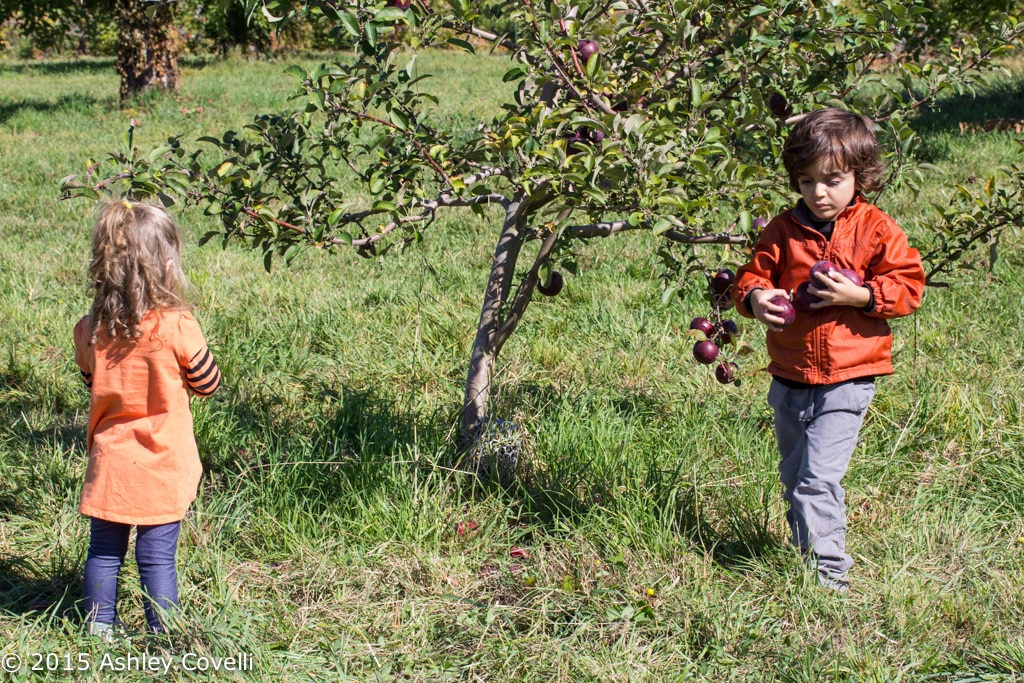 We had big plans for our apple haul. The first thing on the agenda was an apple crisp that I'll be sharing next week in the next installment of Big Flavors from a Restaurant Kitchen.
I also made another batch of these incredible Salted Caramel Apple Pie Bars. They were every bit as phenomenal as we remembered!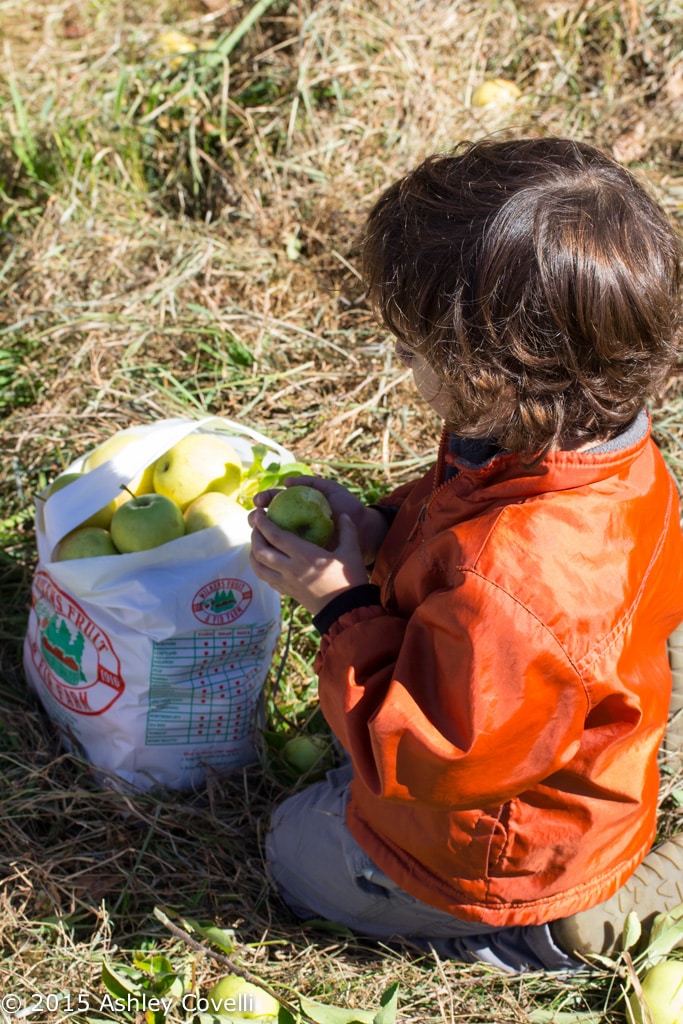 Apples aside, we also had some friends over for brunch. I had my husband make a double batch of our favorite crepes. I also set up a really fabulous Bloody Mary bar, featuring some of my friend Jen's new cocktail mixers!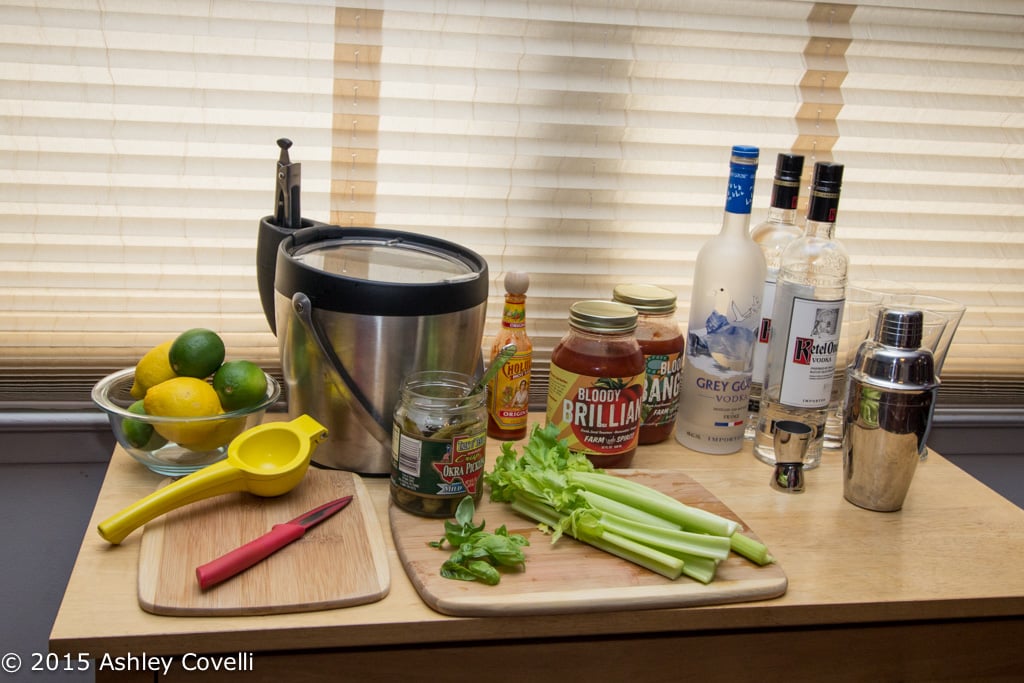 Guys, I have to tell you... she's a genius. Her Virginia-based company is called Back Pocket Provisions. They craft small batch craft cocktail mixers with ingredients harvested from local farms. They currently offer 3 different styles of Bloody Mary mixers: Bloody Brilliant, Bloody Bangkok and Bloody Baja.
I set up a spread with the first 2 varieties, oodles of vodka, lemons, limes, celery, basil, hot sauce and pickled okra. We all went to town on these beauties!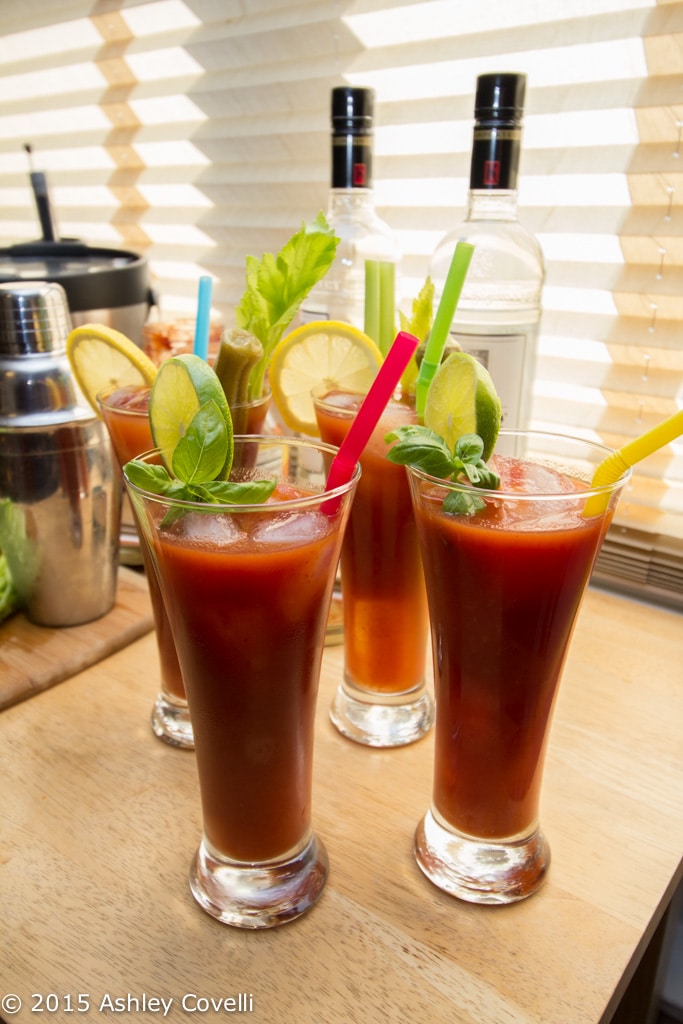 I have to tell you - these are hands-down the best Bloody Marys we've ever had. My husband makes a really good one, but these are on a whole different level.
First of all, you can really taste the freshness of the ingredients. I absolutely adore fresh tomatoes, and the ones she's used in the mixers are incredibly flavorful.
For the Bloody Brilliant cocktails, I shook together 6 ounces of mix, 2 ounces of vodka and the juice of half a lemon in a cocktail shaker. I poured it over ice and garnished with lemon wheels, celery stalks and pickled okra. Crazy delicious!
For the Bloody Bangkok cocktails, I subbed the lemon for lime and garnished it with fresh basil (I couldn't get my hands on Thai basil at the time, and had regular basil in my garden, so it worked out well).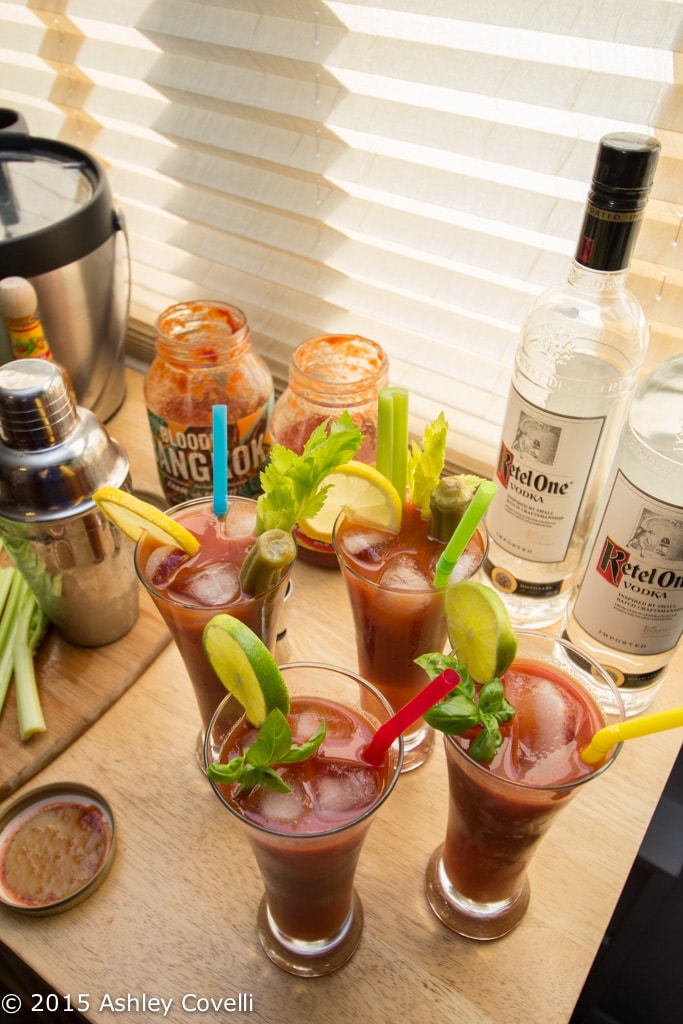 The flavor in the Bloody Bangkok is so rich and beautifully different. My friends were all floored that I actually knew the person who invented this genius concoction. Even the one hold out who thought it might be weird to drink fish sauce in a cocktail came around and was SO glad he did.
He may have had an extra cocktail or three, just to make sure he still liked it ;). His fiancée immediately asked me where she could get her hands on some mixers for herself! I'm totally itchin' to try out the Bloody Baja now, and I even got a super sneak preview of a delicious shrub that's in the works for bourbon fans in the near future. Yasssssss!
Anyway, I'm super thrilled for Jen to have kicked off this venture. You can find more info on where to get her goodies on her Find Us page, or connect over on Facebook, Twitter or Instagram.
I also recently catered a friend's son's 1st birthday party. I put together a delicious assortment of appetizers for the guests to snack on, and everyone loved the selections! I made Pasta Salad Skewers with Creamy Balsamic Vinaigrette, Sweet and Sour Meatballs, Slow Cooker Sausage, Spinach and Artichoke Dip, Pineapple and Black Bean Salsa, Killer Shrimp Cocktail, and Bacon Wrapped Water Chestnuts (which one guest told me was "the single greatest bite of food I have ever put into my mouth"). It was odd being in a room full of people who were eating my food, but weren't my friends and family. They didn't know I made the food until a while into the party, so it was interesting seeing their reactions to the bites. I also got a marriage proposal out of the gig - in front of my husband, in good fun, from the birthday boy's grandpa. It was very flattering. I have a few fun food events to attend in NYC next month, including another one with my husband's doppelgänger, Adam Richman. Can't wait to get an updated version of our photo from last year! 
I'm still working on a big backlog of posts for things I've been cooking up over the last few weeks. I have a lot of deliciousness to share with you all, and I'm so glad to have so many inspiring and supportive people out there! Oh, and don't forget to check out my Stubb's Legendary Bar-B-Q giveaway, if that kind of deliciousness interests you (and it should).
Until next time!