30 Tips for Reducing Kitchen Waste
This post may contain affiliate links, which won't change your price but will share some commission.
This post has been compensated as part of my ongoing partnership with Mountain Rose Herbs. As always, all opinions are 100% my own.
This list of 30 tips for reducing kitchen waste is full of ideas to help build money-saving, eco-friendly habits for an environmentally conscious lifestyle.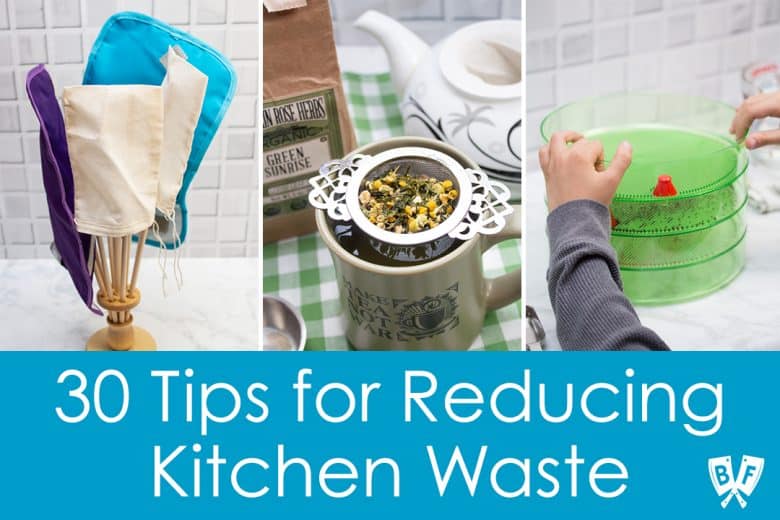 Reducing kitchen waste is something that I feel very strongly about. I think that the term "zero waste" can be intimidating, and occasionally off-putting for some people when they are talking about household waste.
Stressing about not wasting ANYTHING EVER can make it feel like an impossible mountain to climb, and the temptation to quit without even trying to tackle just one of the many things can be too strong. That's why I prefer to work on reducing waste as much as I can without driving myself batty trying to change the way I do everything all at once.
My Journey Toward Reducing Kitchen Waste
Thinking back to when my husband and I first moved into our home (over 13 years ago!), I remember how often we had to take our trash out to the dumpster in our complex. Don't get me wrong, we've always recycled, but I still felt like I was throwing away a lot each week.
It's hard to know where to start when it comes to reducing waste, but the kitchen was one area that I knew we had to tackle. Instead of focusing on no waste at all, I'm constantly adding new ways of wasting less, repurposing and reusing more, and just being more conscious of the things that come into our kitchen.

There was excess packaging from kitchen products and groceries, food scraps from prepping meals, leftovers that we forgot about that had gone bad in the fridge, half bunches of fresh herbs that had turned brown, expired pantry items, frozen food that ended up getting freezer burn, etc.
It was a LOT in my mind, and I wanted to find ways to reduce the amount of waste coming out of my tiny kitchen. And yes, sometimes I will still choose the easier, more convenient option, even if it does create some waste.
Do I still use paper towels? Yep. But I switched to using mostly "unpaper towels" in my kitchen, and use them for about 90% of what I would use paper towels for in the past. So if I'm rinsing and drying fresh herbs, I'll use my cotton terry cloth-lined "unpaper towels".
The ones I ordered from Etsy have plastic snaps on them, so I even keep them on the roll in the kitchen where my paper towels used to live. I moved the paper towel rolls to a closet outside of the kitchen so that it's more convenient to use the less wasteful option.
But if I'm drying off raw meat, you bet I'm going to use a paper towel and toss it in the garbage. It's not about being perfect, it's about taking steps toward being better.
The way I see it, if I'm actively working on changing routines and practices in my kitchen to reduce the amount of waste my family produces, that is a good thing.
So with that in mind, I thought I'd share some tips for ways that you can reduce waste at home, especially when it comes to food and your kitchen. And if you have other ways that you reduce kitchen waste at home please share them in the comments section below!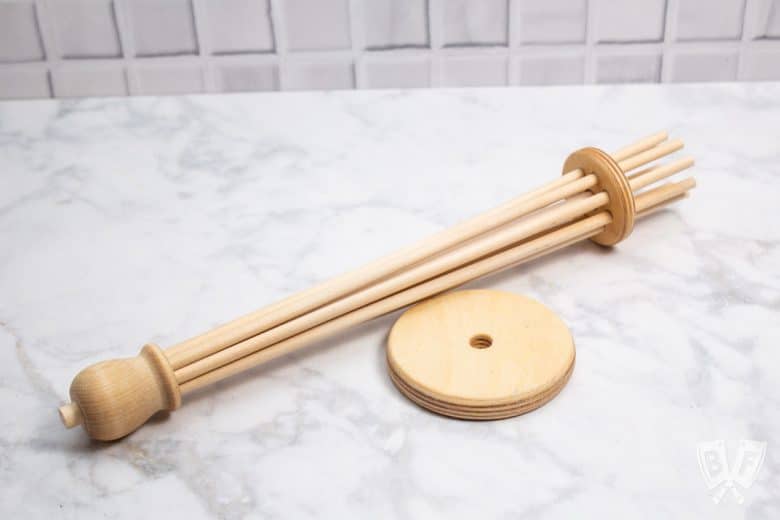 Tips for Reducing Kitchen Waste in Your Home
1. Reuse food delivery and takeout containers! A lot of people use these plastic, lidded containers for meal prep during the week. I like using them to freeze homemade broth and stock. And the round ones are the perfect size for freezing leftovers that you want to reheat in a slow cooker or Instant Pot.
I like to freeze soups and stews in them and then pop them right out like ice cubes when it's time to reheat. It's a great way to have nicely portioned, pre-cooked meals ready to go! One of my favorite recipes to do this with is my Grandpa Henderson's Beef Stew.
2. Buy in bulk. Whether you're stocking up on herbs and spices, picking up your favorite loose teas, buying nuts and grains, cooking oil, or even meat, buying in bulk can be a really great thing for your wallet and the environment.
For spices I use a lot, I'll buy a large bag once (instead of several smaller bags or jars a few times a year) and use it to refill smaller metal spice canisters that I have on display in my kitchen.
I do the same with cooking oil, stashing the larger bottles under the sink or in a closet and filling smaller, reusable glass bottles with the oils for everyday use. Just grab a funnel and refill your bottle.
3. Juice it or throw it in a smoothie. I'll occasionally clean out the crisper drawer and will have a mix of fruits and veggies that need to be used before they go bad. Oftentimes they work well blended together into a smoothie, smoothie bowl, or fresh juice! A handful of zucchini or leafy greens can work surprisingly well in combination with fruits for kid-friendly smoothies.
You can also use them for homemade popsicles. I salvaged some super ripe cherries before they went bad by adding them into Black Forest Popsicles. A good way to use up bottled and homemade juices is to put them in popsicle molds to turn them into frozen treats.
Black Forest Popsicles – A Healthier Frozen Treat for Summer!
4. Use alternatives to disposable food storage methods. Reusable containers (glass or plastic) are great for leftovers or items that you've cut up for meal prep. I'm also trying to cut down on the amount of plastic wrap and aluminum foil that I use these days, and have been really interested in trying out the beeswax wraps that I've seen out and about.
There's a great tutorial from my friend Kiley over on the Mountain Rose Herbs blog that I'm definitely going to try out sometime soon: The Complete Guide to DIY Beeswax Wraps (AND Beeless Vegan Food Wraps!).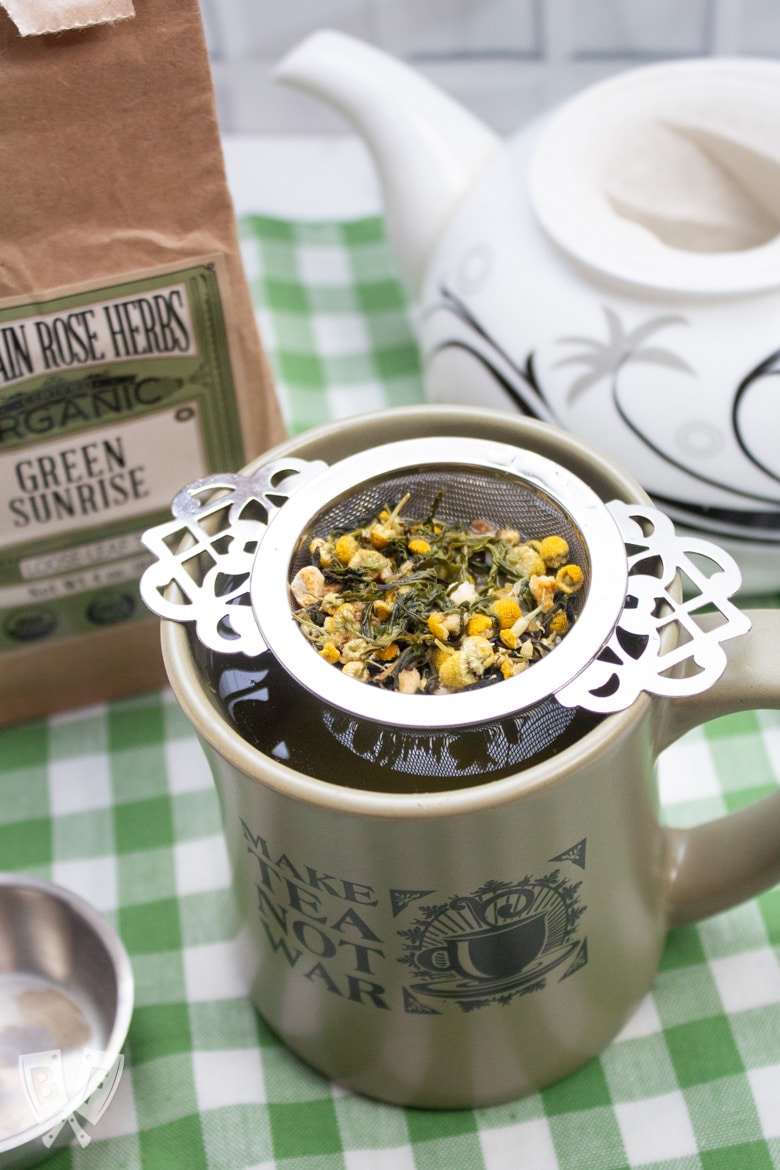 5. Filter your own! If you're a tea or coffee drinker, you've likely gone through a lot of disposable filters. Individually packaged teabags and paper cone filters for coffeemakers (not to mention the disposable single-serve cups) can really add up to a lot of unnecessary waste. We recently switched to a reusable coffee filter insert, and I can already see a big difference!
There are a ton of accessories to help you enjoy a delicious cup of tea without constantly throwing out teabags. I love the different tea strainer options – both for individual mugs or whole pots of tea. This tea net was new to me and I love it – it makes brewing a whole pot of loose tea way less messy.
There are even options for making large quantities of tea. You can even use those strainers for things like mulling spices, infusing bath herbs, and containing a bouquet garni that you can then easily strain from your stockpot.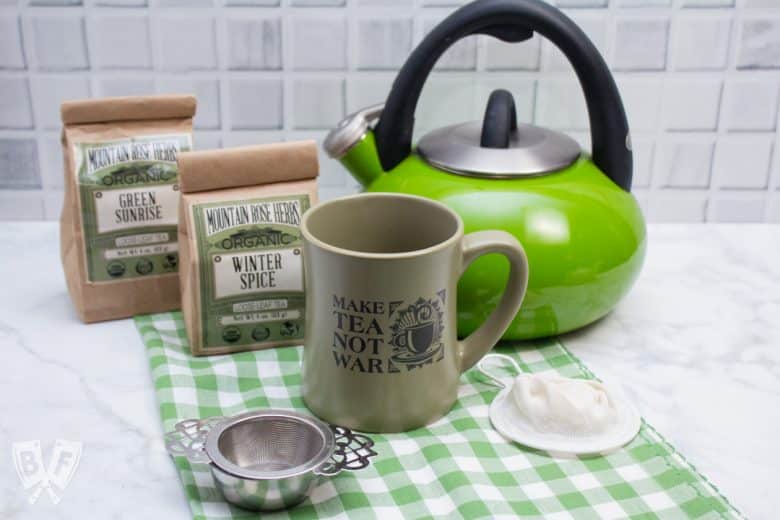 Mountain Rose Herbs has lots of loose tea options (plus a fun quiz to help you find your tea soulmate – mine is Winter Spice and it is deeeelicious!).
I like using a mesh teaspoon for dusting powdered sugar or cocoa powder on desserts, too. And we even used our sprout bag to filter a batch of homemade cold brew coffee last night, and it worked beautifully! I'm all about finding inventive ways to use my kitchen tools for tasks other than what they are "supposed" to be used for!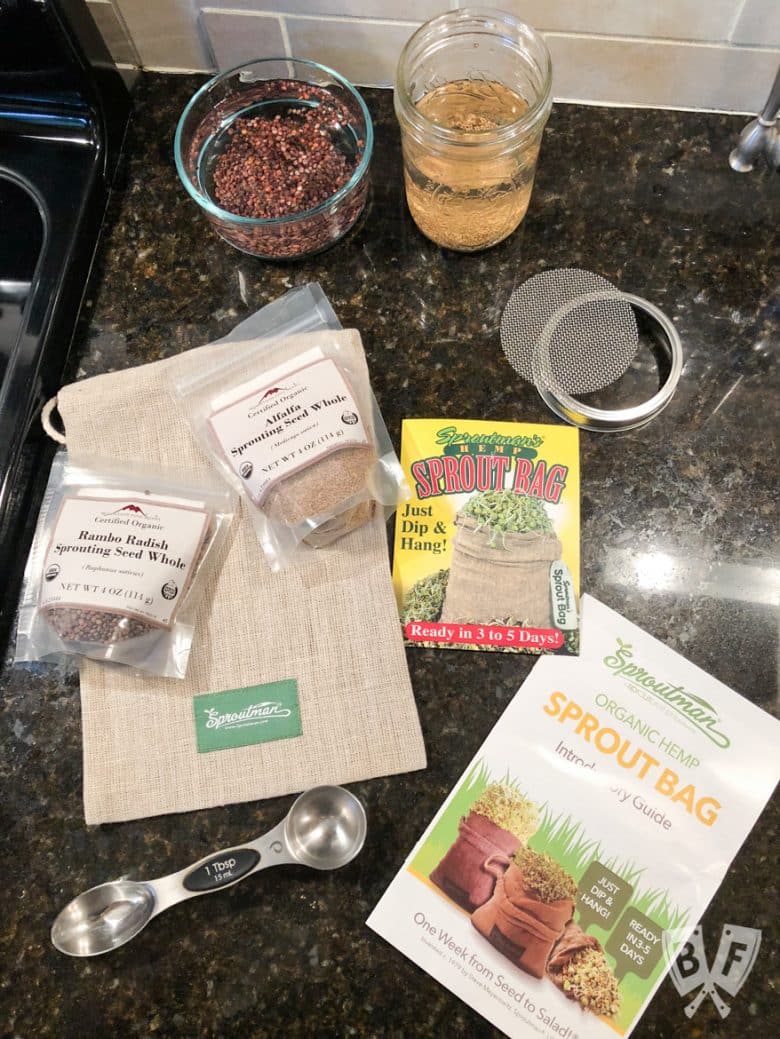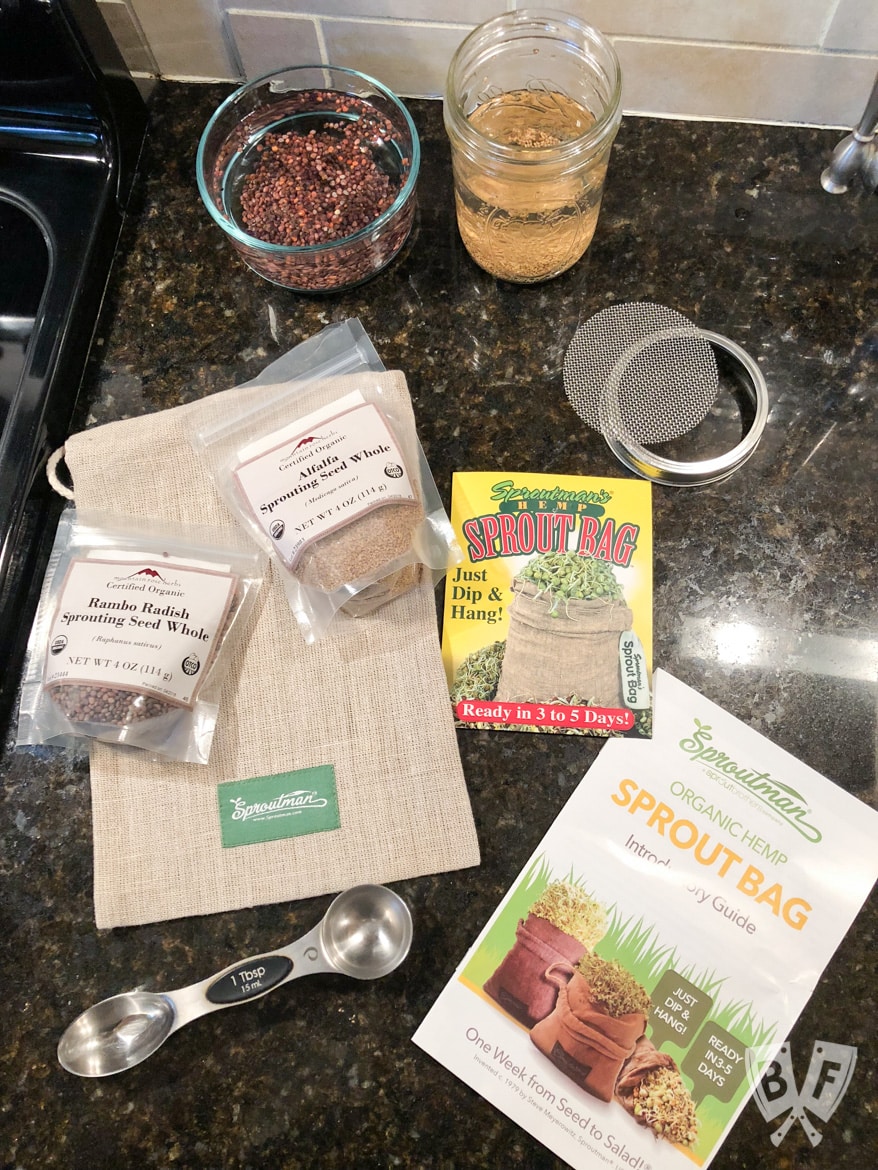 6. Grow it yourself! Even if you don't have a green thumb, there are a lot of simple things that you can grow at home to cut down on the amount of plastic packaging you bring home from the store. It also costs less to grow your own food when possible, but it is definitely a time investment. Herbs are pretty easy to grow outside, are low maintenance, and they don't take up much space.
I also did a whole post on growing your own sprouts at home that will save you money versus buying sprouts from the store. Sprouts have a super short shelf life, so when you grow them at home, you can pick them and enjoy them as they're growing! I find it really helps us cut down on wasted greens. (And don't forget – I have a giveaway going to win an epic assortment of home sprouting gear in that post!)
Sprouting Seeds at Home: A How-To Guide with 3 Methods for Success
7. Reuse containers for your garden. On the topic of gardening, you can reuse containers to help you start your seedlings! We had an assortment of plastic yogurt cups that we used to get our seeds started on Earth Day a few years ago. After the plants got bigger and we transplanted them into their planters, we recycled the yogurt cups.
8. Save your veggie trimmings! I've posted about how I like to save the tips, tails, stems, and peels from a lot of the veggies that I prep in a bag marked "stock bits" in my freezer. I add to it throughout the weeks, and when my bag fills up, I'm ready to make some homemade stock!
It's also a great way to save veggies that are on their way out but you don't want to eat quite yet. Just pop them into your freezer bag. I add everything from kale stems, corn cobs, onion peels, broccoli stems, and bell pepper cores to my stock bits bags.
9. Purchase whole cuts of meat. This kind of goes along with buying in bulk, and I'll often buy larger cuts of meat from the wholesale club. Buying a single pork loin, for instance, and cutting it down into individual chops is both more affordable and it uses less packaging than buying a tray of pre-cut chops.
Same with ribs, beef tenderloin, and whole chicken.
10. Save those bones! When roasting a whole chicken, after you carve the meat off, pop the carcass in the freezer. When you're ready to make homemade chicken stock, a big part of the work is already done! I like to throw the neck bones that are often in the cavity of raw chickens in with those carcasses for even more chicken-y goodness.
You can also save things like shrimp shells to make seafood stock. Throw in some veggie scraps from your "stock bits" bag and you're on your way to delicious homemade stock.
11. Freeze super ripe produce! If you have a super ripe avocado or 3 but you don't plan to make our favorite guacamole recipe, you can mash them up and pop it into an airtight container in the freezer. They hold up remarkably well and are great added to smoothies.
Same for other produce – and if it's something that goes well in a smoothie, it'll be ready when you are plus it helps add that icy texture without any additional ice.
Frozen grapes are a really refreshing treat by themselves, too. When I get a really tasty batch of red grapes, I tend to freeze about half of them for snacking at a later date.
12. Use your breakfast scraps in your garden! Years ago, my friend Betsy taught me a lot about gardening, and one of the most interesting tips she gave me was to use egg shells and coffee grinds in my garden beds. It helps your soil by adding nutrients like nitrogen and calcium, which is particularly beneficial for tomato plants.
13. Turn it into a snack board! A great way to use odds and ends in your fridge and pantry is to assemble a snack board! Whether it's using a few pieces of fresh fruit and nuts to fill out a charcuterie board, assembling an epic brunch board on a budget, or cutting up all the partial wedges of cheese you have for a cheese board, get creative and mix and match!
I had planned to make this Turkish Chicken Salad and Muhammara for some friends last week, and when I saw a half jar of peppadews and some fresh herbs in my fridge, I knew I needed to add these Garlicky Goat Cheese + Herb Stuffed Peppadews, too. I filled the board with dried fruit, nuts, and pickles that I already had in my kitchen, added tomatoes from my garden, and it ended up being a ridiculously impressive meal!
I was able to finish off a few packages of items that were already in my kitchen and I didn't have to buy a bunch of extra ingredients. Win/win!
14. Label your leftovers! I found that one of my family's biggest issues was forgetting when food was cooked or knowing how long it would last in the fridge. I now use a dry erase marker to write the date on our leftovers, so it's easy to tell from a quick glance just how old each item is. I also use a pen or marker to write the date directly on restaurant food leftover containers before I stash them in the fridge.
If you use an app for recipes and meal planning that has a calendar function, you can add your recipes to the days that you cook them and put notes on the days you get food from elsewhere so you can remember how old your leftovers are.
15. Plan your meals in advance. I know, it's easier said than done, but it really does help to plan your meals ahead of time. Instead of pressuring myself to do a whole week at a time, I often plan for 3 or 4 days worth of meals and work from there. That way I have a guide for what I want to cook, and I can get my ingredients in advance.
On a related note, when I'm planning meals, I try to pick recipes that have some overlap of ingredients. For example, if one recipe calls for tarragon, I'll try to pick another that does as well, that way I use up more of the herbs than I would have if I just used a teaspoon for one recipe. I also like buying the "poultry mix" of fresh herbs (usually rosemary, sage, and thyme) if I just need a little of one or two of those herbs, and then try to pick another recipe to use the remainder.
16. Preserve your herbs! Another great way to reduce wasted herbs is to freeze them in oil. It's a great way to save the last bits of your summer herb garden as well as partial bunches of fresh herbs that you pick up from the store or farmers' market.
17. Utilize reusable grocery and produce bags. I keep mine in the back of my car and grab them before I head into the store. It took a while to get into the habit of bringing them in with me every time, but now it's second nature.
I grab my produce and don't bother with a bag until after it gets rung up by the cashier, and then I place them together in the smaller produce bags. I'm not worried about any germs from the cart or the conveyor belt getting on my apples and lemons – I wash them at home anyway so it's no big deal.
Just be sure to wash your reusable bags periodically, because sometimes food leaks or drips out into the bags, and that can cause some funky smells and bacteria.
18. Pack smarter lunches! School and desk lunches are a great way to utilize leftovers and odds and ends that are hanging out in your kitchen or pantry. Reusable lunch boxes and snack bags are a great way to cut down on all the single-serve waste that is often associated with packed lunches.
One thing that can be frustrating about reusable bags is trying to clean them properly. I used to always have trouble keeping them open so the air could circulate in them to fully dry. So I was thrilled to try out this bag dryer. It's really small and compact (a big bonus if you have a tiny kitchen with limited counter space like I do!) and it unfolds with spokes that you can situate your bags on so they can dry out to be reused.
The bag dryer is made from sustainably harvested Birch & Ash, and you can either stand it up on the round base for counter use or use the mounting hook for wall use. I use it for snack bags, tea nets, and cotton muslin bags as well as disposable plastic bags that I want to reuse.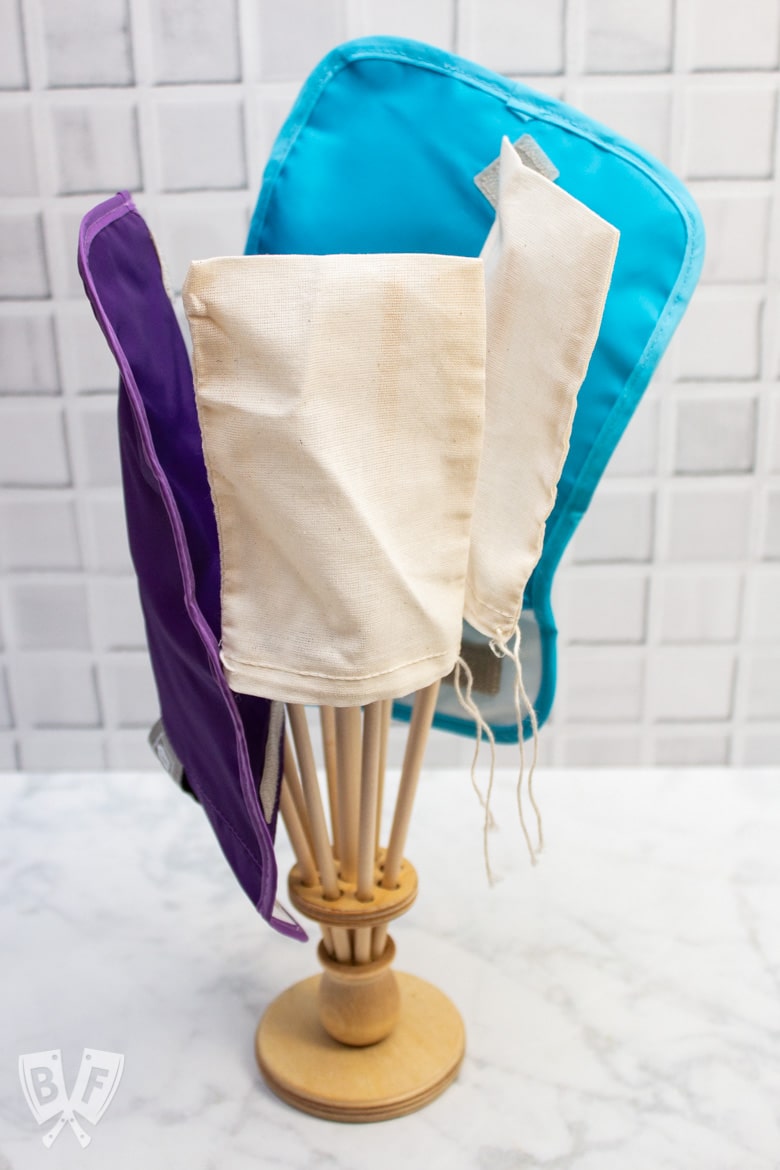 19. Cook from your pantry and freezer. How often do you open your fridge and think, "I have nothing to eat in here" and end up going out to dinner? Chances are you actually do have the makings of a delicious meal – you just need to look harder! Dig through your freezer and pantry and use up some of the things that have been sitting in there to make dinner.
This is a great way to clean out room and use up items before they expire and end up in the trash. I even like to have my husband and son give me "mystery basket" challenges where they grab 3 or 4 random items from the kitchen that I then have to use to make dinner (a la Chopped). It's always a fun time and a great way to get creative in the kitchen while using items that may have otherwise gotten overlooked.
20. Make your own spice blends. There are so many different blends out there, but oftentimes you can make them with things you already have in your kitchen. Blends are a great way to use up some of your underused spices, and a way to avoid buying yet another jar of spices that you will use once or twice and forget about.
Whether you're using them for things like tacos and fajitas or whipping up a batch of homemade Chai-Spiced Snickerdoodles, homemade spice blends are delicious!
21. Utilize leftovers! Leftovers get a bad rap, but they're something that I've come to rely on as part of my meal planning. I make recipes that will have enough leftover for another few servings. About once or twice a month, my family has what we like to refer to as "leftover smorgasbord" night, where I fill up a sheet pan with an assortment of leftovers from the fridge and reheat it in the oven.
Everyone gets to grab a little bit of everything and have a nice mélange for dinner. It's always a hit, and it's a fun way to get a little more of the "greatest hits" from the previous week. Plus, it's a night that I don't have to put any thought into dinner, which is a welcome break from meal planning.
I actually have a post in the works for how to best reheat all sorts of leftovers, so I'll be sure to update this post with that info once it's live.
22. Don't toss the greens! I remember when I first got into beets, I'd buy a bunch from the Farmers' Market and ask them to chop the greens off for me. Little did I know that I was opting out of something seriously delicious!
A lot of veggies have edible greens, so do a bit of research before you chop 'em off and throw 'em out. And when in doubt, sautéeing with lots of garlic and a pinch of red pepper flakes is always a good call.
23. Stir-fry it! Stir-frys are a great way to use a lot of random items that are hanging out in the fridge. I like to go through my crisper drawer and collect all the bits that look like they need to be used soon, or things like single carrots, half packages of mushrooms, etc.
You can also stretch small amounts of protein like tofu or partial packages of meat by bulking it up with veggies in a stir-fry.
24. Bowls, bowls, bowls! Like stir-frys, bowls are a great way to use a mixture of various veggies and greens in one dish. I like simply roasting my veggies in the oven and often top them with a fried egg when it's time to eat.
25. Vacuum seal it! One of the best things I've done to reduce the amount of waste from my kitchen was to invest in a vacuum sealer. You can preserve food in jars, canisters, or bags with it. Since I started dividing and sealing meat for the freezer, I haven't had to worry about freezer burn and wasted food.
There are even containers that help keep your produce fresh for longer, and we use canisters that we vacuum seal to keep our coffee beans fresh. We even use our vacuum sealer to seal jars of fresh nut butters so they don't spoil and don't have to be stored in the fridge, which helps them retain their creamy texture. We love it!
26. Use scraps to make homemade dyes. This is a fun project to work on with kids, and it doesn't have to be limited to just Easter time. Do some experimenting with different food scraps and see what colors or combinations work best.
You can also use homemade dyes for eco-dying fabric and paper, which is something that my mom has been researching lately and I look forward to trying!
27. Skip the straws (or get reusable ones). I get it – some people like drinking through straws. Banning plastic straws is a big topic these days. I'll often opt to skip the straw altogether when I'm dining out, but at home I keep a stash of both stainless steel and glass straws handy.
There are special tools to help you clean your reusable straws, too, as they can be difficult to get clean without a little scrubbing on the inside.
28. Ditch paper cups and plastic bottles. I am almost always traveling with a stainless steel water bottle and/or coffee mug. Not only do they help keep your beverages insulated, but they're reusable and come in a lot of fun patterns. There are plenty of stainless steel options out there in addition to glass and reusable plastics.
29. Pack reusable utensils. Whether it's a school lunch, a picnic, or a camping trip, you can tote along some reusable utensils to help cut out disposable plastics. There are a few examples of utensils I like in this Falafel-Spiced Chickpea Salad with Tahini-Lemon Vinaigrette post, as well as on the Green Cooking and Dining section of my Amazon shop.
30. Choose cloth instead of paper. As I mentioned above, switching over to "unpaper towels" was a total gamechanger for my tiny kitchen. Kitchen towels and tea towels are so versatile and can be used for many things that you may usually use paper towels for. Drying counters, cleaning and drying produce, and cleaning up spills can all be done with cloth.
I haven't yet switched over to using cloth napkins, but I'd like to give that a try. Again, it's all about changing habits and taking whatever small steps you can toward reducing the amount of waste that comes out of your kitchen.
So there you have it. I'm sure there are plenty more ways that you can reduce kitchen waste, but these are some of the methods that I use in my own home. Gradual changes can really add up to make a big difference!
One thing I'm working on is trying to get approval to compost at home. The complex that I live in won't allow us to keep compost bins outside, but I may try to talk to the board to change that in the future. But for now, I'm making all the changes that I can, little by little, to reduce the amount of kitchen waste that comes out of my house.
Aside from all of the awesome products from Mountain Rose Herbs, which are linked within this post, you can head over to the Green Cooking and Dining (Reducing Kitchen Waste) section of my Amazon shop page to find a collection of my favorite products for creating less kitchen waste.