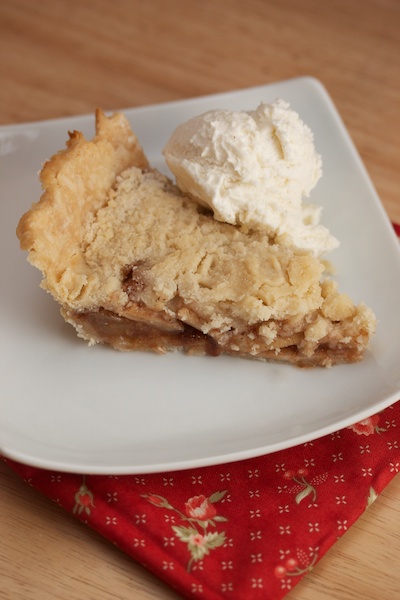 Thanksgiving: Dutch Apple Pie
When I was visiting my family in Indiana a few weeks ago, my aunt made this pie, and it was amazing. I knew that I just had to make it for Thanksgiving. This is another hit from the cookbook that she got the Rhubarb Custard Pie recipe from. She told me that sometimes she mixes white and brown sugar for the topping, and I think I'll do that next time. The top didn't get too brown, but it was a really delicious pie nonetheless. My mother-in-law even said that she was going to give up making apple pies, because she liked this one so much. Needless to say, it was a big hit!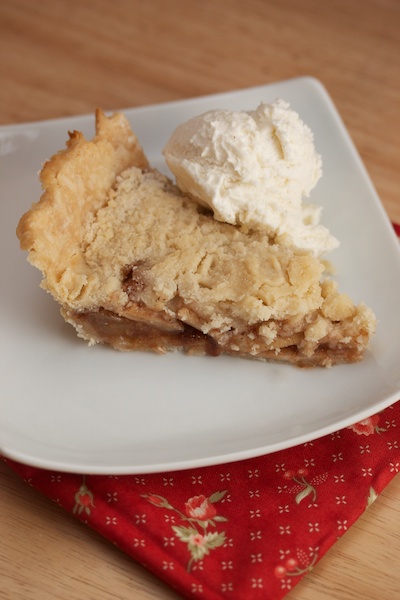 Dutch Apple Pie
Our Swiss Pantry
Mrs. Ellie (Rhoda) Hirschy
Filling:
3 c (4 large) tart apples
1/2 c sugar
1 tsp cinnamon
Topping:
1/2 c sugar
3/4 c flour
1/3 c butter
1 unbaked pie shell, 9″
Peel and cut apples. Combine 1/2 c sugar with cinnamon; sprinkle over apples and toss to coat. For topping, sift 1/2 c sugar with flour and cut in butter until crumbly. Put crumbs on top of pie and bake 10 mins at 450, then 30 mins at 350.
Big Flavors Rating: 5 Stars