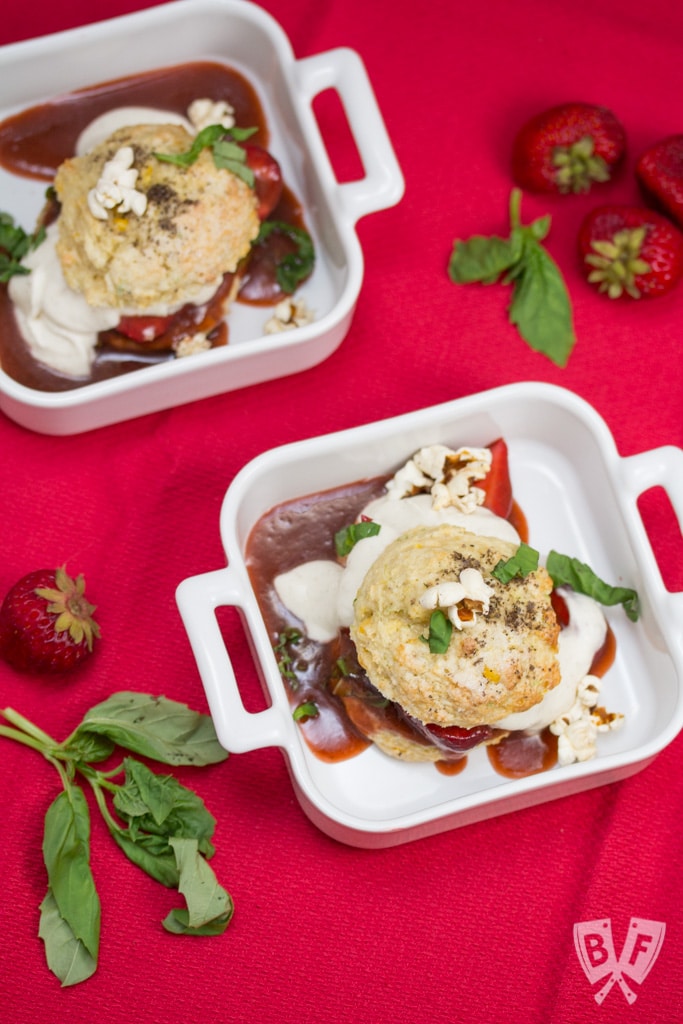 Tolon's Strawberry Basil Shortcake
This post may contain affiliate links. Thank you for supporting the brands that keep me creative in my tiny kitchen!
This is part 2 of a feature on my delicious experience with Chef Matthew Nolot at Tolon in Fort Wayne, Indiana. You can find part 1 here.
When I walked into the kitchen at Tolon to find out what recipe the chef would be cooking and sharing with me, he told me that he came up with an idea that morning for something that he'd like to try out, and that he'd just kind of wing it and hope for the best.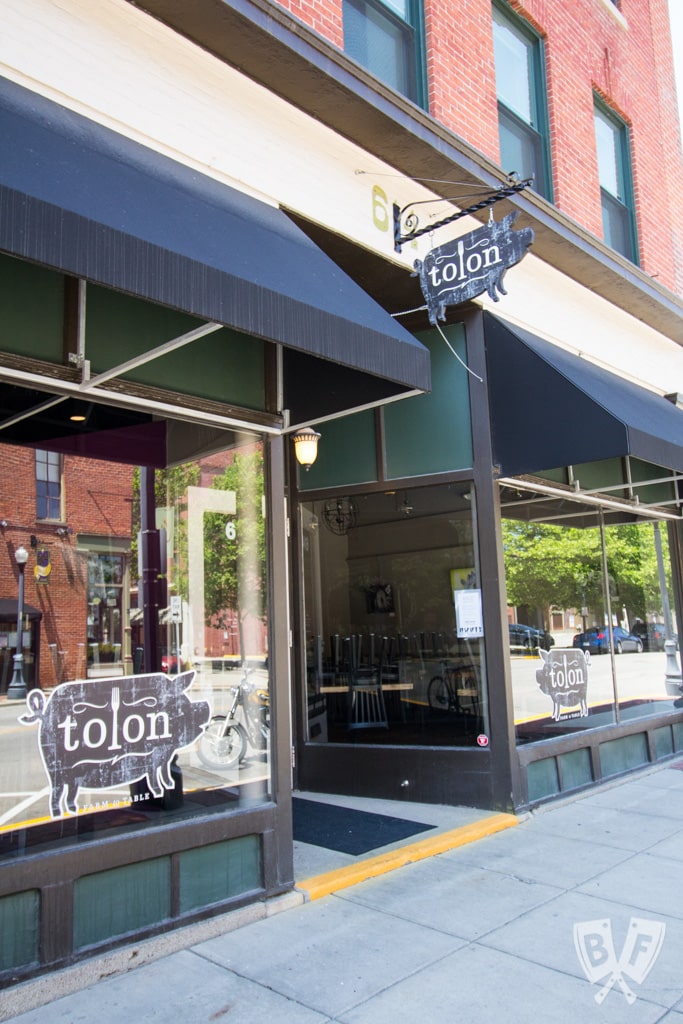 And to him, "winging it" involves making Corn-Lime & Ricotta Biscuits and Buttered Popcorn Whipped Cream to go with his Strawberry Basil Shortcake.
Have. Mercy.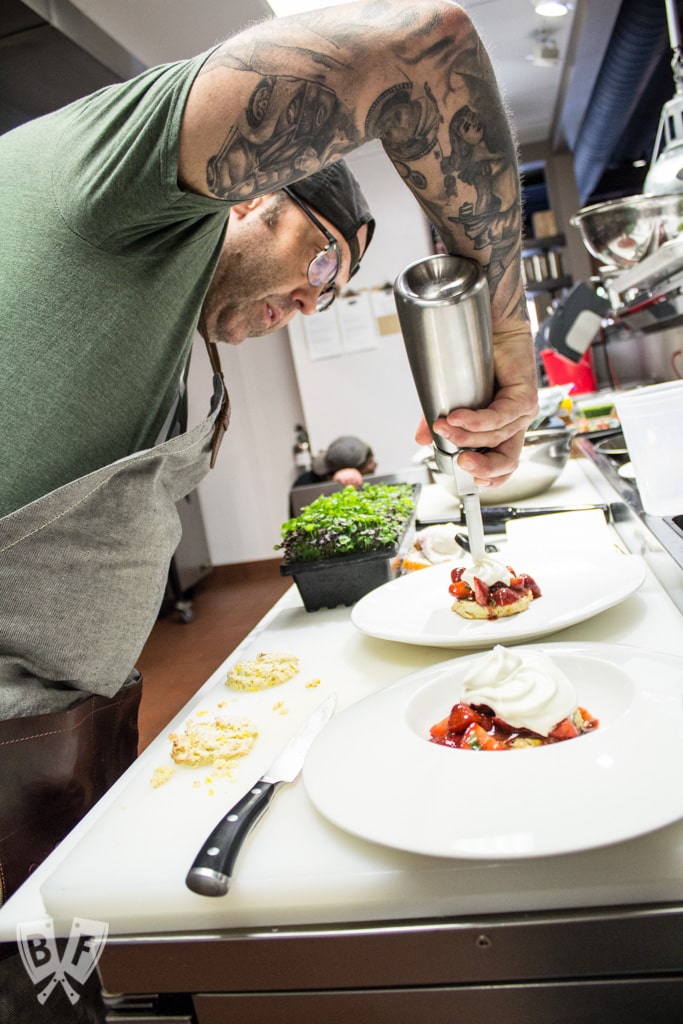 He used ricotta to keep the biscuits nice and fluffy, as well as fresh corn and strawberries that he picked up at the Farmers Market that morning.
He also used a duck egg, but it's fine to substitute a large or extra large chicken egg at home.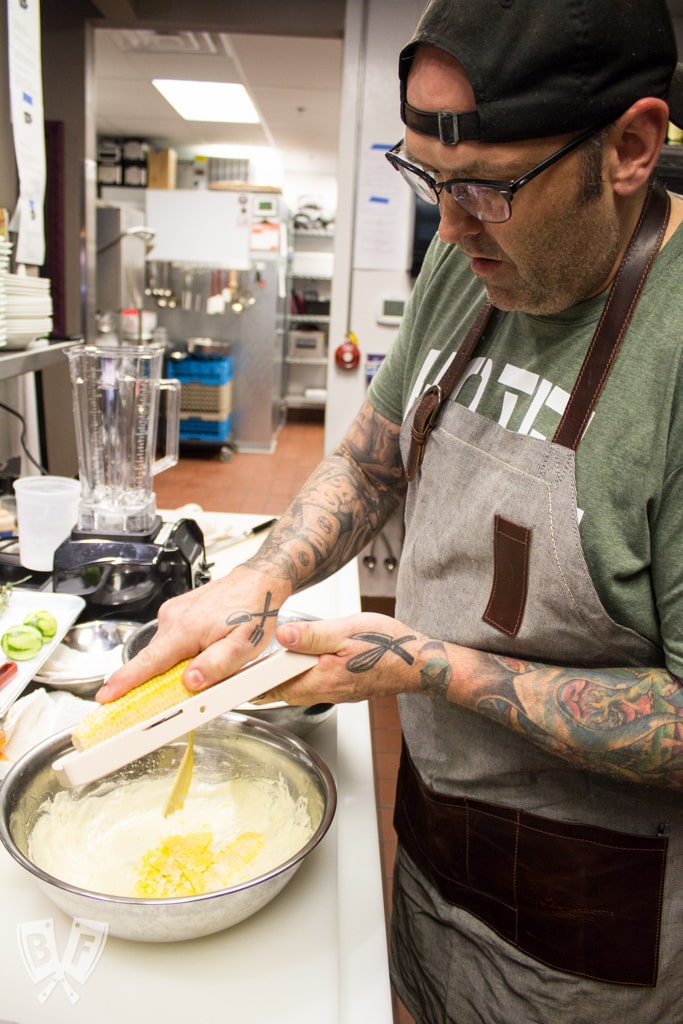 I love that he picked a sweet dish with lots of savory notes. The buttered popcorn whipped cream was really interesting to me, and it worked out beautifully when I made it at home and used a hand mixer to whip it.
You pop the popcorn on the stovetop in butter, then add cream and fresh basil and bring it to a simmer. Then it steeps and cools before you whip it for the dish. The flavor is absolutely incredible – beautifully rich and silky smooth.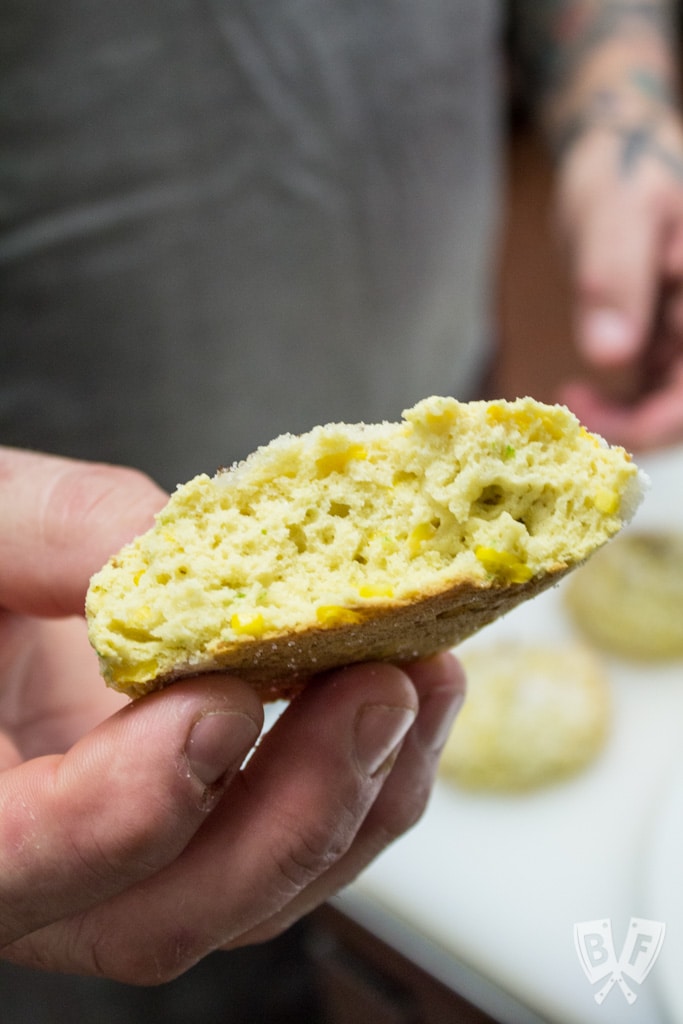 The biscuit dough also has lots of lime zest inside, and a little smoked salt on top. Both work beautifully with the fresh basil. It was a really interesting and unique combination that I loved. He sent me home with a little container of smoked salt – if you can't find it locally, there's plenty of options online. It's definitely worth keeping around in your pantry!
At the restaurant, he clipped off some basil microgreens for garnish. I used some regular basil on mine and it was still delicious, though not as adorable.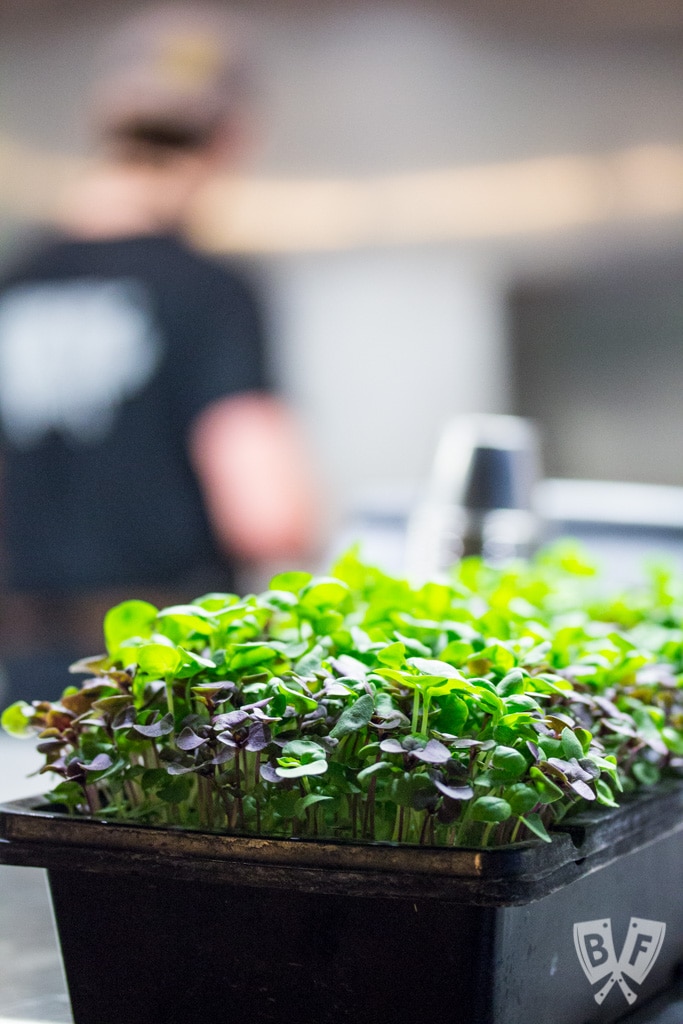 One thing that I picked up on was that in Tolon's kitchen, they keep fresh basil leaves in a little bucket of water to keep them nice and perky until they're used in different dishes. I need to try storing mine like that in my tiny kitchen.
When I made this dish at home, made the popcorn-infused cream first, reserving a few of the popped kernels for garnish. I let it sit in the fridge for a few hours so I could whip it right before dessert time. I made the strawberry mixture next, letting the flavors mingle for a few hours out on the countertop, but it could also chill in the fridge.
I baked the biscuits last, letting them cool on a metal rack while I made dinner. It turned out so well, and tasted just like it did that day at Tolon.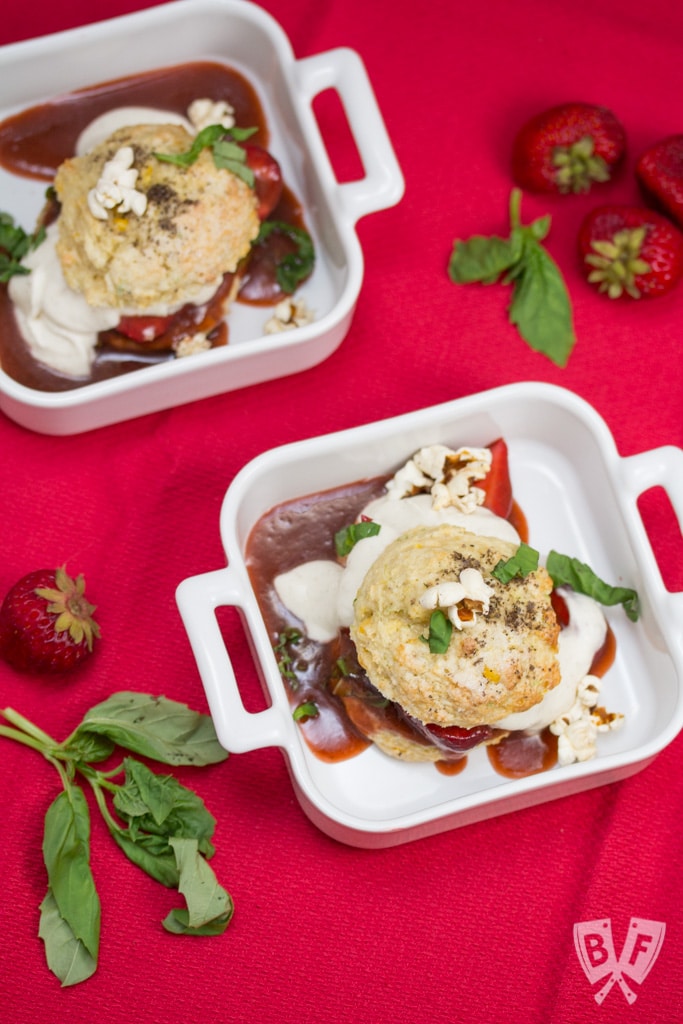 When dishing out the dough, he used a #12 scoop, which made 8 biscuits. I don't have that size, so I used a #16, and got 10 biscuits (which took about 14 minutes to bake in my oven).
He taught me that the number on the scoop indicates the number of scoops per quart. I had no idea what they stood for, I just knew that having different sizes at home serve different purposes. But that tidbit was really helpful, so I wanted to pass it along.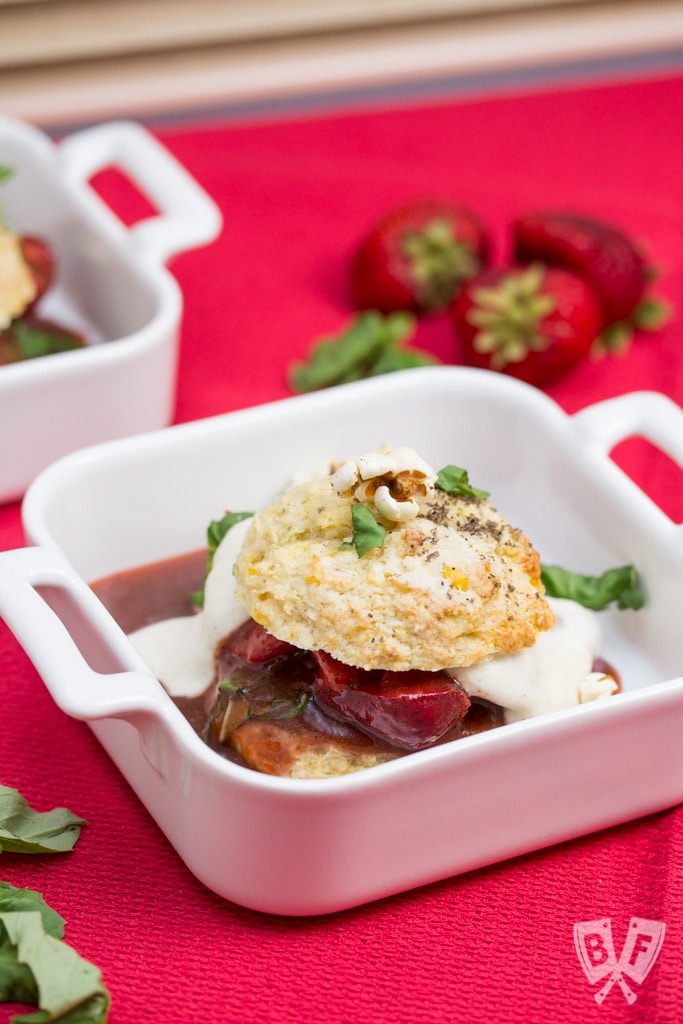 This dish does take a bit of time to prepare, but you can do the different components ahead of time like I did so it comes together more easily at dessert time. You could chill the strawberry mixture and the infused cream beforehand and even bake the biscuits in advance if you want. And it would be fun to try it with different fillings, too. YUM!
We had some leftover for a few days and we just toasted them briefly before assembling more. It was absolutely delicious every single time!
This dish was a lot of fun to make, and a huge hit with my family. My mother-in-law was definitely skeptical when she heard the names of some of the components, but she was licking her plate clean in no time once it was in front of her.
Print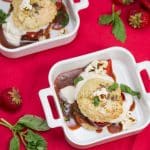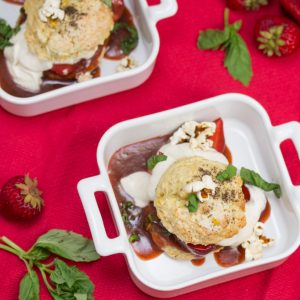 Strawberry Basil Shortcake / Corn-Lime & Ricotta Biscuits / Buttered Popcorn Whipped Cream
---
---
---
---
Recipe Card powered by
Note: This post includes affiliate links for items that I genuinely enjoy. Big Flavors will receive a tiny commission from purchases made through affiliate links on this site at no added cost to you. This allows us to cover site-related expenses and helps to keep us cooking up a storm!