This post may contain affiliate links, which won't change your price but will share some commission.
This post has been compensated as part of my ongoing partnership with Stoneridge Orchards and may contain affiliate links. As always, all opinions are 100% my own.
Satisfy your sweet tooth with this 5 ingredient dark chocolate dessert. Easy to make, no bake, & perfect for times when you're craving both sweet AND salty!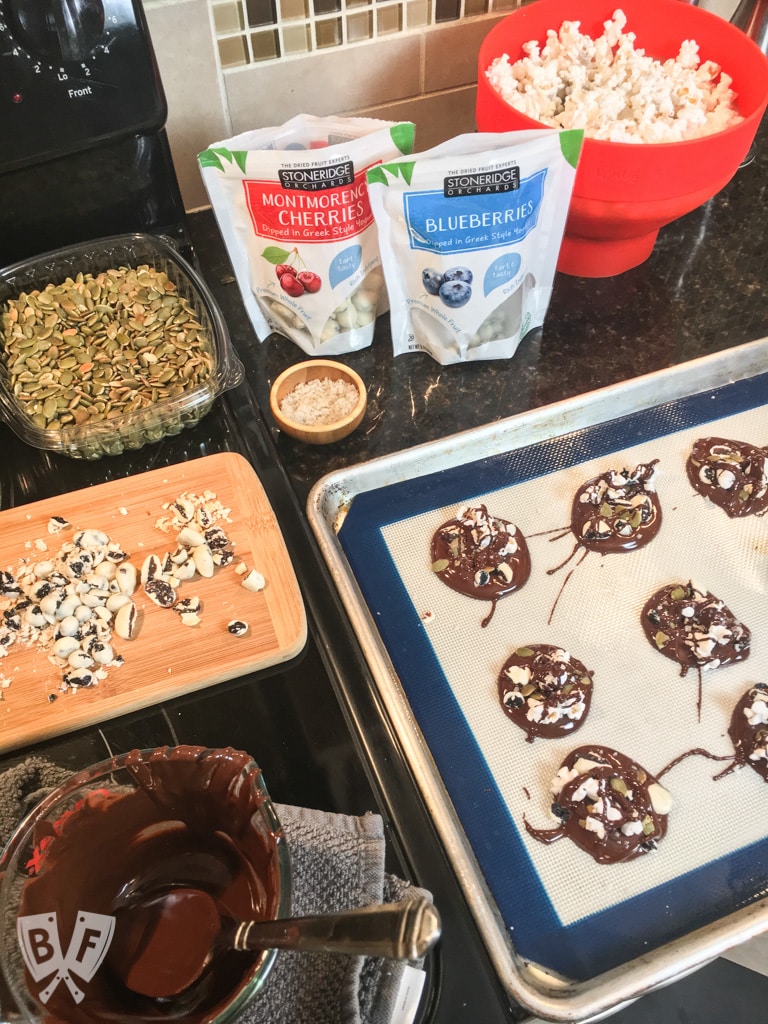 Are you an indecisive snacker? Do you crave sweets, or do you lean more toward the salty side? Would you rather have a big chunk of chocolate, or would you prefer popcorn? Is dried fruit more your fancy?
I tend to think that sweet and salty both have their rightful place in any snacking repertoire. And some days you just deserve want the best of both worlds, without feeling like you're eating total junk food.
Enter these Sweet + Salty Dark Chocolate Clusters.
I took a bunch of my favorite healthy-ish snack-time ingredients and rolled them up into one deliciously decadent package that's sure to satisfy all of your cravings. They're super simple to make at home and can even be made in advance!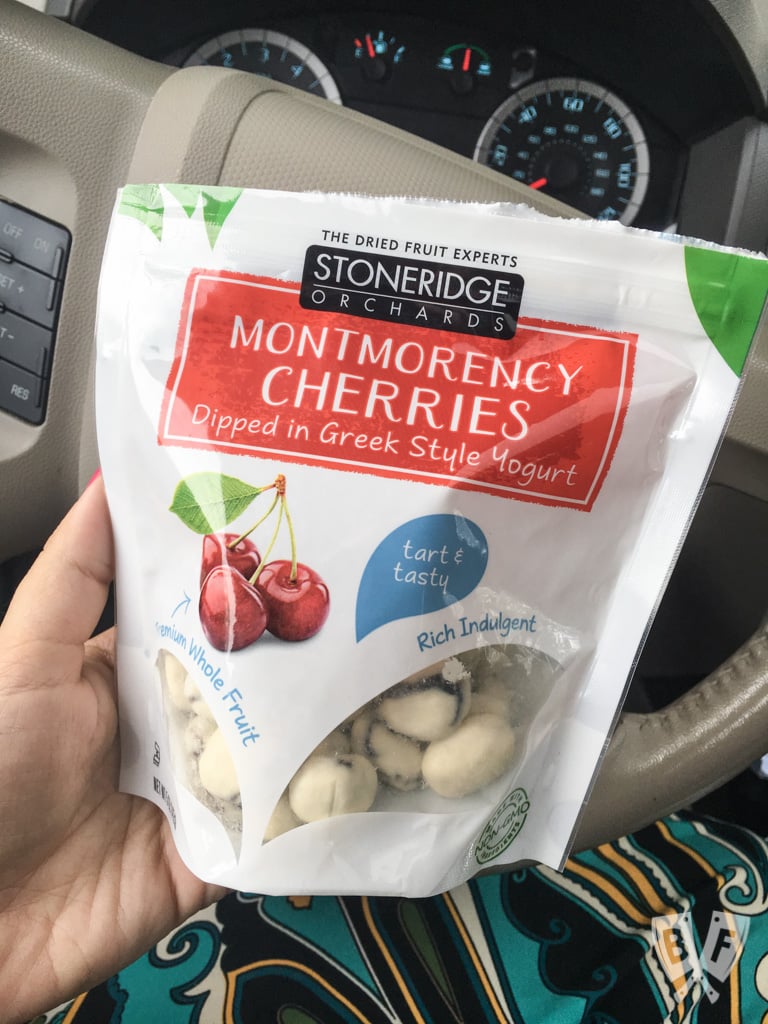 First things first - let's talk about these Montmorency Cherries Dipped in Greek Style Yogurt from Stoneridge Orchards. I've talked about my love for their dried fruit before, and these yogurt-dipped ones are no exception.
They're super plump and delicious and they have the perfect balance of sweet and tart. The resealable bag makes them a great snack, especially when my family is on the go. I can just toss a bag into my purse and head out the door.
My family takes a lot of road trips, especially in the summertime. And having a good stash of both sweet and salty snacks lined up for the car ride is a MUST.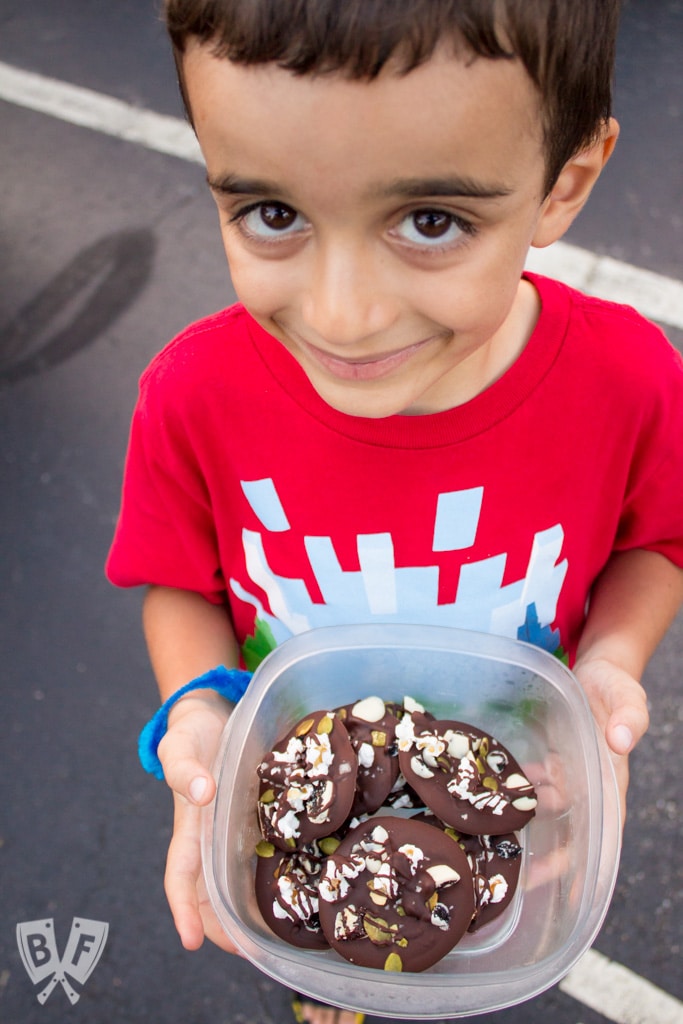 Packing the perfect assortment of treats for whatever mood we happen to be in when snack o'clock rolls around is one of the keys to a successful road trip.
Because trust me, when you're on hour 7 of a 12 hour drive, you don't want to have to make a pit stop for some questionable (and possibly regrettable) gas station snacks.
I also don't like having to stop more often than necessary, unless we need to stretch our legs to find a new geocache or re-up on coffee. I'm all about streamlining things to make our road trips go as smoothly as possible.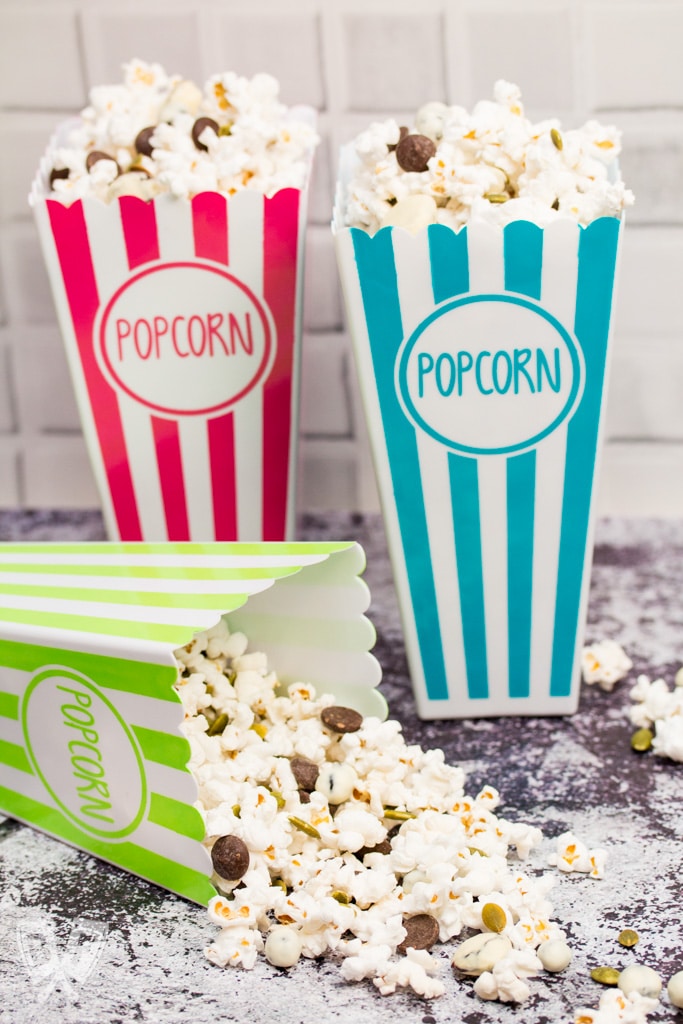 Popcorn is one of my son's absolute favorite snacks. I like making it at home because I can control how much salt/butter (if any) goes into it. A lot of times, I just pop some up in my microwave popcorn popper and munch on it plain or with a drizzle of butter flavored coconut oil. Sometimes a little truffle salt if I'm feeling fancy.
It's also fun to mix sweet and salty ingredients into popcorn to get a more interesting assortment of textures and flavors. And dried fruit is one of my favorite ways to sweeten up popcorn - especially when it's still nice and plump and juicy.
I took all the same ingredients that I used for these cluster candies and tossed a handful of each in with some popcorn. It made an awesome treat for the road! My son loved picking through and taking bites of each ingredient separately, then together, then making different flavor combinations in his mouth.
Hey, cheap entertainment. I'll take it!
The clusters themselves are really easy to make - you just need to melt some chocolate, make little piles, and load them up with your favorite sweet and salty toppings.
I like to drizzle a little extra chocolate on top at the end to kind of seal everything in there, then finish it off with some coarse sea salt to really drive home the flavor combo.
I used both the yogurt-dipped cherries and blueberries here, but you could certainly use one or the other. They work reeeeeeally well together though, so definitely use both if you feel so inclined.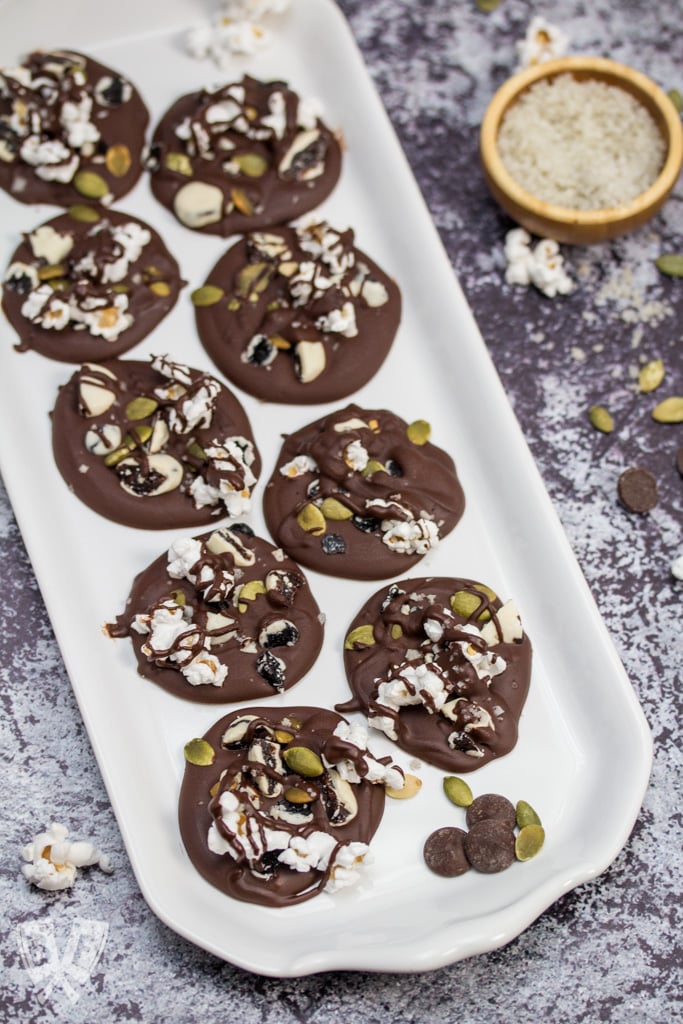 These clusters will set up  pretty quickly in the freezer, and they need to be stored there or in the refrigerator to keep them from melting. They taste great cold, so they're perfect for summer snacking!
Now, if your road trip happens to involve a cooler, as ours often do, you can totally bring the clusters along for the ride. But make sure you have some wipes handy, especially if you have kids eating them in the hot summer sun, because they'll likely get melty!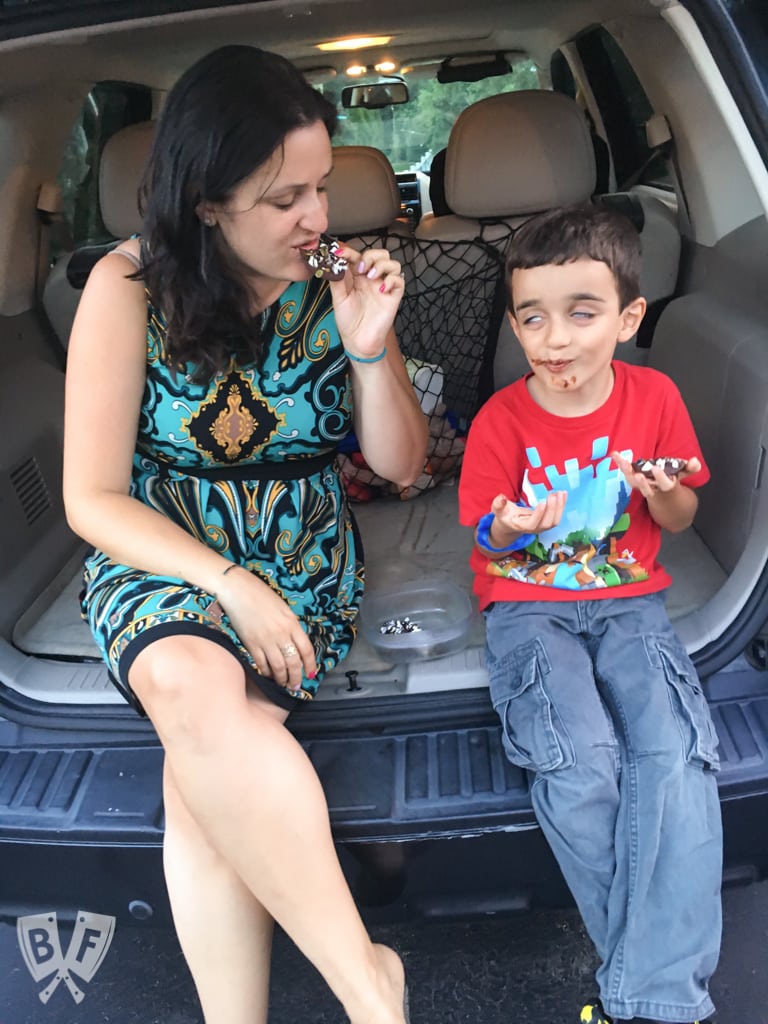 Let the record show that this was my 5-year-old's legitimate reaction to his first bite of these clusters.
Legit eyes-rolling-back-in-his-head, pure chocolate bliss right here, folks.
He was super into this treat in popcorn form while we were on the road, but very excited to get to eat something messy while sitting in the back of our car.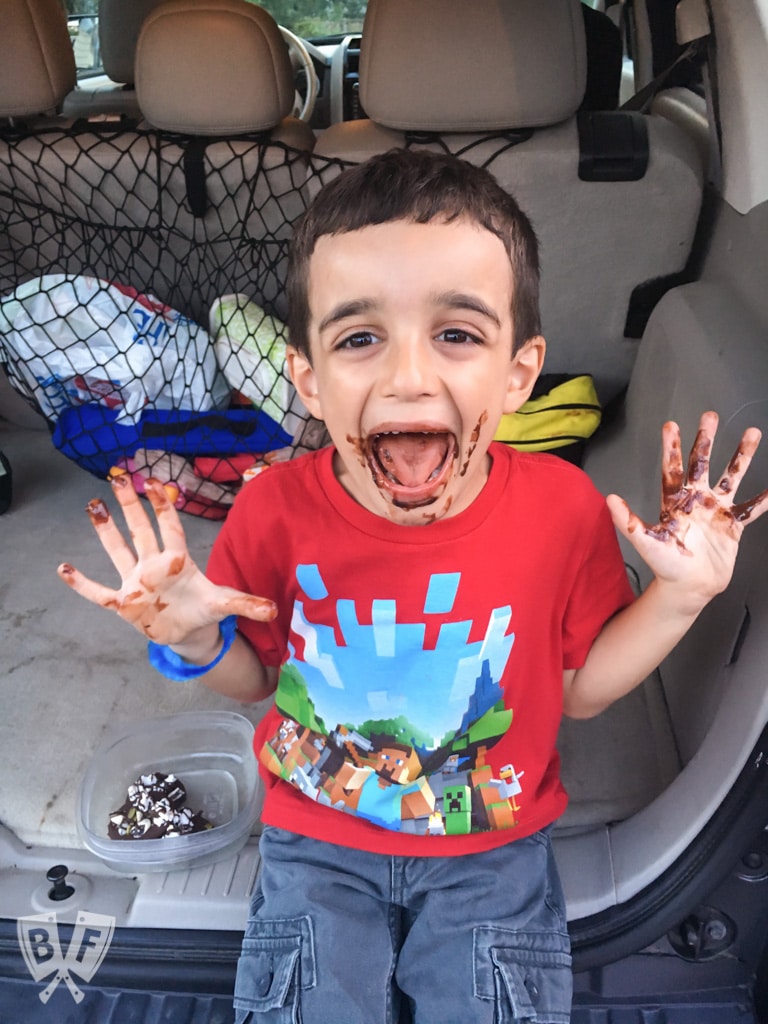 Road trips aside, these clusters are a great last minute dessert. You can use any combination of chocolate, dried fruit, and salty treats that you like.
I chose a pretty dark chocolate here to go along with the fruit, plus popcorn and roasted, salted pepitas. I think pretzels or potato chips would be great alternatives, too. Just raid your pantry and see what works and what doesn't.
You could even let your kids sprinkle their own assortment of different toppings on each cluster. They'll be waiting in the fridge whenever your snack craving strikes!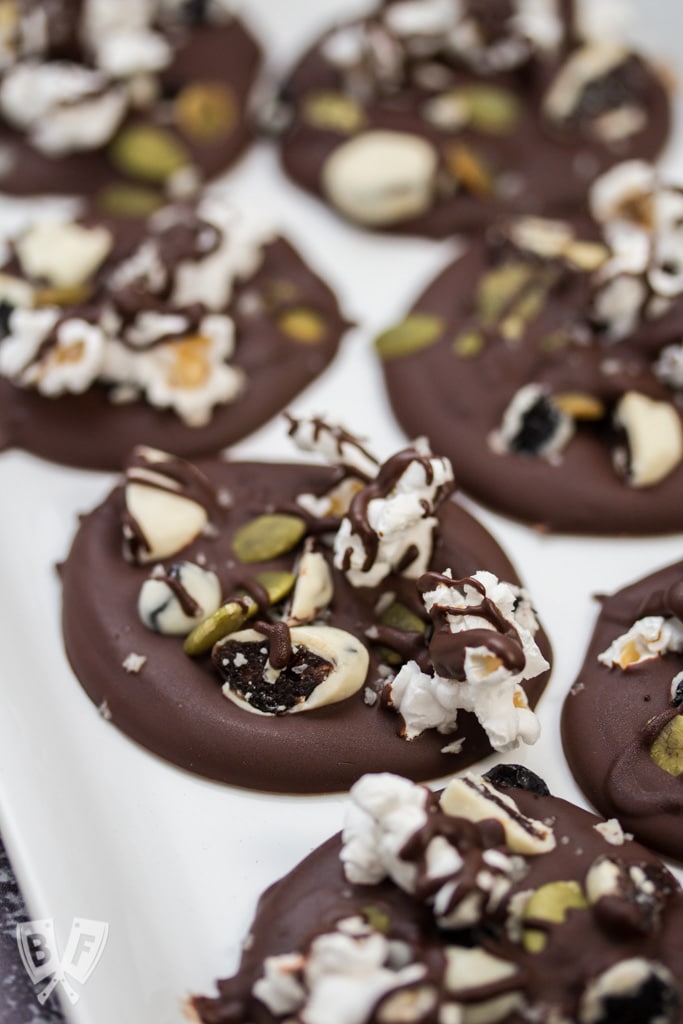 Looking for more snack time favorites? Check out these recipes:
Print
📖 Recipe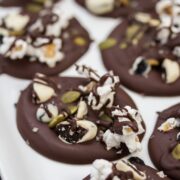 Sweet + Salty Dark Chocolate Clusters
Author:

Prep Time:

5 minutes

Cook Time:

30 minutes

Total Time:

35 minutes

Yield:

12

Clusters

1

x

Category:

Snack

Method:

No Cook

Cuisine:

American
---
Description
Satisfy your sweet tooth with this 5 ingredient dark chocolate dessert. Easy to make, no bake, & perfect for times when you're craving both sweet AND salty!
---
1 cup

coarsely chopped dark chocolate (I used 60% cacao baking chips)

½ cup

Stoneridge Orchards Greek Yogurt-Covered Fruits, coarsely chopped (I used a mix of Montmorency cherries and blueberries)

¼ cup

roasted, salted pepitas

¼ cup

air popped popcorn
Coarse sea salt, for garnish
---
Instructions
Line a baking sheet with a silicone mat or parchment paper. Set aside.
Place chocolate in a microwave safe bowl. Microwave on high until melted, stirring every 20-30 seconds, about 3 minutes total. Let chocolate cool down for a few minutes before assembling the clusters.
Pour the chocolate onto the prepared baking sheet to form 12 little puddles, about 1 tablespoon each. Gently press a few pieces of fruit, pepitas, and popcorn into the surface of each mound of chocolate. Drizzle another teaspoon or so of chocolate over the top of each, then sprinkle with a pinch of sea salt.
Transfer baking sheet to the refrigerator or freezer and chill until set, at least 30 minutes. Once firm, gently remove clusters with a spatula and store in an airtight container in the refrigerator or freezer.
---
Nutrition
Serving Size:
Calories:

109

Sugar:

5.7 g

Sodium:

135.8 mg

Fat:

7.4 g

Saturated Fat:

3.6 g

Carbohydrates:

8.3 g

Fiber:

1.3 g

Protein:

2.8 g

Cholesterol:

2.4 mg
Keywords: popcorn, popcorn clusters, chocolate covered popcorn, dried fruit
Recipe Card powered by