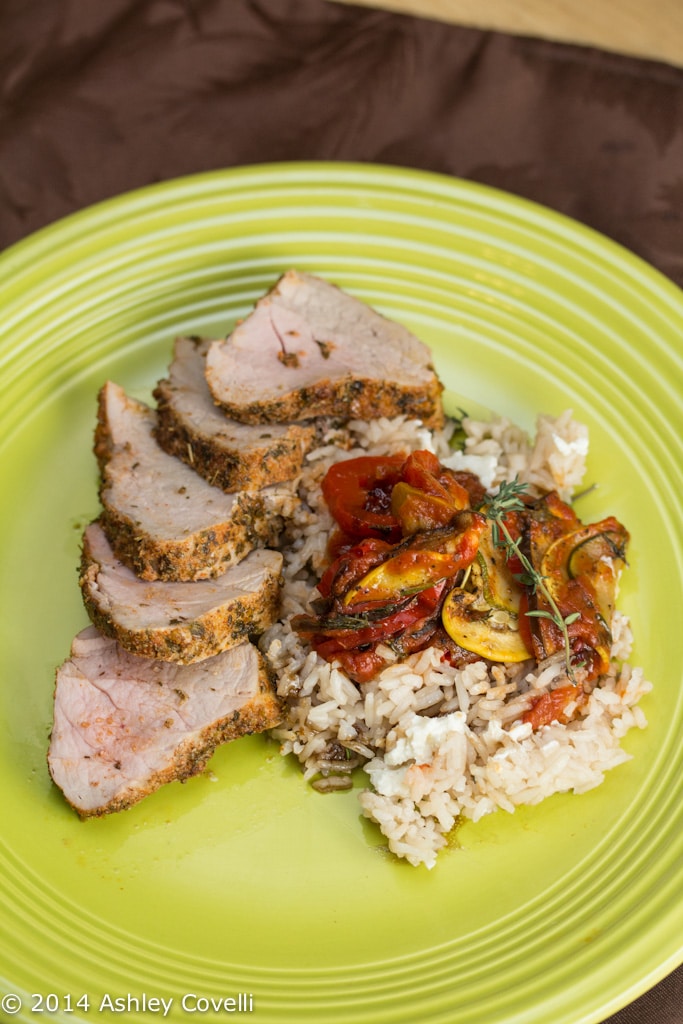 Herb Rubbed Roast Pork Tenderloin
This post may contain affiliate links. Thank you for supporting the brands that keep me creative in my tiny kitchen!
My in-laws were coming over for dinner, so I wanted to make something fairly simple to go alongside our second batch of Ratatouille.
I decided that pork tenderloin would be the way to go, and came up with a spice rub/sear/roast method, similar to the one used for these Pork Asada Tacos with Tomatillo Salsa Verde that I made a while back. It's great, because once it's a simple way to impart a lot of flavor on a quick-cooking, juicy piece of meat.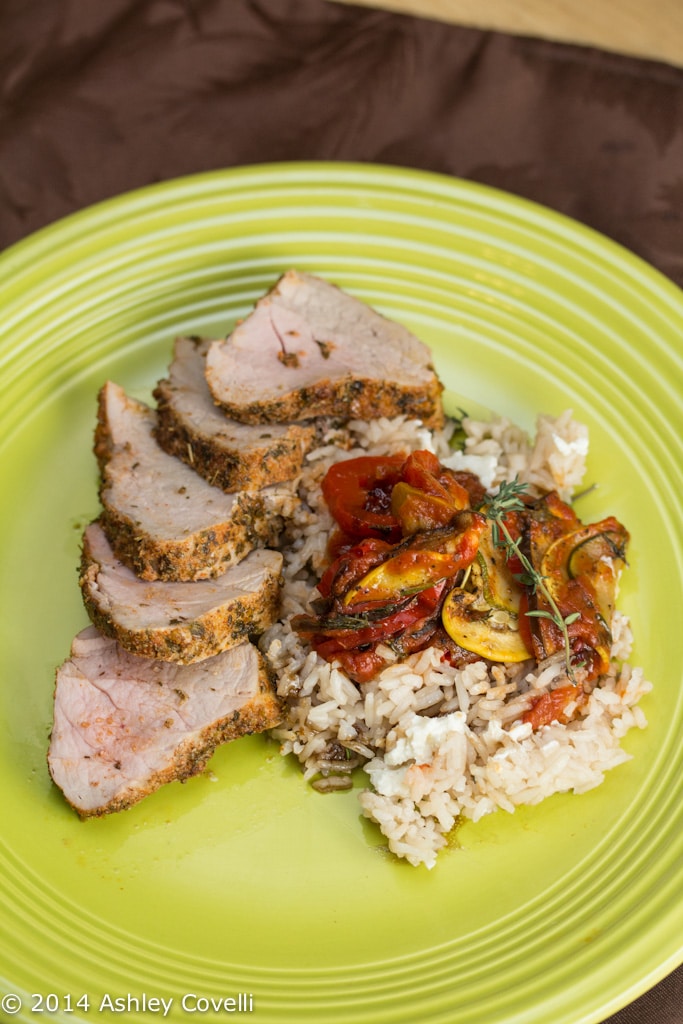 The pork was a big hit – the combination of herbs and spices was wonderful. It had just a little bit of kick at the end, perfect for this cold weather we've been having lately! It was really good the first night, but unfortunately didn't reheat too well a few days later, even though I did it in the oven. The flavor just wasn't there after day 1. That happens a lot with pork. Ah well.
One note – you may want to slice each tenderloin in half, if that helps it fit easier into your skillet. I did that and had 4 nice pieces.
Herb Rubbed Roast Pork Tenderloin
Big Flavors from a Tiny Kitchen – Ashley Covelli
Spice Rub:
1 tablespoon kosher salt
1 tablespoon garlic powder
1 tablespoon dried parsley
1 tablespoon dried oregano
2 teaspoons paprika
1 teaspoon dried savory
1 teaspoon mustard powder
1/2 teaspoon ground white pepper
2 pork tenderloins (2 – 2 1/2 pounds total), trimmed
2 tablespoons extra-virgin olive oil
Preheat oven to 375°F. Combine spice rub ingredients (kosher salt through white pepper) in a small bowl. Rub spice mixture all over pork.
Heat oil in a large, oven-proof skillet over medium-high heat. Sear pork until nicely brown all over, about 2 minutes per side.
Transfer skillet to preheated oven and bake until the internal temperature of the pork reaches 145°F, about 15-20 minutes. Once pork is finished, remove from oven and let rest for 10 minutes before slicing. Enjoy!
Big Flavors Rating: 4 Stars