This post may contain affiliate links, which won't change your price but will share some commission.
It's been several years since I've made this dish, and it's one of our favorites!
Pork is seared then roasted, and paired with caramelized pears and shallots with lots of fresh thyme and a pear nectar pan sauce.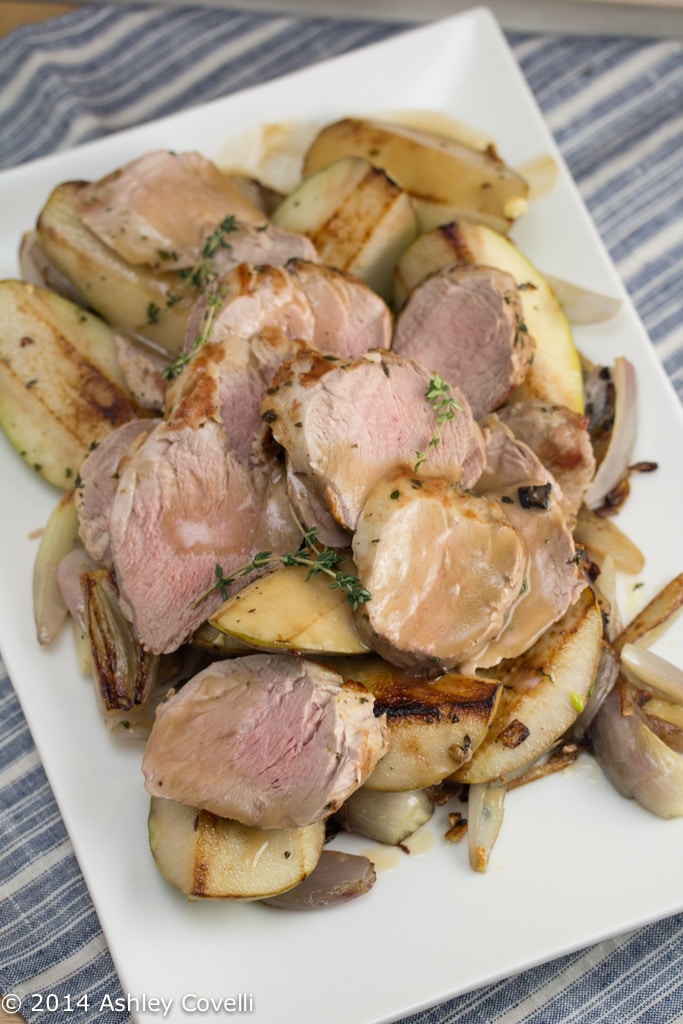 One tip I have is that if your pears are large and/or not too ripe, cut them into smaller pieces so they cook through. I forgot to do that this time around, and they were a bit tough. The pan sauce is sweet, so a little extra salt isn't a bad idea at all.
I served this with some rice that I cooked in chicken stock, and it was a great meal!
Pork tenderloin is such a versatile ingredient! Some of our very favorite recipes utilize it, like this balsamic marinated pork tenderloin, this pan-roasted pork tenderloin with balsamic tomatoes, these peanut noodles with roasted pork tenderloin + honeyed oranges, and this breaded pork tenderloin with lemon caper sauce.
Pork Tenderloin with Pears and Shallots
Bon Appétit January 2010
3 tablespoons olive oil
2 garlic cloves, finely chopped
1 tablespoon chopped fresh thyme plus fresh thyme sprigs for garnish
1 ¼ pounds pork tenderloin
3 large shallots, each cut into 6 wedges through stem end, peeled
3 unpeeled small Bosc or Anjou pears, quartered, cored
4 teaspoons butter, room temperature
2 teaspoons all purpose flour
1 ½ cups low-salt chicken broth
¾ cup pear nectar
Preheat oven to 475°F. Mix oil, garlic, and chopped thyme in small bowl. Rub mixture over pork, shallots, and pears. Heat large ovenproof nonstick skillet over medium high heat. Add pork and shallots; brown on all sides, turning, about 7 minutes. Transfer shallots to platter. Transfer pork to baking sheet (do not clean skillet). Roast pork until thermometer inserted into center registers 145°F, about 10 minutes.
Meanwhile, add pears to same skillet and cook over medium-high heat until brown on cut side, turning once or twice, about 4 minutes. Transfer pears to platter (do not clean skillet).
Mix butter and flour in small cup. Add broth, pear nectar, and butter mixture to same skillet; boil until sauce thickens, scraping up browned bits, about 7 minutes.
Slice pork; arrange on platter. Surround with pears and shallots. Drizzle sauce over pork. Garnish with thyme sprigs.
Big Flavors Rating: 5 Stars