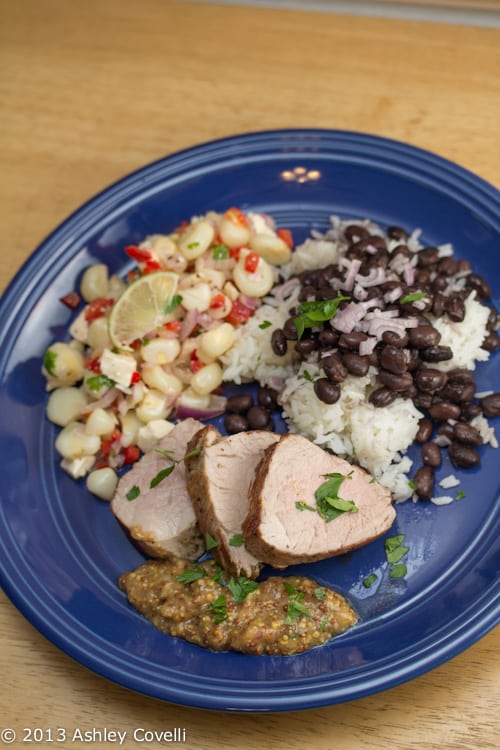 Roast Pork Tenderloin with Mustard Maple Sauce
This post may contain affiliate links. Thank you for supporting the brands that keep me creative in my tiny kitchen!
One of the things I'm constantly working on is wasting less in the kitchen. Condiments are one of the things that seem to go bad on me fairly often, so I'm working on keeping an eye on their expiration dates. I noticed back when I made the Dill Chicken Paillards with Tomato-Dill Relish last week that my recently purchased jar of coarse ground mustard was only good for a little while longer, so I wanted to come up with a way to use it. I had a piece of pork tenderloin left in the fridge from when I made Noodles with Roast Pork and Almond Sauce with Honey Oranges, and mustard and pork go so well together that I figured I could come up with something delicious. Juicy pork tenderloin is seared on the stovetop to give it a nice crust, and finished off in the oven. While the meat rests, the browned bits in the bottom of the pan are turned into a sweet and tangy sauce that goes perfectly with the tender pork. This worked out really nicely, and I was able to use up some things before they went to waste.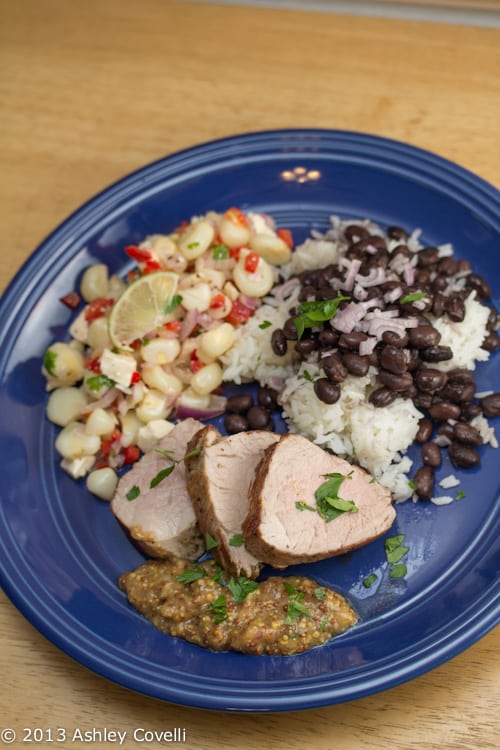 Roast Pork Tenderloin with Mustard Maple Sauce
Ashley Covelli
2-3 tablespoons peanut oil
1 pork tenderloin (1 to 1 1/2 pounds), trimmed of any excess fat
Kosher salt and freshly cracked black pepper, to taste
2 tablespoons shallot, minced
1 clove garlic, minced
2 tablespoons flour
1 cup chicken stock (preferably low sodium)
3 tablespoons coarse ground mustard
1 tablespoon red wine vinegar
1 tablespoon pure maple syrup
Fresh parsley, chopped, for garnish
On the stovetop, heat 2 tablespoons peanut oil in a large, ovenproof skillet, over moderate heat (don't use non-stick, as you want some bits of meat to caramelize on the bottom of the pan for the sauce later). Season pork tenderloin with salt and pepper and sear in the skillet until each side is nice and golden brown. You'll know when the meat is ready to be turned when it no longer sticks to the pan. Once each side is seared, transfer pan to the oven and roast until the internal temperature reaches 150°F.
Remove meat onto a carving board and let it rest for 10 minutes while you make the sauce. Place the skillet back on the heat on the stovetop and add the shallot and garlic. If there isn't much oil left in the pan, add another tablespoon of peanut oil. Sauté until soft and add the flour, stirring with a wooden spoon until it cooks a bit. Combine chicken stock, mustard, vinegar and maple syrup in a bowl and pour about 1/3 of the mixture into the skillet, whisking as you add it. Once it is starting to bubble, add half of what's left, whisking as you go, let it come up to a bubble, and then repeat with the remaining liquid. Season to taste with freshly cracked black pepper and stir and let it reduce to your desired consistency.
To serve, slice the pork into medallions and serve alongside the sauce. Enjoy!
Big Flavors Rating: 4 Stars