This post may contain affiliate links, which won't change your price but will share some commission.
I'm going to go ahead and proclaim 2013 The Year of the Taco. We've enjoyed lots of different takes on tacos this year, both fresh from my tiny kitchen and out at restaurants from New York to Maryland and Indiana. There isn't much that I wouldn't want to taco-fy, and I'm looking forward to trying a lot more filling combos in the future. So when I saw these beautiful pork tacos pop up in my feed reader, I just had to try them out. They don't take a whole lot of time to prepare, and let me tell you - they are outstanding!
My tomatillos took a lot longer than 5 minutes to char, but I made sure to wait for them to change colors, because the charred flavor is key for the salsa verde. Wow. I had no idea that was so easy to make at home - I don't know that I'll ever buy it again (after I use up whatever is in my pantry, of course). The avocado on top adds a nice bit of creaminess, and I think next time, I'll add some thinly sliced radishes for some peppery crunch. The seasoning on the pork is fantastic - there's a ton of flavor in the mix.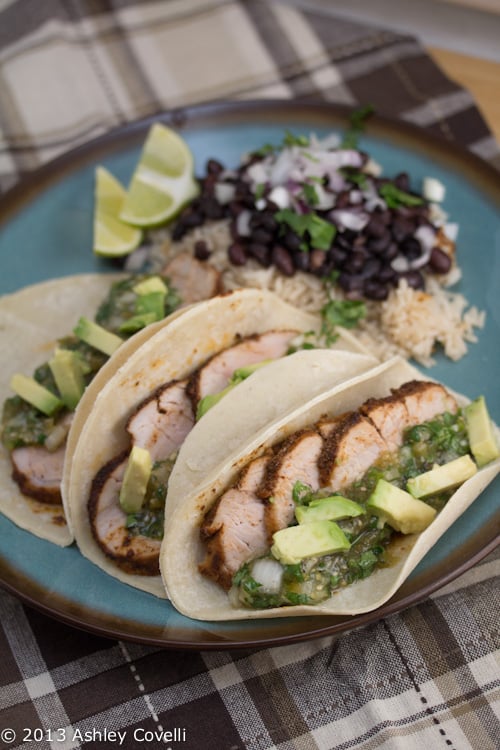 This is a fantastic recipe that would be great for a dinner party. Pork tenderloin just melts in your mouth. I served the tacos with rice that was cooked with homemade veggie stock (made in the slow cooker from frozen veggie scraps that I had been saving up) instead of water, topped with black beans and chopped red onion. It was a beautiful dinner, and it was just as good for lunch again the next day!
Also - just a reminder - you still have a week to enter the Simply Organic spice gift box giveaway. Check out this post for details.
Pork Asada Tacos with Tomatillo Salsa Verde
My Daily Morsel (Adapted from The Chew)
Warm spice-rubbed pork and tomatillo salsa inside corn tortillas.
Serves 6
Prep Time: 30 min
Cook Time: 30 min
Total Time: 1 hr
FOR THE SALSA
4 large tomatillos, husks removed, rinsed, and halved
1 lime, juiced
2 garlic cloves, peeled
1 jalapeño, seeded and chopped
½ teaspoon kosher salt
¼ cup diced yellow onion
⅓ cup chopped cilantro leaves
FOR THE TACOS
2 tablespoons olive oil
2 tablespoons ground cumin
2 tablespoons chili powder
2 tablespoons kosher salt
1 tablespoon ground coriander
1 tablespoon garlic powder
2 (1 pound) pork tenderloins
12 corn tortillas
1 avocado, peeled and diced
1 lime, quartered
FOR THE SALSA
Preheat the broiler. Place the tomatillos, cut side down, on a small rimmed baking sheet. Broil for about 5 minutes, until charred all over. Remove from the oven and let cool slightly.
Place the tomatillos, lime juice, garlic, jalapeño, and salt in the bowl of a food processor and pulse until smooth. Transfer to a small bowl and stir in the onion and cilantro. Chill in the refrigerator until ready to use.
FOR THE TACOS
Preheat the oven to 375°F. Heat the olive oil in a large ovenproof skillet over high heat.
Stir together the cumin, chili powder, salt, coriander, and garlic powder in a small bowl. Rub all over the pork tenderloin. Add the pork to the pan and sear for about 2 minutes per side, until a golden brown crust forms. Transfer to the oven and cook for 15 to 20 minutes, until a meat thermometer inserted into the center of the pork registers 145°F. Transfer the pork to a cutting board and let rest for 10 minutes.
To serve, cut the pork into ¼-inch thick slices. Arrange the pork in the tortillas and top with the salsa verde, avocado, and a squeeze of lime juice.
Big Flavors Rating: 5 Stars