This post may contain affiliate links, which won't change your price but will share some commission.
This post is sponsored by Everywhere Agency on behalf of FoodSaver®; however, all thoughts and opinions expressed are my own.
Thick, juicy pork chops are easier than ever to cook perfectly at home, thanks to sous vide cooking! Get consistent, succulent results every single time.
 Nothing says comfort food like a big, juicy, beautifully seared pork chop. But in order to get that super succulent meat, you need to buy thick cut, bone-in pork chops. And they can be tricky to cook at home!

If your chops are too thin, they can dry out easily. If they're too thick, they can get overcooked on the outside before the inside is cooked through.
But what if I told you that there was a method for getting consistently cooked, gorgeously tender pork chops every.single.time. with surprisingly little effort?
Enter sous vide cooking.
What Exactly is Sous Vide Cooking?
Sous vide (pronounced "soo-veed") is a French term that translates to "under vacuum". Cooking something sous vide means sealing your items air-tight before cooking them in a temperature controlled water bath.
The cooking time for a sous vide recipe is typically longer than it would be if you were using a different cooking method such as the stovetop or grill.
How Do You Cook Sous Vide?
Basically, you fill a large stock pot or other heat-safe container with water, place an immersion circulator in it, and set your desired temperature. The immersion circulator will go to work heating the water.
Once the specified temperature is reached, the circulator will kick off and on as needed to keep it at exactly that temperature for as long as you need.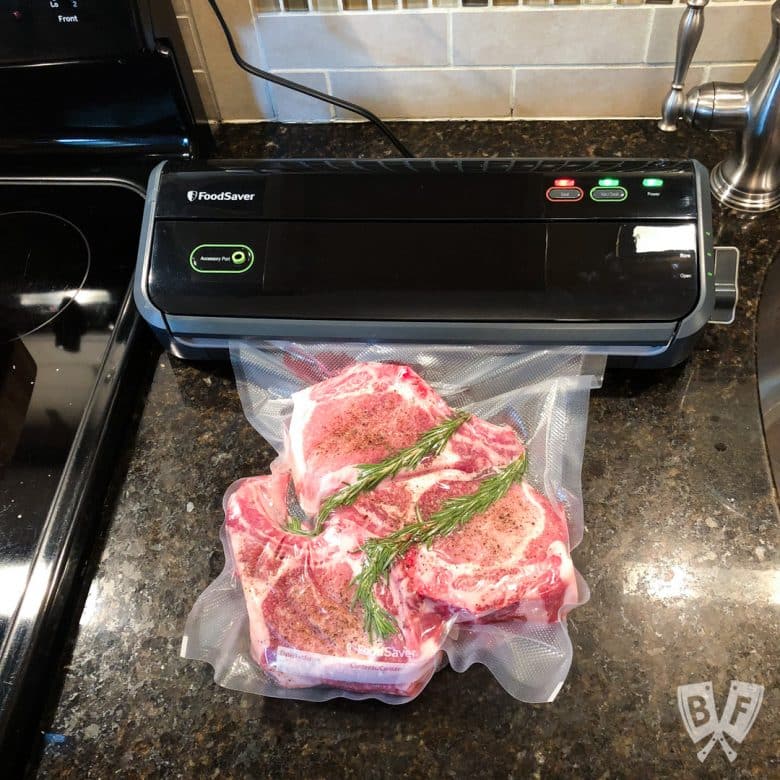 When your water bath is ready, you add your bag(s) of vacuum-sealed ingredients and let the cooking happen while you go about your day. Unlike other methods of cooking, you don't have to be fussy about removing your items from the heat immediately. Since the water is set to the precise temperature that you want your food cooked to, it literally can't overcook anything!
This results in food that is cooked totally evenly the whole way through. Food (especially meat) that comes out of the water bath can look less than appetizing since it hasn't been seared. For this reason, recipes often call for searing the meat quickly after the sous vide cooking time has finished in order to get that beautifully golden crust on the outside.
Since it's already perfectly cooked on the inside, this is just to add some texture and make it more appealing to the eye.
A good way to illustrate this is with steak. If you like your steak cooked to medium, you will be used to seeing a steak that is seared on the outside, then fades from dark brown to lighter brown, then pink, THEN deeper pinkish-red in the middle.
The outer portions of the meat are more well-done than medium, because the steak has to cook for a while in order to get the center of the steak to your desired degree of doneness.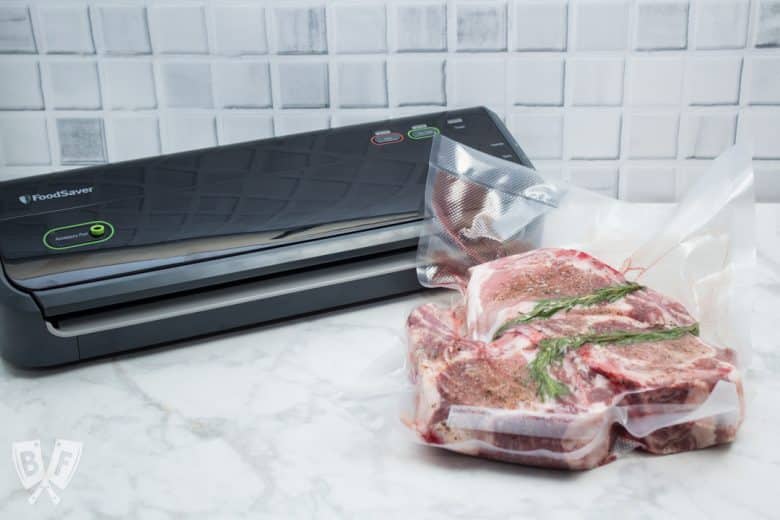 But using sous vide cooking, you can set your immersion circulator to the exact temperature you like your steak, and rest easy knowing that it'll turn out just how you like it.
When you're ready to eat, simply take the steak out of the bag, pat it dry, and sear it in a screamin' hot skillet, on the grill, or even with a culinary blowtorch if you have one.
The result will be a beautifully seared piece of steak on the outside, and a perfectly even cook, edge to edge, all the way through. No gradient of doneness or overcooked parts in sight!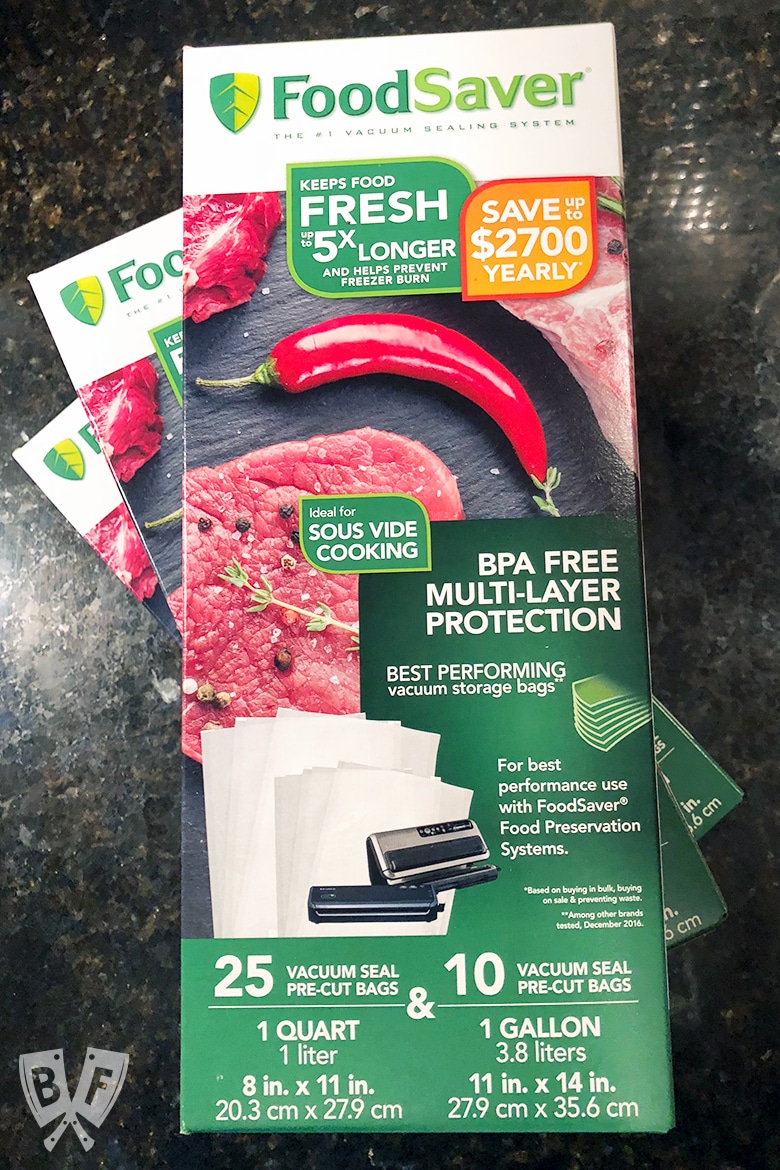 Tools for Sous Vide Cooking
First of all, you'll need an immersion circulator. I use this one from Anova. This is what you will use to control the temperature of the water bath while you're cooking sous vide.
After that, you need a way to vacuum seal your food. The FoodSaver® FM2000 Vacuum Sealing System is super simple to use, lightweight, and works with both pre-cut and roll-style FoodSaver® Sous Vide Vacuum Seal Bags.
The sous vide bags are a key part of your sous vide cooking arsenal. These ones are BPA-free and are completely airtight once sealed, which prevents the bags from floating during the sous vide cooking process.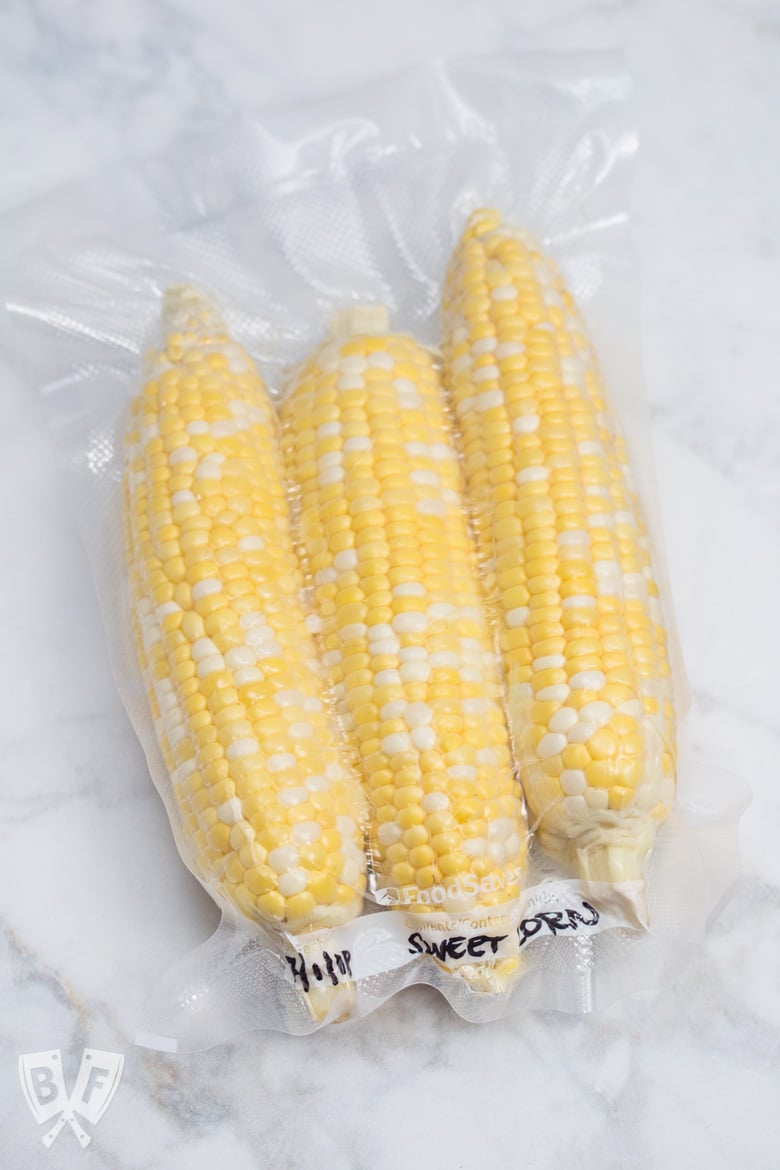 An airtight seal means you don't have to worry about freezer burn! I shied away from freezing things for so many years because I was afraid of ruining my food, but using bags like this has been a total gamechanger.
Since vacuum sealing my food, I've been able to cut down significantly on food waste, even when buying in bulk. I like to stock up whenever I catch a good sale, or when I find particularly fabulous in-season veggies. I'll portion out the products into individual bags, seal 'em up, and stash 'em away for another day.
Like this sweet corn? It was SO super sweet and delicious in July, and I'll be able to grab it from the freezer in the middle of winter and enjoy it again!
Sometimes I even seal up leftovers and freeze them for another day. A quick reheat and I have a homemade meal with barely any effort!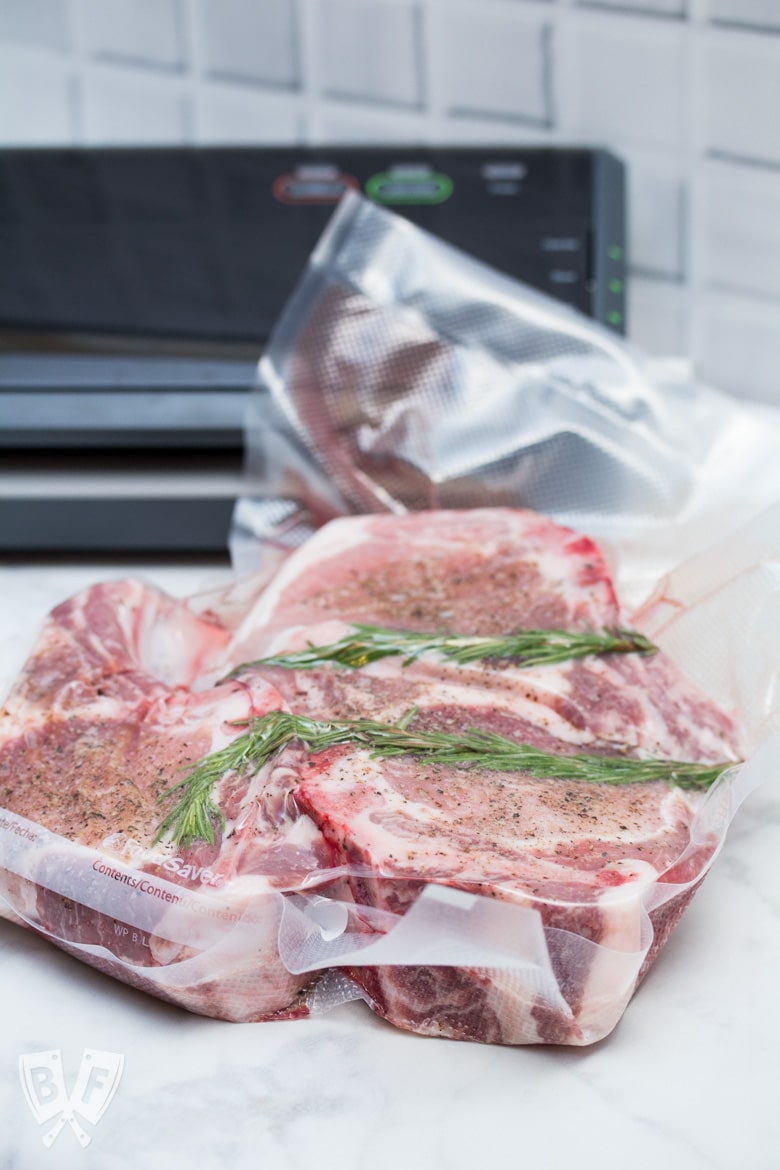 The multi-layer construction makes the sous vide bags much more durable than standard plastic bags, and they hold up really well to being moved around in the freezer and during the (sometimes lengthy) cooking time. I've never had one puncture or tear during the process.
The bags are available in a variety of sizes and are safe for microwave, fridge, and freezer use. They have a white area for you to date and label your items, because there's nothing worse than playing a game of "guess the meat" in your freezer!
The sous vide bags are versatile enough to go straight from the freezer to the water bath with no additional defrosting needed. Just be sure to add extra cooking time if you're starting with frozen. There's a great article over on ChefSteps with lots of tips for sous vide cooking from frozen.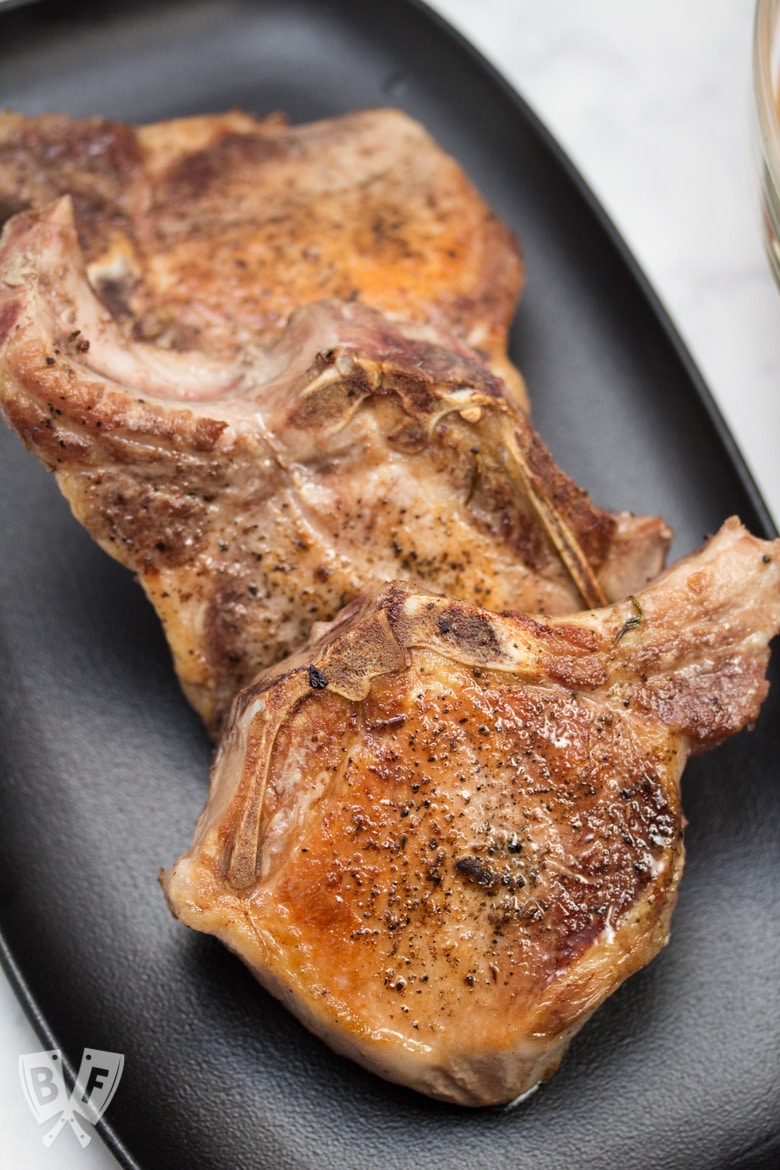 Cooking Double Cut Pork Chops Sous Vide
Ok, now that we've covered the basics of sous vide cooking, let's get on to these insanely tasty pork chops!
Prior to this, I had never braved cooking double cut pork chops at home. They're super thick (they have 2 rib bones in each, hence the term "double cut") and because of this, would be tricky to cook properly at home.
But they're a perfect candidate for cooking sous vide! If you can't find double cut pork chops, pick the thickest, bone-in chops you can find.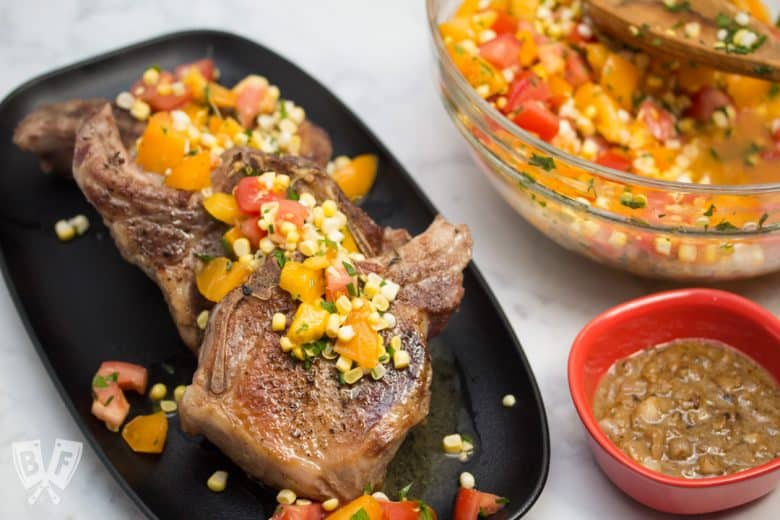 I kept it super simple and straightforward when it came to what I put in the bag with the pork chops. I simply patted them dry and seasoned them with salt, pepper, and a few sprigs of rosemary from my garden.
The chops can hang out for anywhere between 45 minutes and 4 hours. I got them in the water bath in the late afternoon so they'd be ready in time for dinner and it worked out perfectly!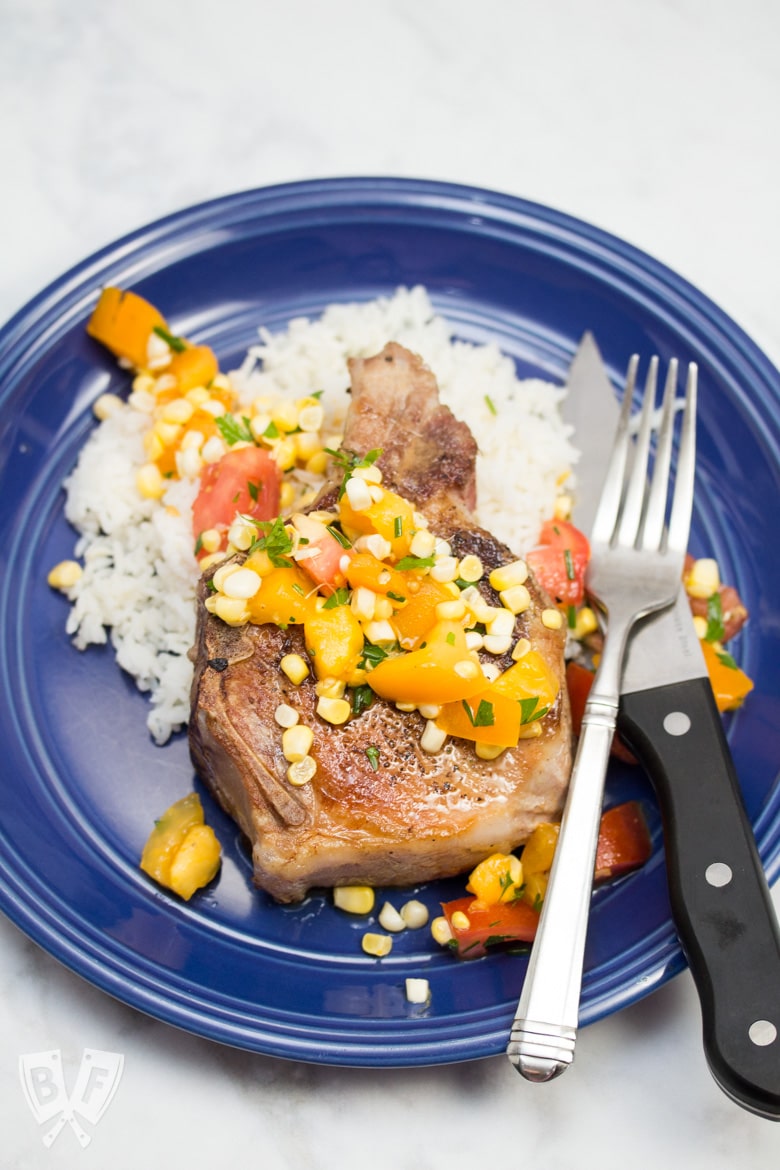 Since I managed to find some gorgeous sweet corn and heirloom tomatoes (hooray for summer produce!!), I decided to put together a no-cook salad to go over (or next to) the pork chops.
This is super speedy to put together and can be done in advance and stashed away in the fridge if you want. I've had the salad in my fridge for a few days now and have been eating it with everything - It's great over salad greens!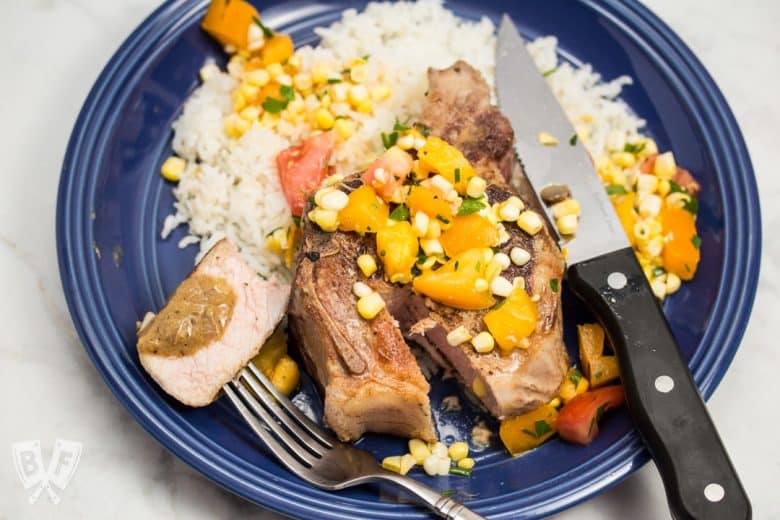 When the pork chops are done cooking, carefully remove the bag from the water bath. Cut open the bag and pat the chops dry before searing them.
If you use a cast iron skillet like I did, you'll get lots of browned bits to make a rockin' gravy! I only made 3 pork chops, so I didn't make a whole lot of gravy, but feel free to add more broth if you want to stretch it to make more.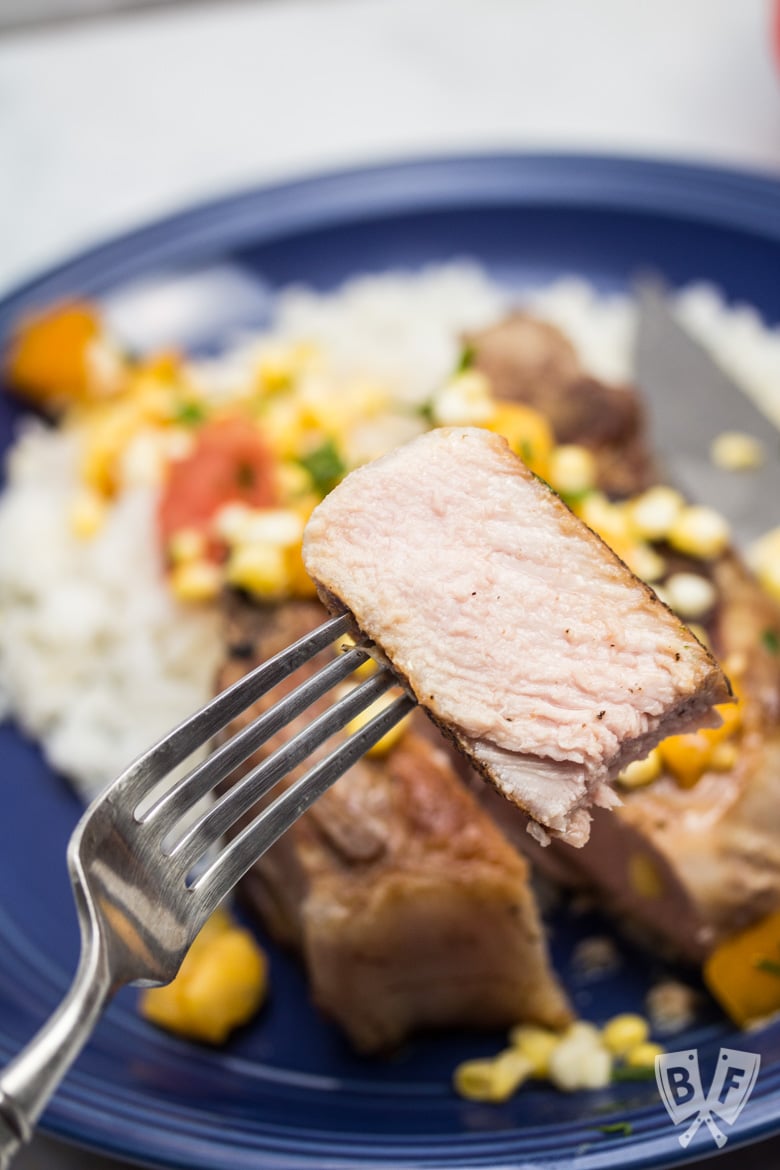 This recipe would be great for a crowd - you could do several bags of the pork chops (provided you have a container large enough for the water bath) and let them cook for a few hours before your guests arrive.
Once you're ready, just pop them on the grill for a quick sear. Your guests will be impressed, and everyone will be amazed that you managed to cook pork that succulent at home.
I served the sous vide double cut pork chops with steamed rice, and my family gobbled it up!
Have you tried cooking sous vide? What did you make? I'd love to hear about it in the comments section below!

Looking for more comfort food favorites? Check out these 5-star recipes:
Recipe for Sous Vide Double Cut Pork Chops with Raw Summer Corn & Tomato Salad
Print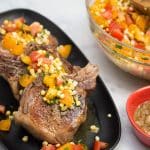 Sous Vide Double Cut Pork Chops with Raw Summer Corn & Tomato Salad
Author:

Prep Time:

15 minutes

Cook Time:

45 minutes to 4 hours

Total Time:

1 to 4 hours

Yield:

3

servings, plus extra salad

1

x

Category:

Entree

Method:

Sous Vide

Cuisine:

American
---
Description
Thick, juicy pork chops are easier than ever to cook perfectly at home, thanks to sous vide cooking! Get consistent, succulent results every single time.
---
For Pork Chops:
3

bone-in double cut pork chops
Kosher salt, to taste
Freshly cracked black pepper, to taste

3

-

4

sprigs fresh rosemary

¼

cup

vegetable or chicken broth (plus more, as needed)

2 tablespoons

peanut oil (or other high-heat cooking oil)

3

cloves garlic, minced

1

large shallot, chopped

1 tablespoon

unsalted butter, cut into quarters
For Salad:
---
Instructions
For the Pork:
Place your immersion circulator in a water bath and set to 140°F.
Pat the pork chops dry and season generously with salt and pepper. Place in sous vide bag in a single layer and place a few rosemary sprigs on top and bottom. Seal bags and place in water bath to cook for anywhere between 45 minutes - 4 hours.
Carefully remove the sous vide bag from the water bath. Cut bag open and remove pork, remove the rosemary sprigs and pat dry, pouring any juices from the bag into a measuring cup. Add enough vegetable broth to make ½ cup total liquid.
Heat oil in a large, heavy skillet (preferably cast iron) over medium-high heat. Once hot, sear the chops until golden, about 1-2 minutes per side, then sear the fatty edge by holding each chop with tongs and pressing the edge onto the pan. Remove pork to a plate and lower the heat to medium.

Add garlic and shallots to the still hot skillet, stirring until fragrant and starting to

soften,

about 1 minute. Add the broth mixture and stir, scraping the bottom of the pan as it cooks, until reduced and thickened, about 2-3 minutes. Turn off heat and add butter, stirring until melted. Taste for seasoning and add more salt and pepper if needed.
For the Salad:
In a large bowl, combine tomatoes, corn, parsley, chives, olive oil and white wine vinegar. Season with salt and pepper and stir to combine.
Serve pork chops with salad piled over top or alongside, and gravy for dipping.
Notes
This is a perfect use for in season summer produce. If you're making the salad in the off-season, feel free to use grape tomatoes and frozen sweet corn.
You can add more broth to the pan to increase the amount of gravy, if desired. Note that it will take longer to thicken.
You can cover the container for your water bath to help retain the heat, especially if you're cooking it for a long time period. I like using the ping-pong ball method from Serious Eats.
Nutrition
Serving Size:
Calories:

784

Sugar:

13.7 g

Sodium:

905.4 mg

Fat:

44.7 g

Saturated Fat:

10.6 g

Carbohydrates:

36.5 g

Fiber:

5.9 g

Protein:

64 g

Cholesterol:

182.2 mg
Keywords: sous vide, double cut pork chop, sous vide cooking
Recipe Card powered by