This post may contain affiliate links, which won't change your price but will share some commission.
This post was created in partnership with Mambo Sprouts and Rhino™ Multivitamin Gummies. I received free product, but as always all opinions are 100% my own.
I'm not the type or person who can skip out on breakfast. I really need it, along with a cup (or 3) of coffee, to get going every morning.
We tend to keep it simple on weekday mornings, especially now that school has started back up. But simple doesn't need to be boring!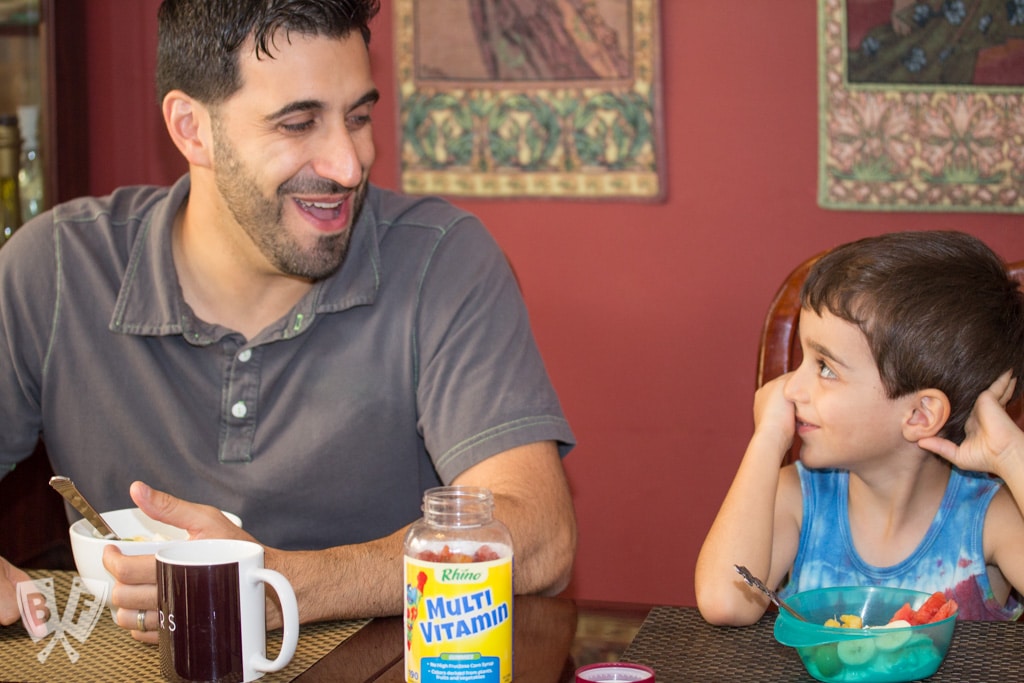 One of my family's current favorites is cottage cheese piled high with fresh fruit. I like to cut up a bunch of fruit at night so we can add it to our bowls on busy weekday mornings without having to spend extra time on prep.
To say that I'm not a morning person would be a serious understatement. I like to sleep as late as possible before rallying the troops to get dressed, fed, and out of the house on time. So I like any help I can get with having a nutritious breakfast on the table in record time.
Plus, who doesn't love a colorful breakfast?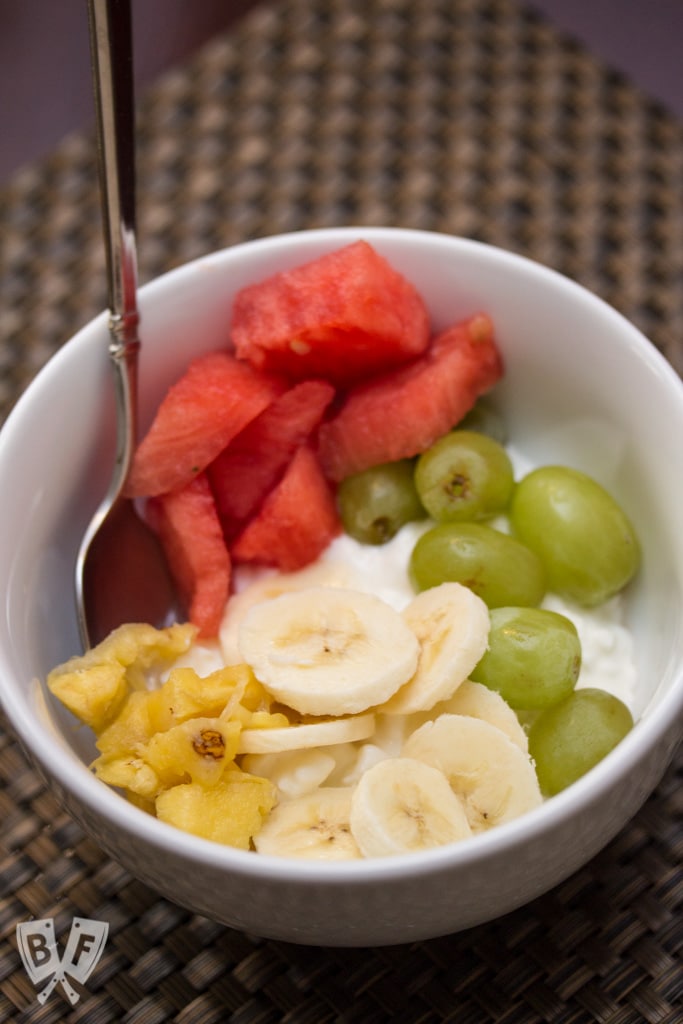 As a mom, it's important for me to make sure my son is getting the vitamins and minerals he needs. While he eats pretty well, he still has his picky moments, so I make sure to give him a multivitamin with breakfast every day. It's such a healthy habit for the whole family.
I'm always on the lookout for brands that can deliver essential nutrients and are free from synthetic dyes and high fructose corn syrup. Rhino™ Gummy Multivitamins totally deliver!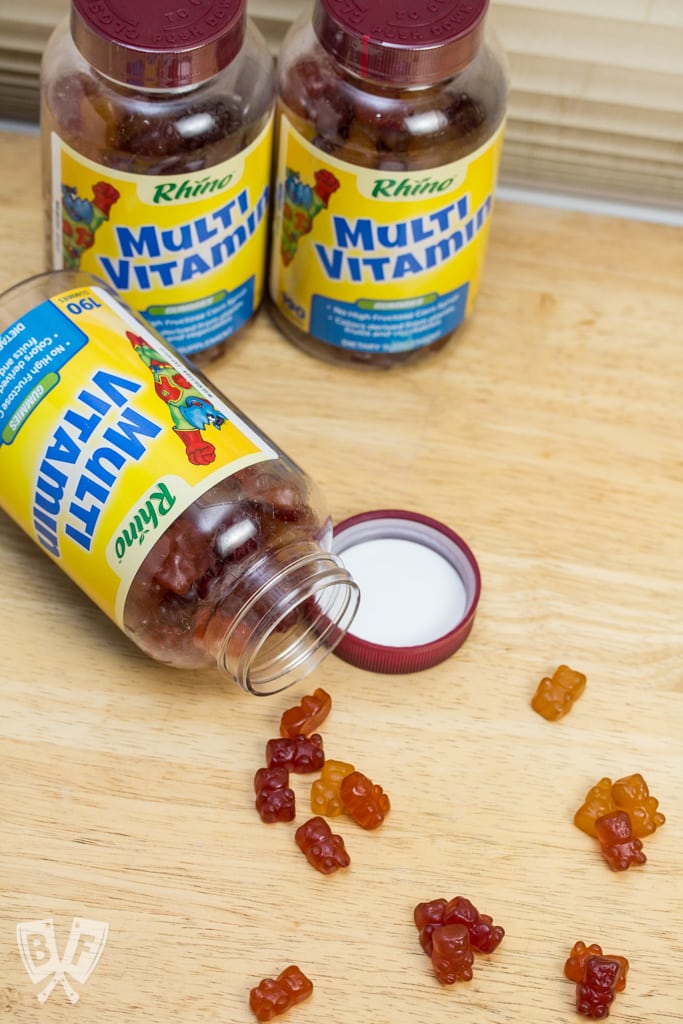 My son loves that these vitamins come in a variety of flavors and colors, and I love that they aren't full of a lot of unpronounceable, artificial ingredients. The colors and flavors are derived from fruits, vegetables and plants, and they aren't overly sweet (because you know I tried one before I gave one to my kiddo).
Each bottle provides a 90 day supply of multivitamins, and I'm giving away 6 bottles to 6 lucky readers (details below).
I hope you'll be as happy with these multivitamins as my family is, and that it will help establish healthy habits for your kids, too.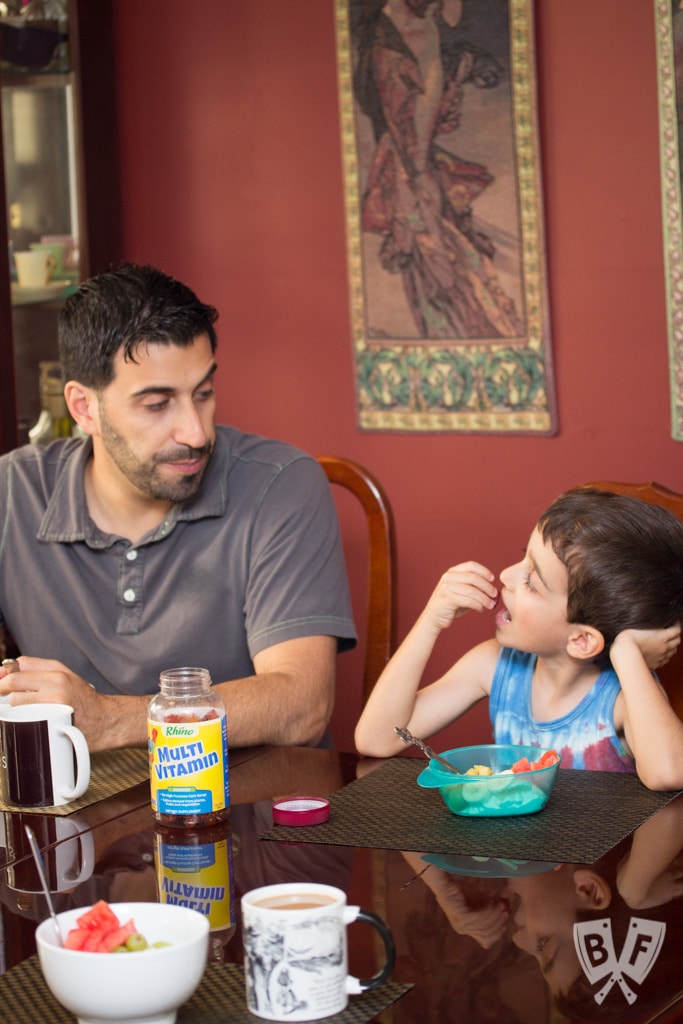 Another breakfast that's on regular rotation in our house is yogurt parfaits. I do a lot of plain yogurt, sometimes regular, sometimes Greek, and then add fresh fruit or preserves on top of it.
An occasional drizzle of honey and some granola really dress it up, though we often have it all piled into a bowl.
Layering the parfaits in glasses with homemade granola make them feel extra special.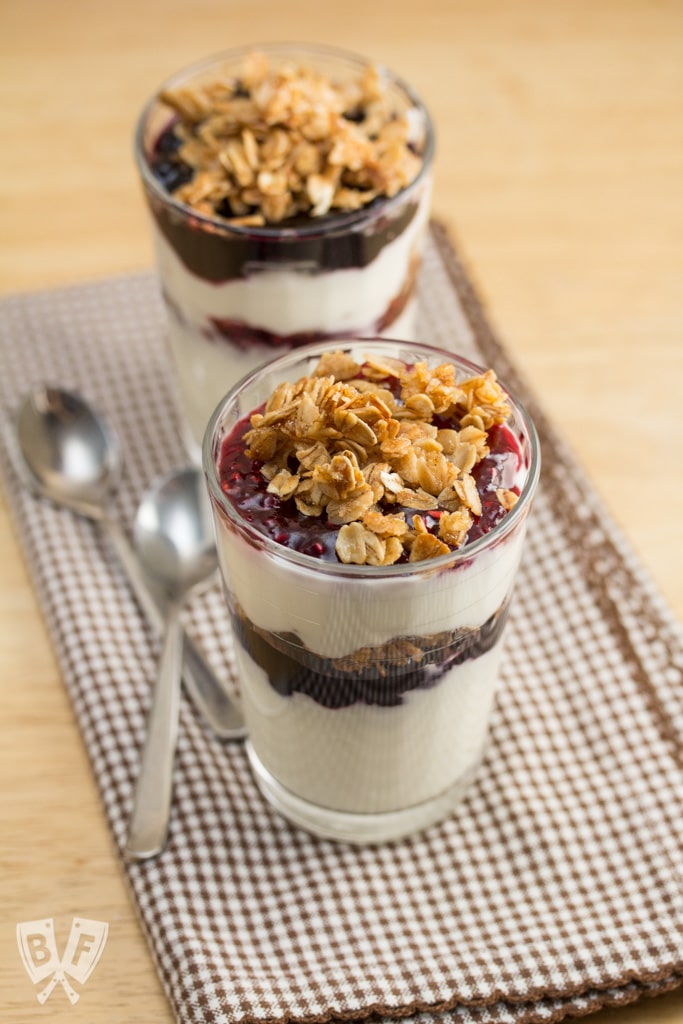 A refreshing, colorful favorite are these smoothie bowls. They're a great way to pack in nutrition and have some fun with customizing the toppings.
You can mix and match the ingredients that go inside and on top of these beauties - the sky is the limit! When we have time, I like letting my son sprinkle on his own toppers - that act of making part of it himself really helps encourage him to eat the finished dish.
I like adding toppings that have some textural contrast and a little bit of crunch. And colorful is always a good thing!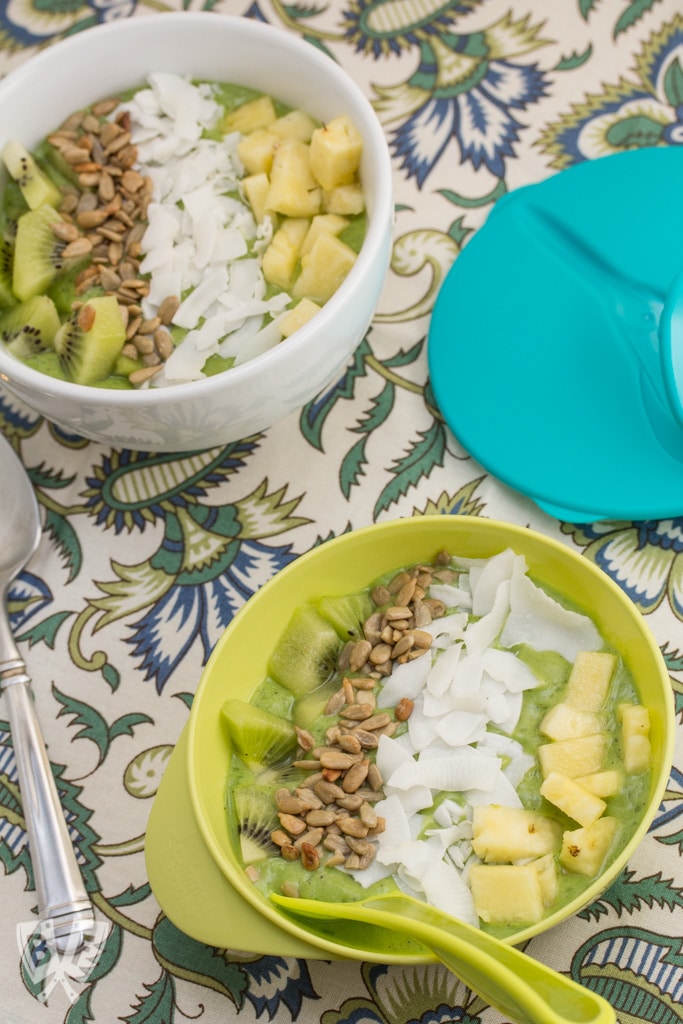 On weekends, when we're feeling more adventurous and have more time to prep, we like making more involved breakfasts.
Dishes like this Blueberry Cream Overnight French Toast Casserole are perfect for company, and can be prepped the night before.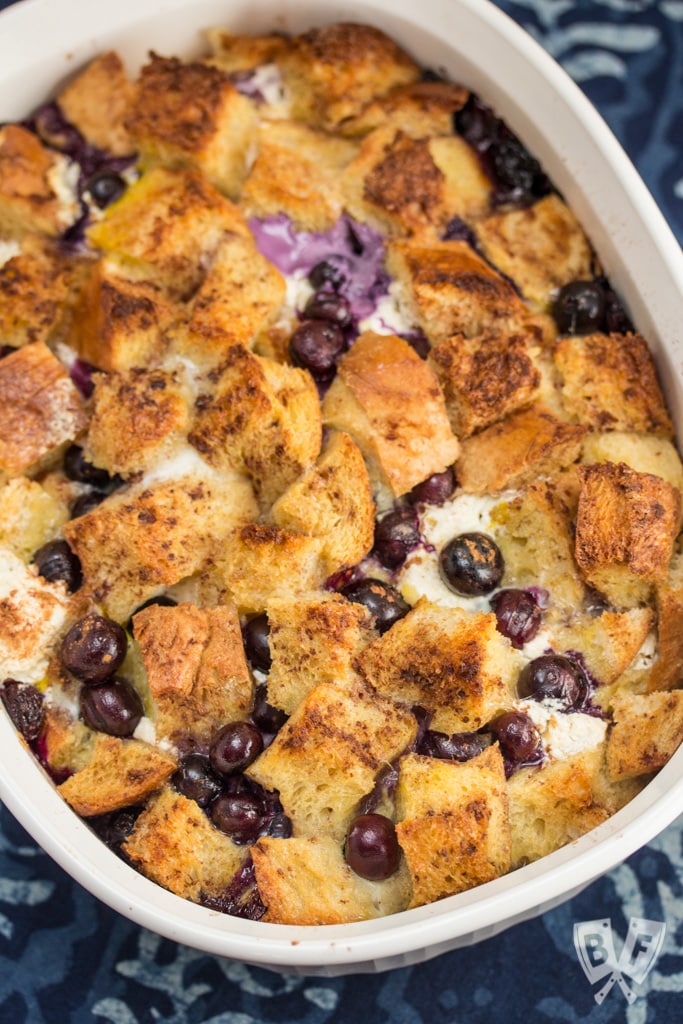 We're also fond of these Ham-and-Cheese Muffins (that my son loves to help make!), Crepes or Belgian Waffles with fresh fruit and a variety of toppings.
And eggs any and every way are always fun. My husband loves to poach, fry, or scramble them. He makes omelets pretty often, too.
I love a good frittata! This Zoodle Frittata is a really fun way to use up some fresh summer ingredients, and it's elegant enough to serve for guests.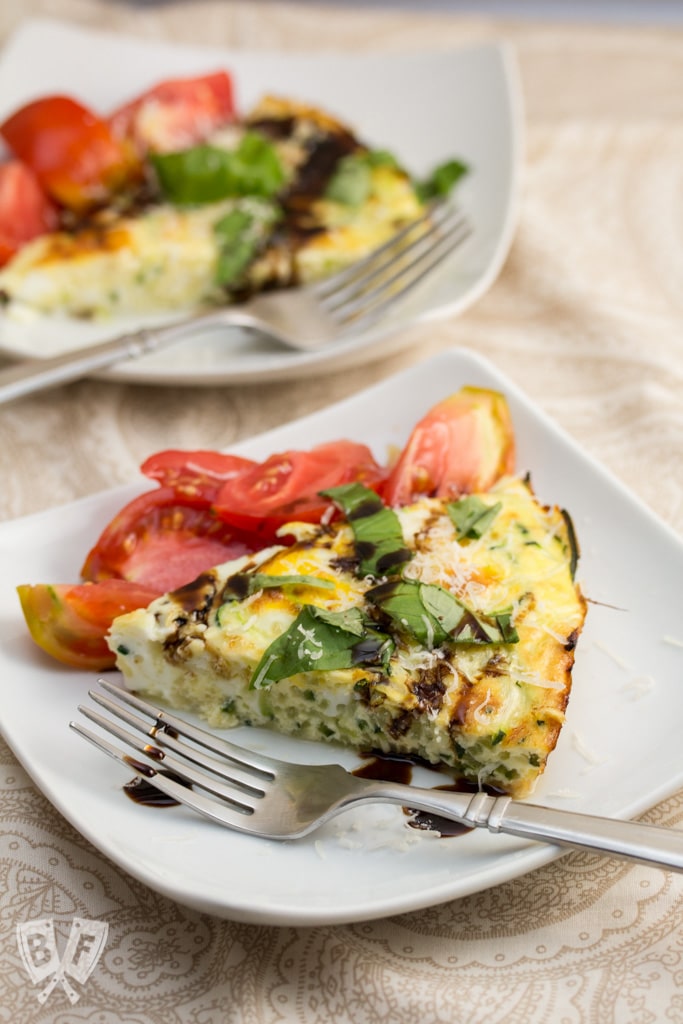 And while we don't do it as often as we'd like to, fresh juices are always a hit!
This Carrot Apple Ginger Refresher is a favorite. We also love juicing beets, and this Ruby Radiance Juice is a great way to enjoy them.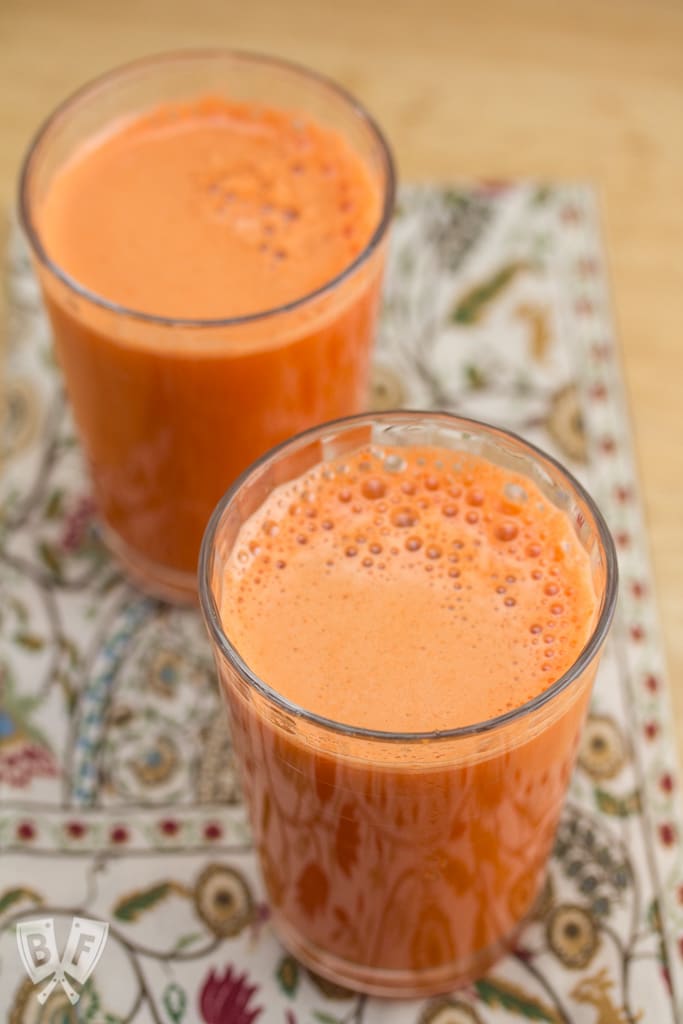 Want to win some Rhino™ Gummy Multivitamins for yourself? My friends at Mambo Sprouts are giving away 6 bottles to 6 Big Flavors readers!
To enter to win, leave a comment below telling me your favorite breakfast food. The contest will close on Tuesday, October 4, 2016 at 12 noon (Eastern Standard Time). Six winners will be chosen via random.org and will be contacted via email to get mailing information. Prizes will be shipped by the sponsor. U.S. residents only. Good luck, everyone!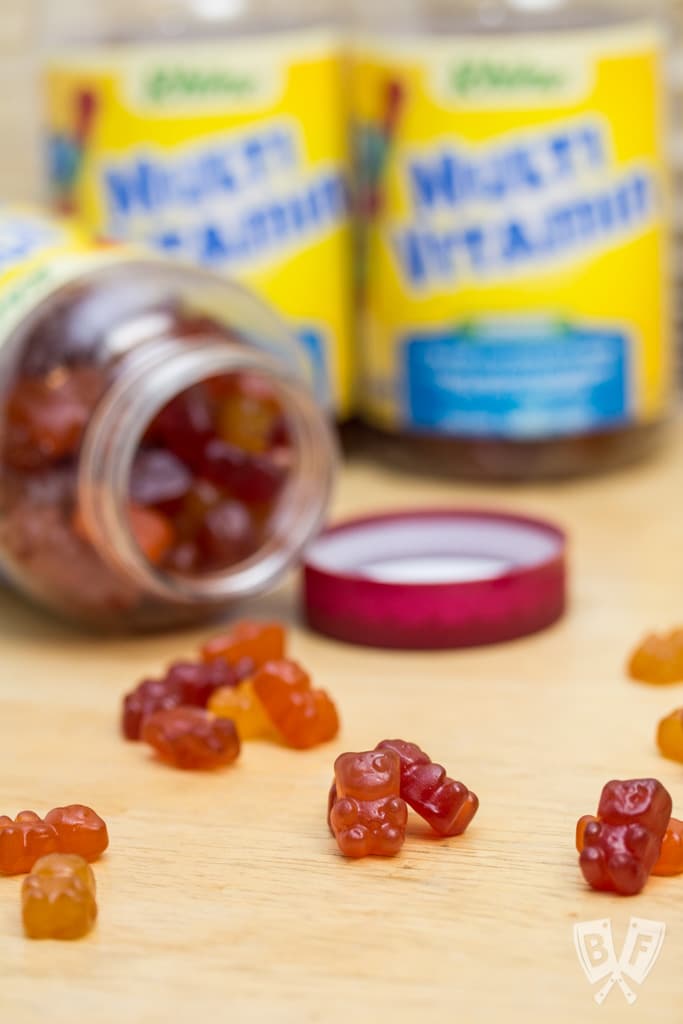 Rhino™ Gummy Multivitamins are available nationwide, in store and online, including Sprouts, Whole Foods, Amazon, Puritan's Pride and Vitacost.