This post may contain affiliate links, which won't change your price but will share some commission.
Over 125 favorite Christmas and holiday cookie recipes across 7 different categories to make your holiday baking and cookie swap parties so much easier!
One of my favorite parts of the Christmas season is holiday baking! There's just something so magical about getting to work in the kitchen and spreading joy through delicious, homemade baked goods.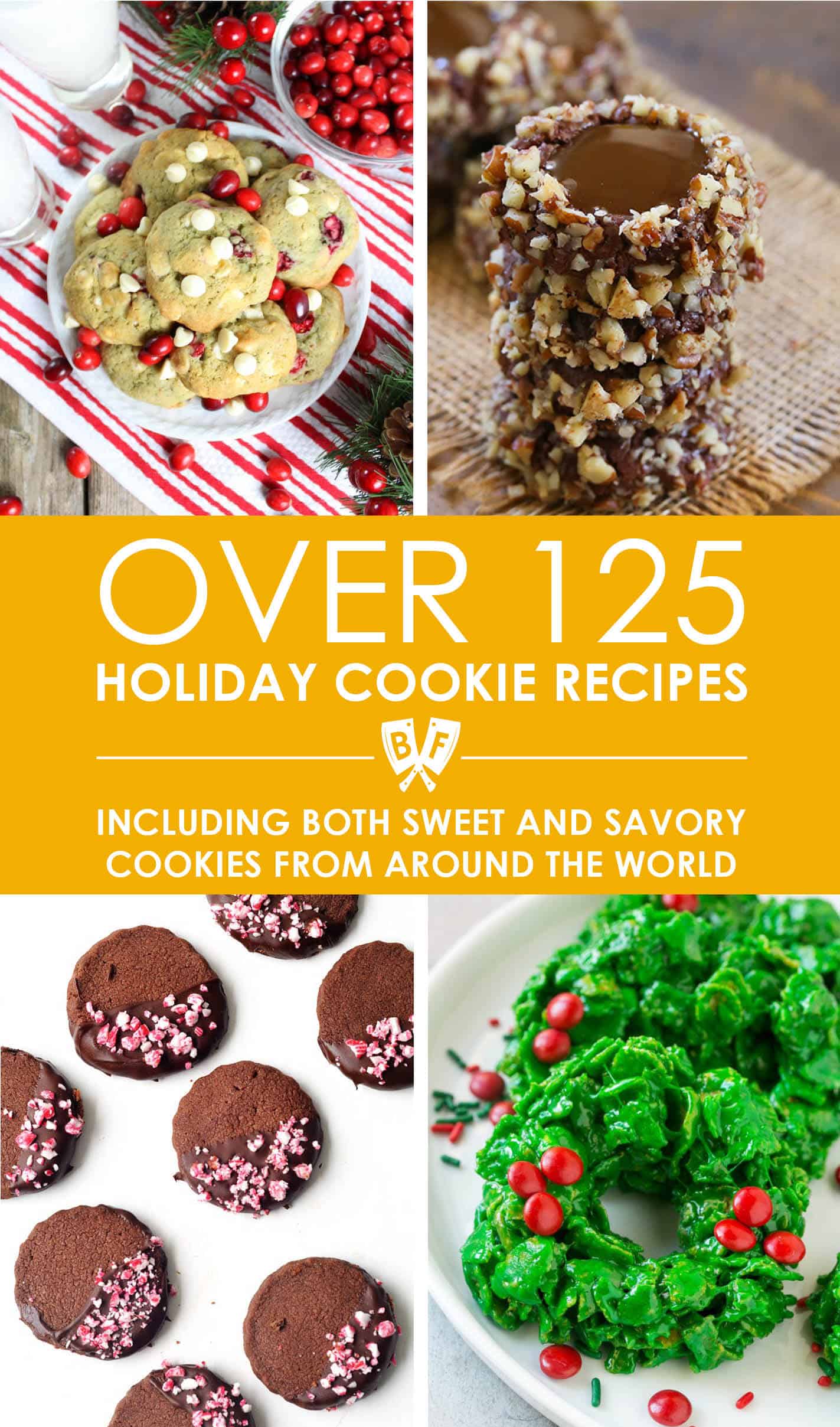 This post may contain affiliate links.
I give out holiday cookies to lots of people at the end of every year. Aside from family, friends, and my supper club, I usually package up cookies for the local police station, firehouse, hospital and doctors' offices, librarians, teachers, bus drivers, and the maintenance crew at my co-op complex. It allows me to enjoy baking a variety of cookies without feeling like my house is constantly overflowing with cookies.
It's such a happy time of year, and homemade treats aren't something that everyone is lucky enough to receive. I'm all about spreading smiles, and I encourage you to do the same!
Sometimes I just need to whip up a quick batch of my super chocolatey Melt-in-Your-Mouth Buttermilk Chocolate Cookies. Other times I'm looking for a dose of childhood nostalgia, so I bust out the rolling pin, cookie cutters, and sprinkles to make my Grandma's Christmas Cookies. And I just can't resist making a giant batch (or 2) of my family's favorite Italian Ricotta Cookies.
But sometimes I'm in the mood to try something new, and I wanted to put together a massive resource full of cookie recipes to help spread the holiday cheer. So I turned to some of my food blogging buddies to get their very favorite holiday cookie recipes to share in this one.epic.collection.
This recipe contains over 125 favorite Christmas and holiday cookie recipes, categorized into the following 7 groups:
(Protip: You can click on any of the 7 sections listed above to jump directly to that portion of my list.)
There's something for everyone here - sweet, savory, gluten-free, vegan, decadent, simple... the list goes on and on. I'll add more as time goes on, and I'll be sure to add my notes for any of these recipes that I actually try out in my tiny kitchen.
My hope is that you find inspiration to get in the kitchen and bake something delicious for your friends and loved ones this holiday season.
And so, without further ado...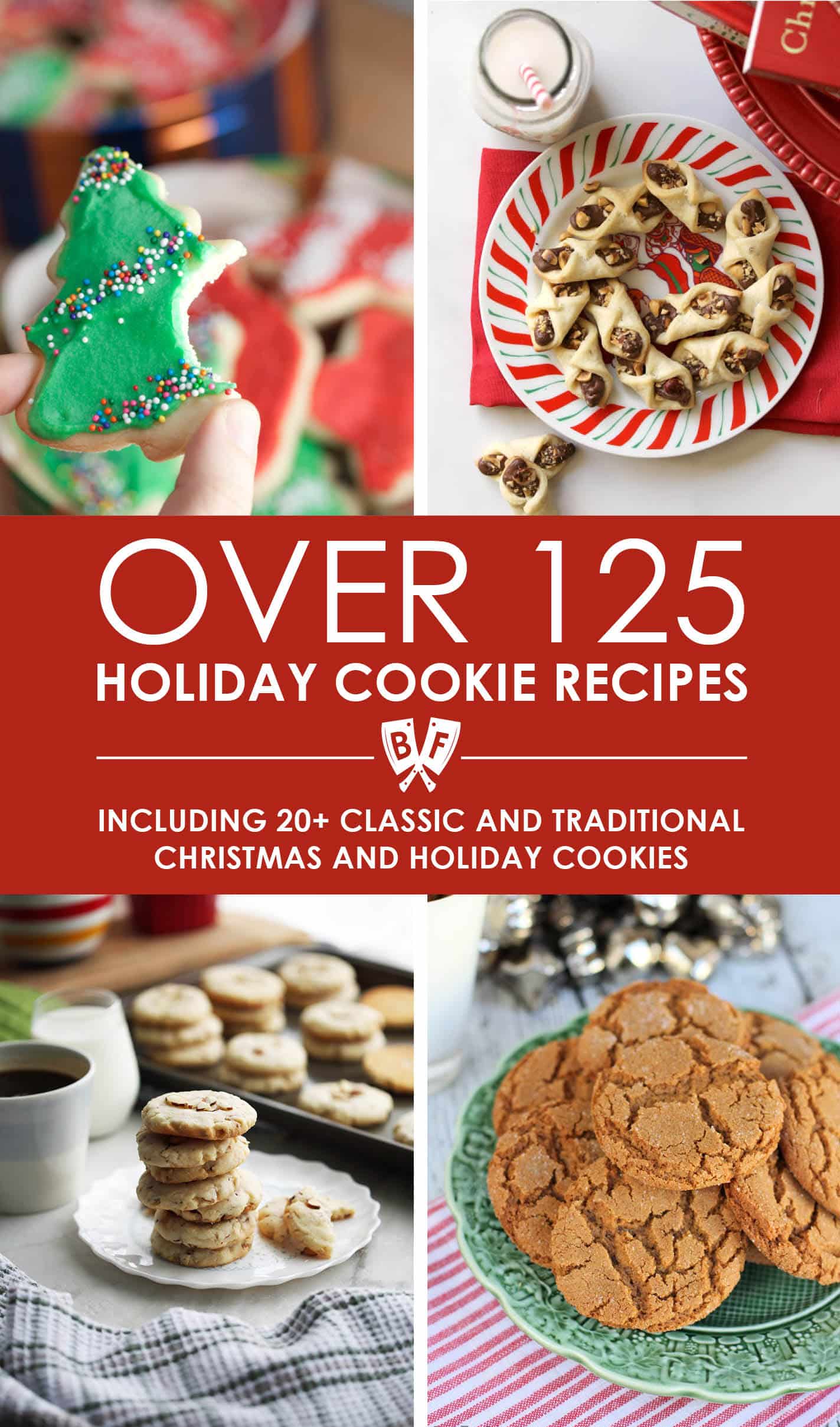 Traditional Holiday Cookie Recipes
You can't beat a classic! Roll out cookies, gingersnaps, sugar cookies, oatmeal cookies and more.
2 Ingredient Almond Cookies
Grab your cookie cutters

! Almond flour and maple syrup are all you need to make this 2 ingredient cookie recipe. Add an optional 3rd ingredient if you want to go for an elegant, chocolate-dipped look.

Cherry White Chocolate Chip Christmas Cookies
Dried cherries and white chocolate pair together in these simple, festive treats.
Chewy Brown Sugar and Rosemary Snickerdoodles
Fresh rosemary makes a fragrant addition to this seasonal twist on a favorite holiday cookie.
Classic Chewy Gingersnap Cookies
The sugar coating provides a slightly crispy exterior for these chewy, quick-baking cookies.
Classic Sugar Cookies
Nothing says Christmas like a fun, cut-out sugar cookie recipe.
Cranberry Bliss Cookies
White chocolate chips and dried cranberries team up in this fun spin on the holiday classic Cranberry Bliss Bars from Starbucks.
Cranberry Orange Creamsicle Cookies This recipe uses frozen cranberries in addition to white chocolate chips, fresh orange zest & juice for lots of sweet-tart flavor.
Cranberry Orange Snickerdoodles
Fresh orange and dried cranberries add seasonal flair to this classic cookie!
Easy Oatmeal Lace Cookies
Thin, crispy, and delicate cookies that are great plain, drizzled with chocolate, or turned into ice cream sandwiches.
Easy Rolled Sugar Cookies with Icing
A simple, classic recipe that you can decorate any way you like!
Everything Cookies
These cookies are a perfect way to use up all the leftover odds & ends you have from your holiday baking. They have a little something for everyone baked into one cookie!
Gingersnap Cookies
A crunchy holiday classic with a subtle, gingery heat.
Grandma's Christmas Cookies
These are the cookies that I grew up with, and it just doesn't feel like Christmas without them! This soft, tender sugar cookie recipe is the perfect excuse to break out your cookie cutters, food coloring, and sprinkles

 and get to decorating!

Hazelnut Bow Tie Cookies
Cream cheese makes the base of the dough that's stuffed with chocolate hazelnut spread and chopped hazelnuts before being folded up, baked, and finished off with a dusting of snowy powdered sugar.
Macadamia & White Chocolate Snowball Cookies
Also known as Russian Tea Cookies or Mexican Wedding Cookies, these classic treats are a great last minute baking option. A quick roll in powdered sugar while the cookies are still warm gives them a winter wonderland vibe.
My Grandmother's Bourbon Balls
Bust out the bourbon! These boozy treats are made with just a few ingredients and a little time in the fridge.
Old Fashioned Molasses Cookies
These crisp, crackly-topped cookies are rolled in cinnamon sugar before heading into the oven.
Peanut Butter Kiss Cookies
Chocolate and peanut butter are a perfect pair for the holidays! Candy kisses are nestled into peanut butter cookies in this Christmas staple.
Raspberry Bow Tie Cookies
Whether you use raspberry jam or a different flavor, these cream cheese-based cookies are sure to melt in your mouth!
Six-Ingredient Crunchy Almond Cookies
These cookies are chock full of almond flavor! Almond extract and pieces of almonds go into the dough, and more almonds are pressed on top to embellish them.
Snowball Coconut Cookies
Coconut lovers unite! These slightly sweet cookies are topped with coconut buttercream and a sprinkling of shredded coconut.
Soft Ginger Molasses Cookies
Coconut sugar adds an extra rich flavor to these soft ginger treats.
Sour Cream Sugar Cookies
These pillowy soft cookies are adorned with royal icing and stacked up to form a snow-covered Christmas tree.
Toasted Hazelnut Meringue Cookies
These 4 ingredient cookies would be an elegant addition to any holiday dessert table.
White Chocolate Macadamia Cranberry Cookies
The dough for these super soft and chewy cookies can be made in advance and baked on demand!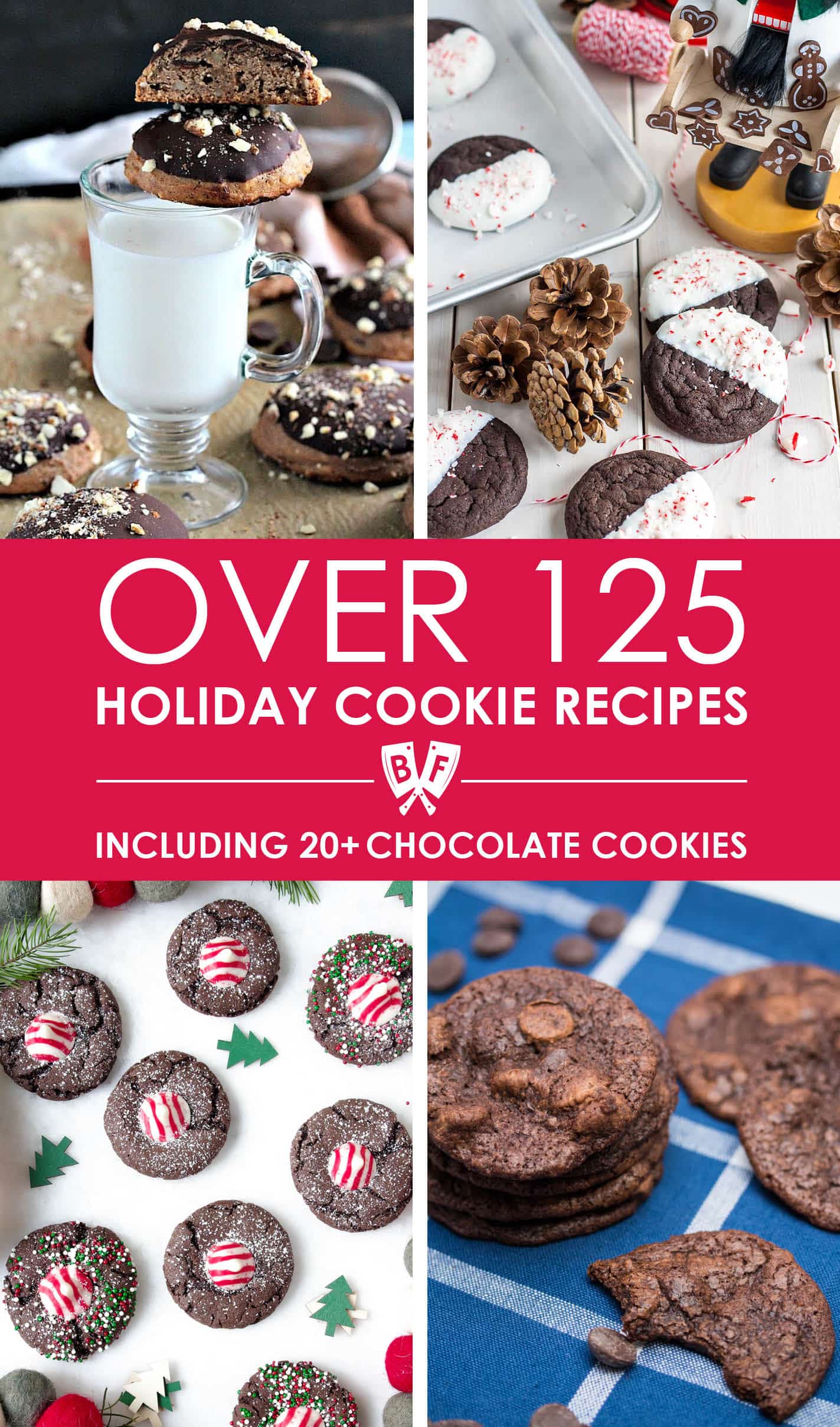 Chocolate Holiday Cookie Recipes
Chocoholics, unite! Find just the right amount of chocolate to satisfy your sweet tooth.
5 Ingredient Chocolate Cake Mix Cookies


Peppermint Chocolate Kisses and some festive sprinkles are the perfect adornment for these simple-yet-gorgeous chocolate cookies!

Brownie Buckeye Cookies


Two holiday favorites in one! Brownie cookies are topped with a peanut butter ball, then covered with melted chocolate.

Brownie Whoopie Pies with Nutella Peanut Butter Frosting
Two types of chocolate and peanut butter chips are made into sandwich cookies that are filled with a decadent Nutella

 peanut butter frosting.

Chocolate Almond Pillow Cookies
These chocolate filled cookies are made with almond paste and almond extract

 and topped with sliced almonds.

Chocolate Chip Mascarpone Cookies with Ricotta and Almonds


A drop dead gorgeous holiday treat packed with three types of chocolate.

Chocolate Dipped Maraschino Cherry Cookies


A cookie-fied spin on chocolate covered cherries!

Classic Chewy Chocolate Crinkle Cookies


These rich, indulgent cookies are fudgy and chewy on the inside, and crisp and crinkly on the outside.

Dark Chocolate Candy Cane Cookies
These candy cane-dusted beauties use white chocolate or candy melts

 to add a gorgeous bit of contrast to the rich chocolate cookie base.

Double Chocolate Chip Cookies with Vanilla Icing


Two types and sizes of chocolate chips make these tender cookies doubly delicious! To make them extra festive, try using the icing to write words like "joy", "cheer", or "noel".

Duckling's Chocolate Chip Cookies with Toasted Nuts


Peanut butter, toasted pecans and 2 types of chocolate chips amp up the flavor in these classic, chewy cookies.

Easy Raspberry Chocolate Linzer Cookies


Chocolate and raspberry team up in this simple twist on a holiday classic - complete with a healthy secret ingredient!

Fresh Mint and Dark Chocolate Chunk Cookies


Freshly chopped mint is a fragrant addition to these dark chocolate chunk-studded cookies.

Grandma Henrietta's Bourbon Balls


Cookies, chocolate, and walnuts get a dose of bourbon in these boozy holiday treats.

Hershey Kiss Cookies




These fudgy chocolate cookies are rolled in nuts and stuffed with chocolate candy.

Melt-in-Your-Mouth Buttermilk Chocolate Cookies


These supremely chocolatey cookies are a personal family favorite. They're a great way to use up a partial container of buttermilk – guaranteed to satisfy even the strongest chocolate cravings.

Milk Chocolate Chip S'more Cookies with Toasted Marshmallows
Use a kitchen torch

 (or your broiler) to get the tops of these cookies nice and toasty - no campfire required!

Nutella & Sea Salt Stuffed Sugar Cookies


A quick trip to the freezer makes little mounds of Nutella firm enough to stuff into the sugar cookie dough in these sweet-and-salty treats.

Orange Chocolate Truffle-Centred Cookies


Mini chocolate truffles are encased in a citrus zest-studded dough for a fragrant holiday treat.

Peppermint Hot Chocolate Cookies
Hot cocoa and cookie lovers unite! Peppermint hot chocolate cookies are a festive treat perfect for winter holidays and cookie exchanges.
Peppermint Marshmallow Hot Chocolate Cookies


A rich chocolate ganache drizzle helps adhere crushed candy canes onto these decadent cookies.

Peppermint Patty Stuffed Chocolate Cookies


Snack-size peppermint patty candies are nestled into chocolate cookie dough for a minty holiday dessert.

Very Chocolatey Chocolate Crinkles


A simple, soft, and chewy crinkle cookie that delivers big time on chocolate flavor.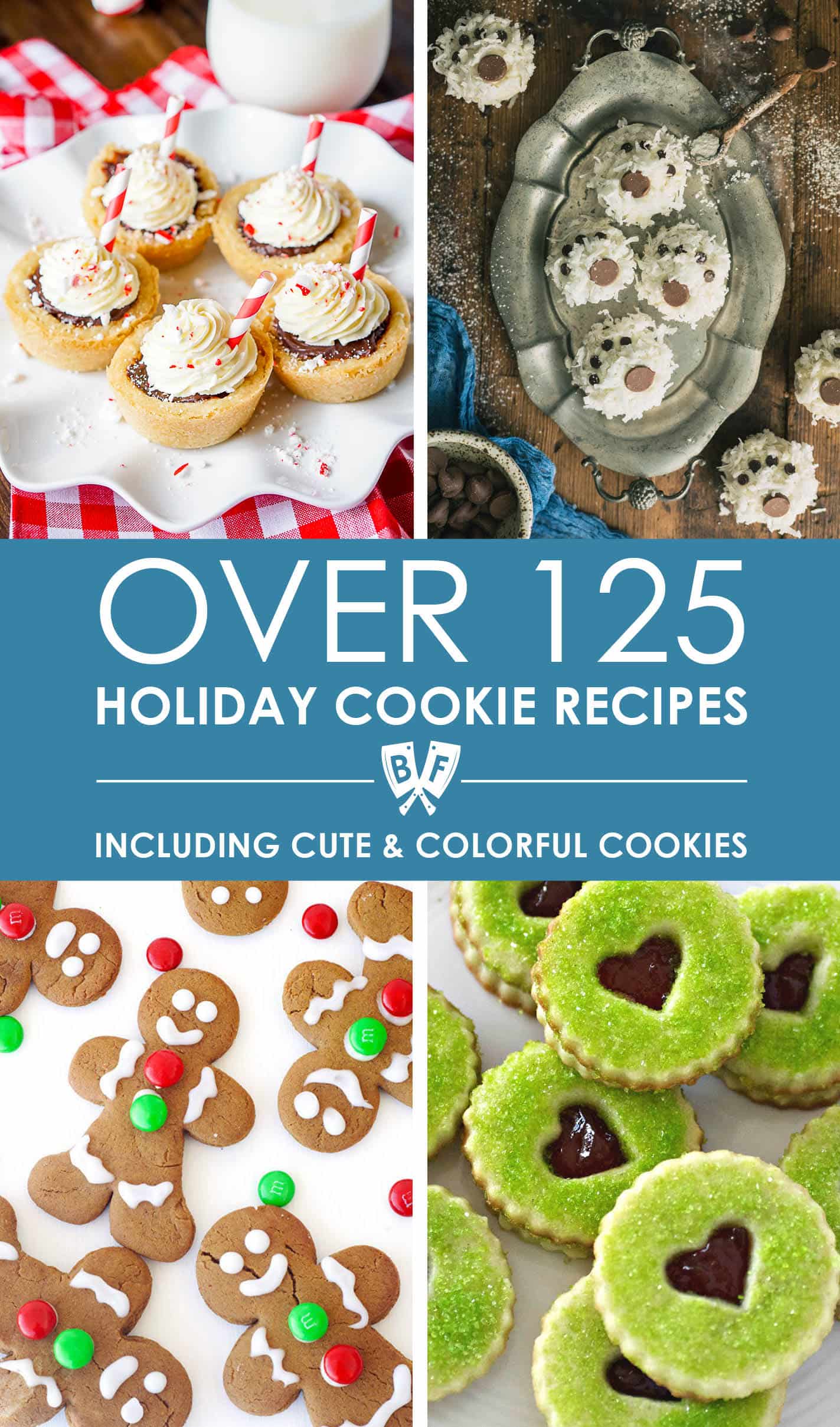 Cute and Colorful Holiday Cookie Recipes
Because whimsical cookies are guaranteed to bring out more holiday cheer.
Chocolate Mint Buche de Noel Cookies
Logs of chocolate mint cookie dough are frosted with a creme de menthe chocolate cream cheese frosting and decorated with royal icing.
Christmas Pinwheel Spiral Swirl Sugar Cookies


You don't need to refrigerate the dough for these super simple, vibrantly colored sugar cookies.

Christmas Sprinkle Cookies


Rolling cookie dough in sprinkles makes them extra festive!

Christmas Wreath Cookies


Cornflakes are coated in green-tinted melted marshmallows and adorned with red candy "berries" for a fun holiday treat.

Funfetti Shortbread Tidbits


These itty bitty shortbread bites are the most adorable way to use colorful sprinkles!

Gingerbread Yule Log Cookies


Gingerbread, Nutella and lime are rolled up, baked, and glazed in a cookie version of a classic yule log.

Grinch Heart Raspberry Filled Sugar Cookies


Raspberry jam is sandwiched between green-tinted cookie dough with cutout hearts in these adorably grinchy cookies.

Irish Shortbread Christmas Tree Cookies
Stacked star-shaped shortbread cookies make the most deliciously edible Christmas trees!
Maraschino Cherry Cookies


Vanilla cake mix and cream cheese make the base for these cookies with a hidden cherry center!

Peppermint Hot Chocolate Cookie Cups


A mini muffin tin helps form the cups for these adorable "mugs" complete with peppermint whipped topping and crushed peppermint candy sprinkles.

Polar Bear Pawprint Snowball Cookies


I can only imagine the smile on my son's face if I made a batch of these sweet, coconut-covered bear paw cookies - definitely on my to-try list!

Red Velvet White Chocolate Chip Cookies


A favorite cake flavor in cookie form! The white chocolate chips add a nice pop of contrast.

Rudolph Peanut Butter Cookies


Pretzels form the antlers on these whimsical reindeer treats!

Spiced Gingerbread Men


A simple, 2-ingredient icing and M&M's are the perfect embellishments for these chewy gingerbread men.

Stained Glass Cookies


Crushed candy creates the perfect stained glass look for these edible holiday ornaments.

Sugar Swirl Cookies
Two colors of dough are rolled together and coated in colored sugar to reveal a spiral surprise!

Holiday Cookie Recipes from Around the World
Take a trip around the world without leaving your kitchen! These cookies span the globe and deliver traditional ethnic flair.

Biscotti, Shortbread, & Slice and Bake Holiday Cookie Recipes
Give your traditional cookies seasonal flair with these festive options.
Brown Butter Shortbread with Dark Chocolate + Sea Salt
This gorgeously decadent shortbread recipe gets the sweet-and-salty treatment with a slathering of dark chocolate and a sprinkling of Maldon sea salt

.

Cherry Christmas Cookies


Candied cherries are quartered and mixed throughout these delicate, lightly buttery slice and bake cookies.

Chocolate Candy Cane Biscotti


Crushed candy canes are incorporated into the rich chocolate biscotti dough before being baked, sliced, and baked again.

Chocolate Orange Shortbread Cookies


These slice and bake shortbread cookies are studded with fresh orange zest and dipped in melted chocolate.

Coconut Shortbread Cookies


A hint of lemon juice, a drizzle of chocolate, and a sprinkling of toasted coconut are the perfect accents for these cut-out shortbread cookies.

Cranberry Orange Swirl Cookies


Cranberries are finely chopped with orange peel and sugar to form the swirl filling in these vibrant slice and bake cookies.

Double Chocolate Shortbread Cookies


Cocoa powder and chocolate chips make these slice and bake shortbread cookies extra decadent!

Easy Chocolate Chip Whipped Shortbread


Whipping the butter and sugar together make these shortbread cookies melt in your mouth!

Gingerbread Biscotti with Chocolate and Sea Salt


These spiced, butter-free biscotti are half-dipped in dark chocolate and sprinkled with sea salt after baking for a slightly sweet after dinner treat.

Juniper Berry Spiced Chocolate Hazelnut Cookies
The juniper berries

 add a fresh, piney sweetness to these rich, chocolatey cookies. A quick roll in raw golden sugar before being slicing is the perfect finishing touch!

Meyer Lemon Cookies
The bright flavor of meyer lemon juice and zest shines through in these glazed slice and bake cookies.
Orange Creamsicle Biscotti


Fresh orange, white chocolate chips, and a drizzle of icing liven up this Italian classic.

Pecan Shortbread Cookies


Chopped pecans are toasted in the oven before being mixed into this spiced shortbread cookie batter.

Peppermint Chocolate Shortbread Cookies


Peppermint extract and crushed candy canes make these chocolate-y slice and bake shortbread cookies a real treat.

Pistachio, Lemon & Rosemary Biscotti
These gorgeously thin cookies are studded with nuts, citrus, and fresh herbs. A nice change of pace from all the super sweet holiday treats!
Rose Pistachio Shortbread Cookies
A floral spin on roll-out shortbread, these cookies contain fragrant dried rose petals

.

Vanilla Chai Shortbread Cookies
Loose vanilla chai tea leaves

 are mixed into the dough in these iced spiced shortbread cookies.

Vegan Matcha Green Tea Shortbread
These macadamia nut studded shortbread cookies are gorgeously green thanks to matcha green tea powder.

Thumbprint Holiday Cookie Recipes
These filled cookies are more than just jam - sweet and savory options are sure to delight your friends and family.

Holiday Cookie Recipes for Special Diets
Dietary restrictions shouldn't get in the way of your holiday fun! These cookie recipes are made for people with special diets in mind - find gluten-free, ketogenic, paleo, vegan, and peanut/tree nut free options here.
Thanks to all of the awesome bloggers who contributed to this epic holiday cookie recipe roundup!
Which of these recipes are you most looking forward to trying? I'd love to hear your thoughts in the comments section below. And please be sure to report back if you end up trying any of these!