This post may contain affiliate links, which won't change your price but will share some commission.
Once the weather starts to cool down, I always crave a big plate of this dish. It's one of my family's favorites, and possibly the thing that gets repeated the most often in my tiny kitchen. Poached chicken is chopped and tossed in with lots of veggies and coated in a luxurious sauce. This is my kind of comfort food!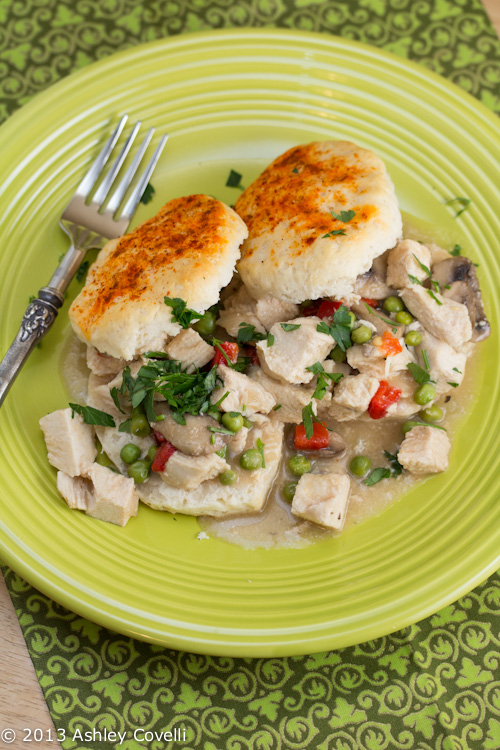 Long Live The Chicken a la King!
Rachael Ray
4 servings
Prep: 15 Minutes
Cook: 20 Minutes
1 can Pillsbury Grands biscuits
sprinkle cayenne pepper (spicy) or sweet paprika (mild)
1 cup dry white wine
2 cups chicken broth
1 bay leaf
4 boneless skinless chicken breasts
1 tablespoon oil
2 tablespoons butter
½ pound small white mushrooms, sliced
½ small white onion, chopped
2 tablespoons all-purpose flour
3 tablespoons pimentos, chopped
1 cup frozen green peas
2 tablespoons parsley, chopped
Preheat oven according to package directions for biscuits. Arrange biscuits on nonstick baking sheet and sprinkle with a little ground cayenne pepper or sweet paprika then place biscuits into a preheated oven. Bake until golden, remove biscuits from oven and then cool.
In a medium skillet, bring 1 cup white wine and 2 cups chicken broth and 1 bay leaf to a boil. Slide in chicken breasts and gently poach them in simmering broth and wine for 10 to 12 minutes.
Preheat a second skillet over medium heat. Add oil and butter. When butter melts into oil, add mushrooms and onion and cook 5 minutes until tender. Add flour and cook another minute.
Pull chicken from broth and set on cutting board. Ladle cooking liquid into the mushrooms, whisking it in. Add 2 to 2 ½ cups of liquid and discard the bay leaf. Add pimentos and peas to the sauce. Dice chicken into bite-size pieces and slide into bubbling sauce.
Split the biscuits, place bottoms on dinner plates and cover with ladles of Chicken a la King. Cap with biscuit tops and garnish with chopped parsley.
Big Flavors Rating: 5 Stars